Transportation officials on Tuesday offered soothing words to drivers' ears: A portion of the I-25 Gap construction project is coming to an end.
A stretch of about five miles of the freeway between the Tomah Road interchange and Castle Rock is in its "final configuration," Colorado Department of Transportation officials said.
The stretch from Castle Rock to Sky View Lane (the Tomah Road interchange) now has three northbound and southbound lanes, including an express lane in each direction, CDOT spokesman Bob Wilson said.
Single lane closures and flagging operations along the highway's east and west frontage roads between Plum Creek Parkway and Sky View Lane are in place from 7 a.m. to 5 p.m. through Friday. Residential access will be maintained.
The $350 million project that will widen I-25 between Monument and Castle Rock broke ground in 2018. The construction also will add an express lane in each direction for the length of the roughly 18-mile stretch of interstate known as the Gap. The express lanes — which allow commuters to ride a bus, participate in a carpool, or pay a toll to use the lane as a solo driver as an alternative to the general-purpose lanes — won't open until the full project is complete, Wilson said.
Overnight single lane closures on northbound and southbound I-25 between Monument and Plum Creek Parkway remain in effect from 8 p.m. to 5 a.m. through Friday. One lane will remain open in each direction.
Construction was designated by three geographic regions: the north region, which stretches from Castle Rock south to Sky View Lane; the middle region, which runs from Tomah Road to Greenland Road; and the south region, from Greenland Road to Monument.
"There is still plenty of work to do on the middle and south sections," Wilson said.
Work in the middle section includes constructing the express lanes and widening shoulders as well as building a wildlife underpass and bridge replacements at Upper Lake Gulch Road, Spruce Mountain Road and Plum Creek.
Construction continues on the bridge replacements, Wilson said, with the bridge at Spruce Mountain Road expected to be completed this fall. As that work goes on, some closures and restrictions remain.
Flaggers will direct traffic at Greenland and Upper Lake Gulch roads where they access I-25 through Saturday from 6 a.m. to 6 p.m. while bridge work is being done. Residential access will be maintained.
Southbound I-25 on- and off-ramps at Greenland Road remain closed until later this month while crews reconstruct ramps, install drainage and complete other work. Motorists are detoured to County Line or Upper Lake Gulch roads.
Full closure of the southbound I-25 off-ramp to Upper Lake Gulch Road remains in effect while the bridge is rebuilt. Motorists can access northbound I-25 from Larkspur using the Upper Lake Gulch Road on-ramp to northbound I-25. Motorists can access Larkspur from southbound I-25 using the southbound off-ramp to Spruce Mountain Road.
Full closure of the Spruce Mountain Road on-ramp to northbound I-25 remains in effect until the bridge is complete. Motorists can access northbound I-25 from Upper Lake Gulch Road.
Crews continue to widen the interstate in the southern section, from Greenland Road to Monument. They also are installing median barriers, retaining walls and wildlife crossings; and continuing drainage work.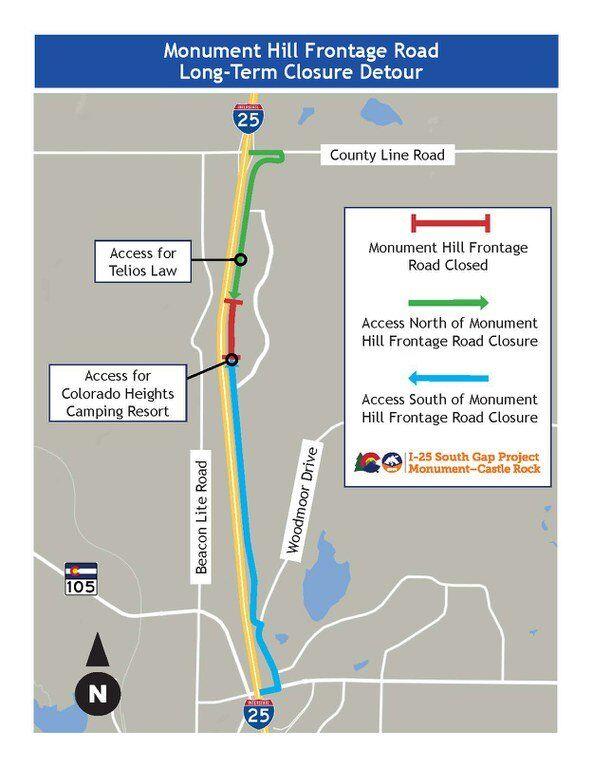 A 1,100-foot stretch of Monument Hill Frontage Road is scheduled to close for about seven months beginning Aug. 19 while crews begin a major drain replacement to prevent flooding and soil erosion in the area, begin roadway reconstruction, construct a wildlife crossing to help reduce animal-vehicle collisions, and install a soundwall between northbound I-25 and the frontage road, officials said.
The closure is between the Colorado Heights Campground access points, but local driveways and business access will remain open, Wilson said. Detour routes include the County Line Road exit for access north of the Monument Hill Frontage Road closure, and the Highway 105 exit for access south of the road closure.
Wilson said major delays are not expected in the area, although some motorists have expressed concern about the closure affecting traffic flow near Palmer Ridge High School, just south of the frontage road closure. CDOT is "in total contact" with Lewis-Palmer School District 38 regarding the project, Wilson said.
"We know construction is always going to create potential detours, but that's just something that occurs when upgrading and building a roadway," Wilson said.
The Gap project, funded by a mix of state, local and federal money, is on budget and on schedule, expected to be completed by fall 2022, Wilson said.