Gov. Jared Polis on Sunday extended the Safer at Home executive order in Colorado, which dictates social distancing and limits the size of social gatherings as a response to the coronavirus pandemic.
He also gave a little more leeway on "last call" orders to counties that have been granted a less restrictive Protect Our Neighbor status. 
The five Colorado counties in Protect Our Neighbor status are Gilpin, Gunnison, Mesa, Moffat and Rio Blanco. Under the executive order, those counties no longer have a "last call" limit, which means bars and restaurants can serve alcohol up to the state's normal 2 a.m. closing time.
RELATED:
Coronavirus in Colorado — Latest updates, Sept. 20
Pandemic Math Team has Air Force Academy on path to beating COVID-19
Six months in, Colorado officials urge patience, diligence as state awaits COVID-19 vaccine
Under Protect Our Neighbors designation, counties must demonstrate sufficient hospital bed capacity and personal protective equipment supplies, stable or declining COVID-19 hospitalizations, fewer new cases, an ability to conduct contract tracing and a plan for surges in cases. 
Two dozen other counties, including El Paso, Douglas and Arapahoe, can allow bars and restaurants to serve alcohol up to midnight, under the order. 
The rest are largely rural, with 11 on Colorado's eastern plains. Their designation also can allow gyms, fitness centers and other personal recreation facilities to operate at 50% of capacity, up to 175 people at a time for indoor events and 250 for outdoor events.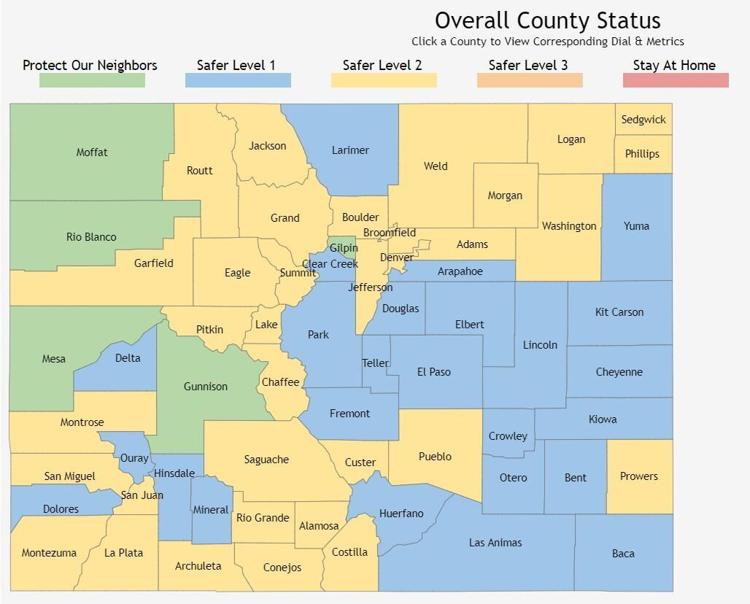 Restrictions and the lifting of limits are based on the number of new cases, the percentage positivity of COVID-19 tests, and the impact on hospital capacity. Counties were assigned the levels on September 15. On September 29, counties can submit requests for a new level designation. 
The original Safer at Home order was issued on June 1 and has been renewed several times since. Each executive order has a maximum limit of 30 days unless otherwise extended by the governor.
As of Saturday, there have been 62,686 cases of COVID-19; 797,493 people have been tested and 1,905 people have died due to COVID-19. Another 97 have died with the virus but it was not a cause of death.