In his victory speech Tuesday night, Democratic Gov.-Elect Jared Polis stopped to thank Marlon Reis, his partner and fellow father to their two children.
Heavy applause from the energized crowd gave Polis — the first openly gay governor elected in the U.S. — time to break away from the dais to hug Reis, Colorado's first "first man."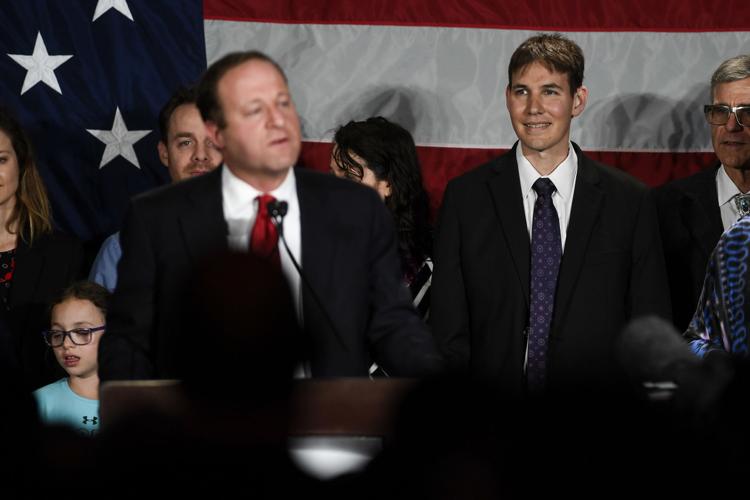 In the days since, Polis' election has made national headlines, and his office has been flooded with interview requests, many to discuss the landmark moment in Colorado and the nation's history.
For gays, lesbians, bisexuals and transgenders across the land, his victory brings hope where once there was none.
"What a wonderful, wonderful result from the state that gave us Amendment 2. I can remember reading about that and saying, 'What is wrong with these people?'" said Kris McDaniel-Miccio, a lesbian and University of Denver law professor who now is on leave in her home state of New York.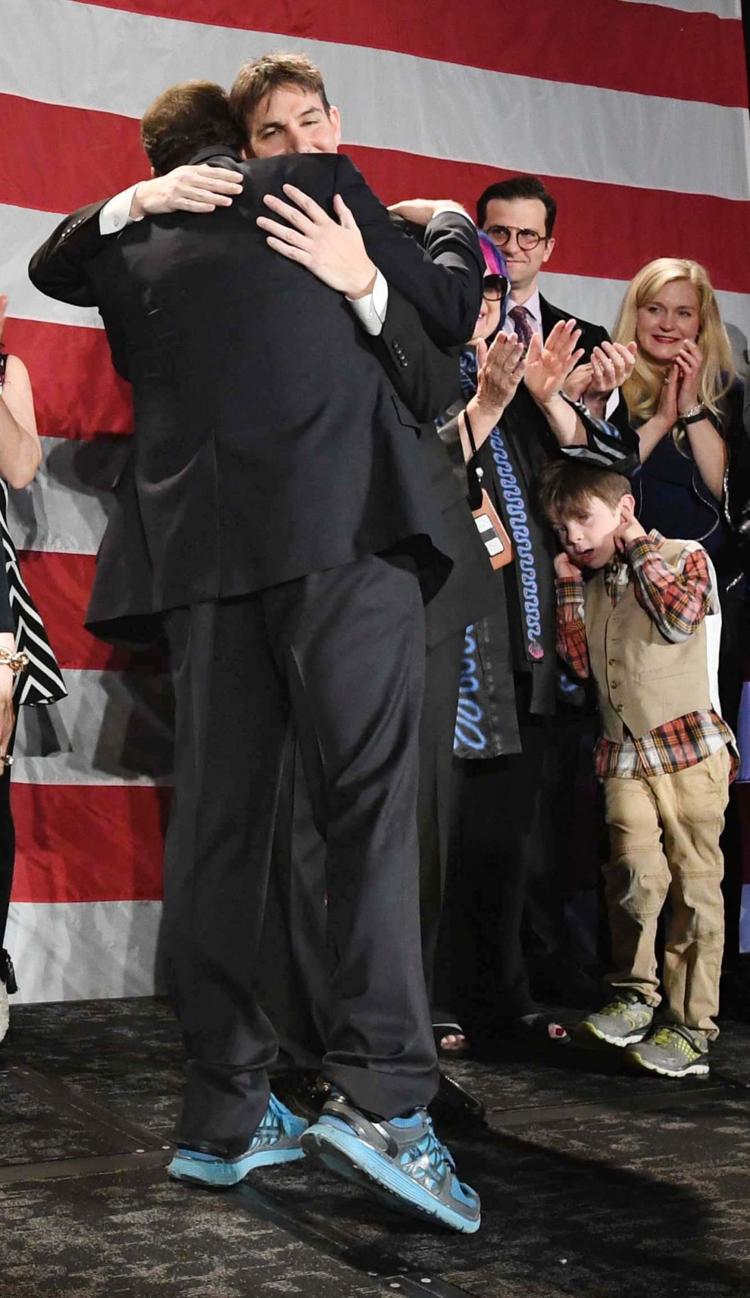 Only 26 years ago, Colorado was branded "the Hate State" after passing Amendment 2, which denied state and municipal benefits for gays, lesbians and bisexuals. Huge conferences were canceled, costing the state millions of dollars. Celebrities refused to come to Colorado, and many leaders called for boycotts. The U.S. Supreme Court deemed the amendment unconstitutional in 1996.
"We must conclude that Amendment 2 classifies homosexuals not to further a proper legislative end but to make them unequal to everybody else," Justice Anthony Kennedy wrote when he delivered the opinion of the court. "This Colorado cannot do."
That ruling might have shattered Colorado's wave of anti-gay sentiment, said Anton Schulzki, a Palmer High School teacher and board member of Inside/Out Youth Services, the Colorado Springs nonprofit for LGBTQ youths.
"Now all of a sudden it becomes, 'OK, you can't do it. That kind of legal discrimination is, in fact, illegal,'" Schulzki said. "And from there it does become the kind of slow turnaround."
Much of that turnaround came from increased exposure across the board, McDaniel-Miccio said.
"People started to realize that they had gay people in their families, that their favorite person at work was a lesbian or a gay man or a transgender person," she said. "Their favorite doctor, their favorite lawyer — if people do have favorite lawyers — their favorite baker … we were everywhere, and the world didn't end."
She said she never flaunted her sexual orientation but was surprised to learn that one student's grandfather accepted her sexual orientation.
"He came to my office and said, 'My grandfather found out that my teacher was Italian American, and he was so proud … And then when I told him you were a lesbian, he said: "So what's the difference? She didn't change did she?"' I almost fell out of my chair."
Part of Colorado's progress came as a concerted effort, Schulzki said.
In the early 2000s, four multimillionaires — Rutt Bridges, Tim Gill, Polis and Pat Stryker — shared their resources and contacts to try to spur an ideological shift.
Bridges, Gill, Polis and Stryker, dubbed the "Gang of Four," created what became known as the Colorado Model, which established political infrastructure to push Democrats into public offices across the state.
The gang saw results.
Polis was elected to the U.S. House of Representatives.
Even Colorado Springs elected progressive politicians, such as Mary Lou Makepeace — the city's first and only female mayor — and City Council President Richard Skorman, who also was on the council from 1999 to 2006.
President Donald Trump has further catalyzed that leftward shift, said Robert Duffy, a political science professor at Colorado State University.
"Educated voters, younger voters and a majority of unaffiliated voters do not embrace the culture war, anti-immigrant, climate denialism pushed by the (Republican) party's leadership," Duffy said. "Colorado is not yet as blue as California, but if these trends continue, it will be."
Even some organizations of faith have changed perspectives.
New Life Church founder Ted Haggard, known for his anti-gay rhetoric, was ousted by his Colorado Springs church for having sex with a male prostitute.
The Rev. Brady Boyd, who took over as head pastor, still defines marriage as between a man and woman. But he said spiritual leaders can work with those who have different perspectives.
"It doesn't mean we affirm their lifestyle, but it doesn't mean we're pushing them out," Boyd said. "We're not the gay-hating, gay-bashing New Life Church."
Echoing McDaniel-Miccio, Boyd noted that much of the shift can be attributed to increased exposure. Friends, family members and even those among his 12,000 active congregation members have differing sexual orientations and gender identities, he said. And all are welcome.
"There are plenty of pastors willing to come to the table for the betterment of Colorado," he said. "(Polis) won't find me difficult to work with."
But that doesn't mean the clash between religious rights and gay rights is over.
Jack Phillips' Masterpiece Cakeshop in Lakewood continues to roil in controversy. In 2012, he refused to make a custom wedding cake for two gay men, citing his religious beliefs. The men, Charlie Craig and David Mullins, sued, and the U.S. Supreme Court ultimately ruled in Phillips' favor in June.
The court didn't rule on the merits of the case, McDaniel-Miccio said, but rather determined that Phillips did not receive due process. A similar case likely will go before the Supreme Court too, she said.
Phillips, who could not be reached, also was sued in July 2017 after he refused to make a cake for a transgender woman, Autumn Scardina.
Colorado was late to adopt same-sex marriage; Massachusetts first legalized it in 2004.
McDaniel-Miccio joined a group of plaintiffs in 2014 in a lawsuit seeking to end the state's same-sex marriage ban, which was lifted that October. The Supreme Court less than a year later deemed marriage a fundamental right, guaranteed to same-sex couples in the landmark decision Obergefell v. Hodges.
.
McDaniel-Miccio reiterated Schulzki's point, noting that Polis will act as a governor for all Coloradans. She said while she's forever loyal to New York, she wishes her home state had a Gov. Polis.
"Fuhgetaboutit," she said. "Colorado is on the cutting edge and should be very proud of itself."
Also in last week's election, Brianna Titone, an Arvada Democrat, became the first known transgender person elected to the Colorado General Assembly.
Titone's Republican opponent, Vicki Pyne, conceded the race Saturday after the Colorado secretary of state posted that Titone led by 368 votes.
All Coloradans aren't on board with the ideological shift, however.
Evangelical chaplain and former state Rep. Gordon Klingenschmitt said he's pushing for redder state, though he'll work with Polis when possible.
Klingenschmitt once accused Polis of wanting to "join ISIS in beheading Christians" but later said the statement wasn't meant seriously. His organization, The Pray in Jesus Name Project, is listed by the Southern Poverty Law Center as an anti-LGBT hate group.
"I'm actually hopeful that in the future Colorado will return to our conservative roots," Klingenschmitt said.
Klingenschmitt said he's concerned about three issues: whether Polis will try to force Phillips to bake cakes against his will, will work to ban conversion therapy and will allow transgender people to "lie" on their new birth certificates.
Polis' election came as a Democratic wave crested across the state, replacing Republican incumbents. Polis will have a Democratic-controlled state Senate for his first term. The election also marks the first time that Democratic women outnumber men in the state Senate.
With those numbers, Schulzki said, conversion therapy likely will be banned. That programming to change sexual orientation has psychologically damaged many people, reports the Human Rights Campaign. For many, particularly children, the process leads to "depression, anxiety, drug use, homelessness and suicide."
Yet such a change could set Polis up for blowback, McDaniel-Miccio said.
"He could face charges that he's only doing it because he's a gay man, which is absurd."
The turn toward acceptance can be slow, but as long as Coloradans continue to participate in the democratic process, they'll see change, Schulzki said.
"Twenty-five years ago, Jared Polis might have imagined running for governor one day. But the possibility in Colorado probably didn't exist. It was a pipe dream," he said. "In 2018, it's reality."
conrad.swanson@gazette.com @conrad_swanson