Colorado Springs Police Chief Pete Carey is retiring effective Feb. 1 after 34 years with the department, the city announced Thursday.
Carey, who was appointed chief in January 2012, said Thursday being on the force has been an honor, and he praised civilian employees, volunteers and officers for their courage, professionalism and commitment.
"It has been a pleasure to work with each of these dedicated men and women, and I am grateful for the time here and the honor of serving this great city," he said.
Mayor John Suthers praised Carey's "exceptional leadership and service" to the department, adding that Carey leaves the department in strong standing and with a positive national reputation.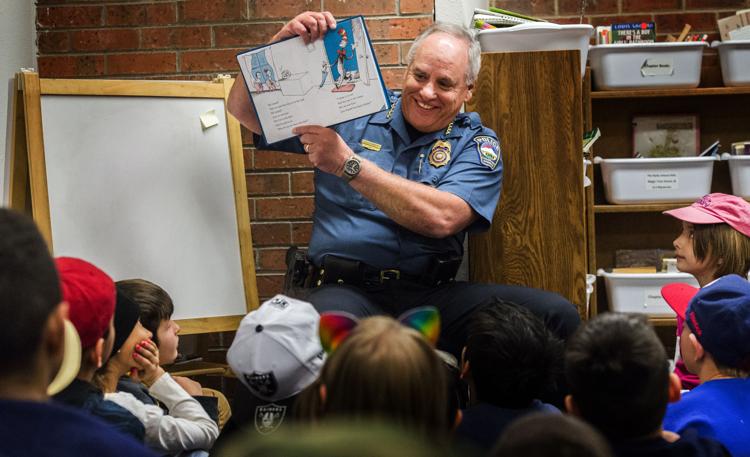 Carey began his law enforcement career with the El Paso County Sheriff's Office in 1982, before joining the Police Department two years later.
He rose through the ranks, supervising several units, including the Patrol Bureau, the Metro Vice, Narcotics and Intelligence Unit, SWAT and the Major Crimes Unit. He's also been a narcotics detective and crisis negotiator.
In six years as chief, Carey has led the office in difficult times, including budget cutbacks stemming from the 2008 recession and two mass shootings within months of each other.
In 2015, three people died in a shooting rampage on Halloween, and an off-duty University of Colorado at Colorado Springs campus police officer and two other people were killed in a shooting at Planned Parenthood.
Numerous officers have been injured in the line of duty, including Cem Duzel, who suffered a head wound in an August shooting.
Carey guided the department through the formative years after legalization of medical and recreational marijuana, and has supported efforts to curb the black market in the city. Officers have busted dozens of illegal grows along Interstate 25 and Powers Boulevard in the past two years.
In 2016, Carey took the department through a reorganization to compensate for a "critical" staffing shortage that left officers feeling stressed and unsafe on the job and the community waiting more than 14 minutes, on average, for help in the most dangerous situations.
The move rankled some officers, but response times were reduced by about three minutes.
After advocating for better pay for his sworn officers and fighting for funding to hire more, Carey leaves the department in a prosperous upswing. The city's 2019 budget includes pay raises for current officers and money to hire 61 new ones. Suthers has pledged to hire 100 new officers by 2020.
Carey also implemented the department's body worn camera program and, this year, was able to restore some of the proactive units lost amid the reorganization.
Carey is married and has four children.
Suthers said the city will launch a national search for the next police chief. Carey's salary this year was $187, 354.
"That said, we are also mindful of a wealth of talent that exists in the department and we hope there will be several internal candidates for the role of chief," Suthers said.
"Again, we thank Chief Carey for his dedication and leadership and wish him the best in his retirement."
Contact the writer at 719-636-0362 or find her on Twitter: @njKaitlinDurbin.