Thomas Villanueva, an "innocent bystander" paralyzed in the officer-involved shootout in which El Paso County sheriff's Deputy Micah Flick was killed, is suing for unspecified compensation on grounds that missteps by law enforcement officers led to his permanent injuries.
The 30-page lawsuit was filed Friday, four days ahead of the anniversary of the shooting that claimed the lives of Flick and suspected car thief Manuel Zetina and left two other law enforcement officers injured. The Sheriff's Office is hosting a ceremony Tuesday in Flick's honor.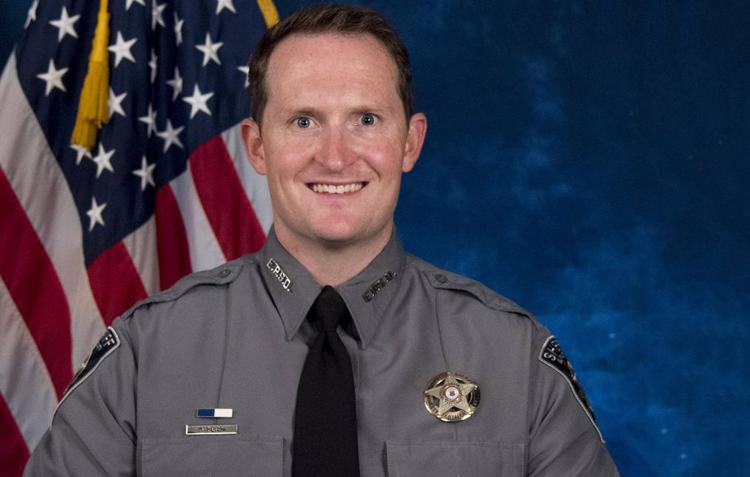 The lawsuit alleges that Villanueva was shot because law enforcement officers on the Beat Auto Theft Through Law Enforcement task force "made critical and lethal mistakes leading up to and during the takedown" of Zetina on Feb. 5, 2018.
Those perceived mistakes mainly centered on allowing Villanueva to be in the area during the attempted arrest of Zetina, who was a known gang member and believed to be armed.
Officers had set up a perimeter around the parking lot of the Murray Hill Apartments, but none of them reported seeing Villanueva walking home with his lunch until Deputy Scott Stone was grabbing Zetina in a bear hug to begin the arrest.
Within seconds, bullets were flying.
The complaint also criticizes that the officers did not announce themselves, giving Villanueva — described by El Paso County Sheriff Bill Elder as an "innocent bystander" — a chance to avoid the area. That is a position Villanueva has long held, saying he had no way of knowing that the plainclothes officers in the parking lot were law enforcement.
An investigation by the 4th District Attorney's Office later confirmed that the officers neither identified themselves by voice nor insignia before putting their hands on Zetina.
By allowing Villanueva to walk into the area and by continuing the arrest with him nearby, the complaint accuses officers of depriving Villanueva of his constitutional rights, negligence and failing to properly train, leaving them liable for Zetina shooting the 28-year-old in the back, injuring his thoracic spinal cord and permanently paralyzing him from the chest down. The injury robbed Villanueva of his independence and confidence, the complaint says, adding that he can't work, had to move back in with his parents and has contemplated suicide.
He will need medical and home health care for the remainder of his life, the lawsuit says. He also is requesting compensatory and punitive damages, attorney fees and costs to be determined at trial.
Named in the lawsuit are the county, the city of Colorado Springs, and the Beat Auto Theft Through Law Enforcement officers involved in the operation; Sheriff Elder, the estate of Micah Flick, and deputies Scott Stone, Jacob Abendschan, John Watts, Tremaine White, Stephanie Criss and Michael Boggs; former Colorado Springs Police Chief Pete Carey and officers Kevin Miyakusu and Marcus Yanez; and Chad Hunt and John Reindollar of the Colorado State Patrol.
Spokespersons for the respective agencies declined to comment on the pending litigation.
Criticisms laid out in lawsuit mirrors that by law enforcement experts in the aftermath of the shooting.
Former Fountain police chief and four-term Pueblo County sheriff-turned private investigator Dan Corsentino said that when the decision to arrest is made, it's policy for law enforcement to identify themselves "as they're approaching" a suspect with verbal commands as well as "some sort of outward adornment."
John Brandt, a retired El Paso County sheriff's deputy, also criticized the 10-member BATTLE team, saying it had enough manpower to assign one or more officers to watch for civilians or other threats entering the scene.
Both experts called for more training to prevent "chaos" in future BATTLE operations.
The Gazette has not been able to confirm BATTLE training protocols because the Colorado State Patrol, which runs the grant-funded team, previously denied records requests.
Contact the writer at 719-636-0362 or find her on Twitter: @njKaitlinDurbin.