"Re-Imagine Waldo Canyon." That's been the tagline of the plan to grant outdoor lovers a return to the landscape that had a popular trail obliterated by the 2012 wildfire.
On Wednesday, they were asked to imagine big.
Three concept maps each detailed far-reaching trail systems, one outlining as few as 11.6 miles of new or existing multi-use paths, another as many as 39.7 miles — an envisioned set of "stacked loops."
Lead coordinators with local nonprofit Rocky Mountain Field Institute as well as others with the city of Colorado Springs and U.S. Forest Service said they hoped the maps reflected public feedback received so far. The last community workshop in January attracted nearly 200 people to the Westside Community Center, as did Wednesday night's get-together.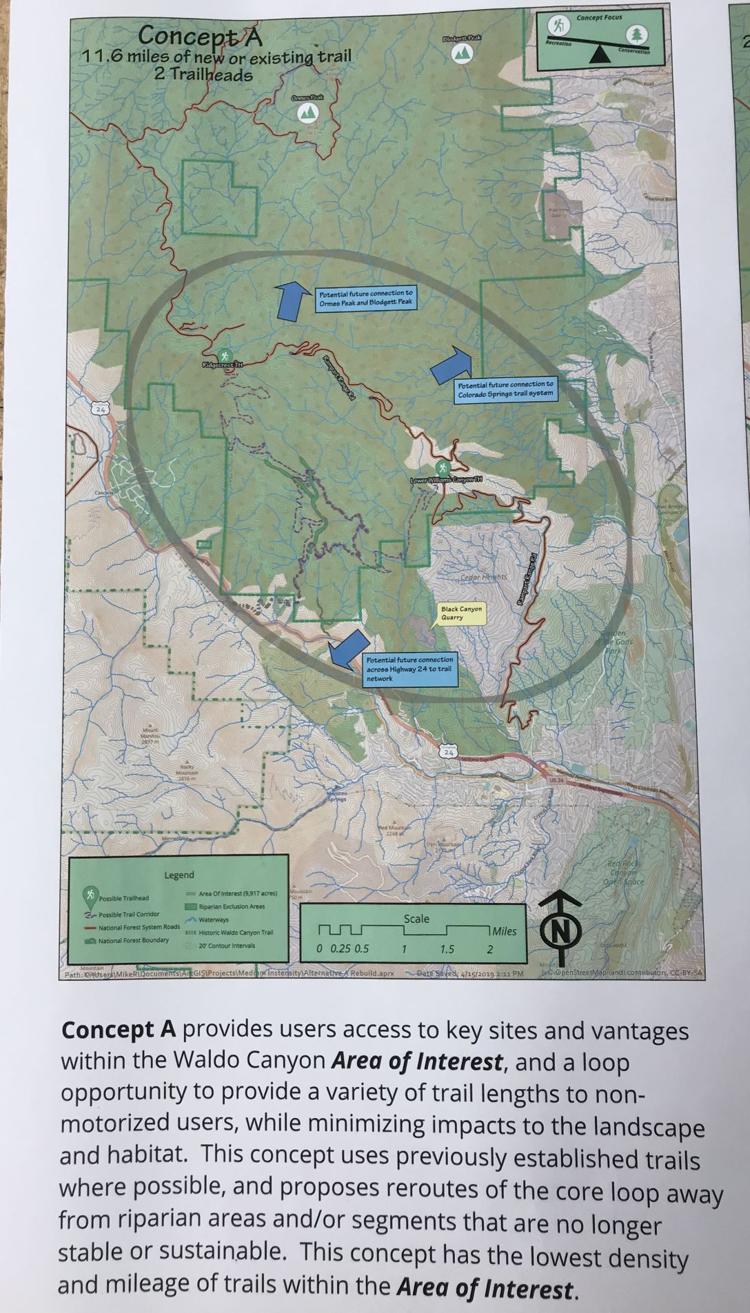 "I think part of this process is to try to tease out what elements make the most sense," said Oscar Martinez, district ranger for Pike National Forest. "The question later might be, How do we combine them later to come up with one recommendation that makes sense?"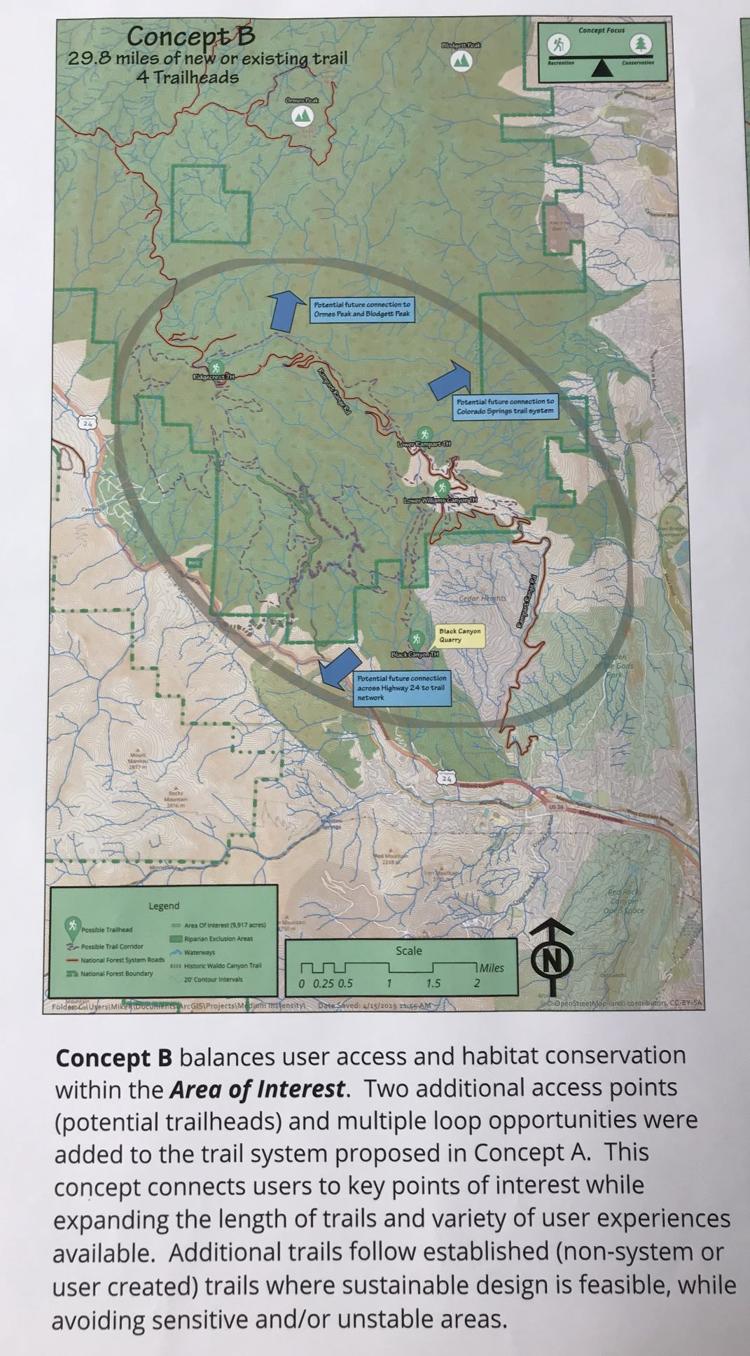 While relying mostly on federal land, David Deitemeyer, city parks' landscape architect, told the crowd that no assumptions have been made on accessing private properties within the concepts. That included the Black Canyon Quarry, owned by Transit Mix Concrete Co. Two of the three maps show trailheads at the quarry by Waldo's bordering Williams Canyon — an idea that elicited 'oohs' and 'aahs' from the audience.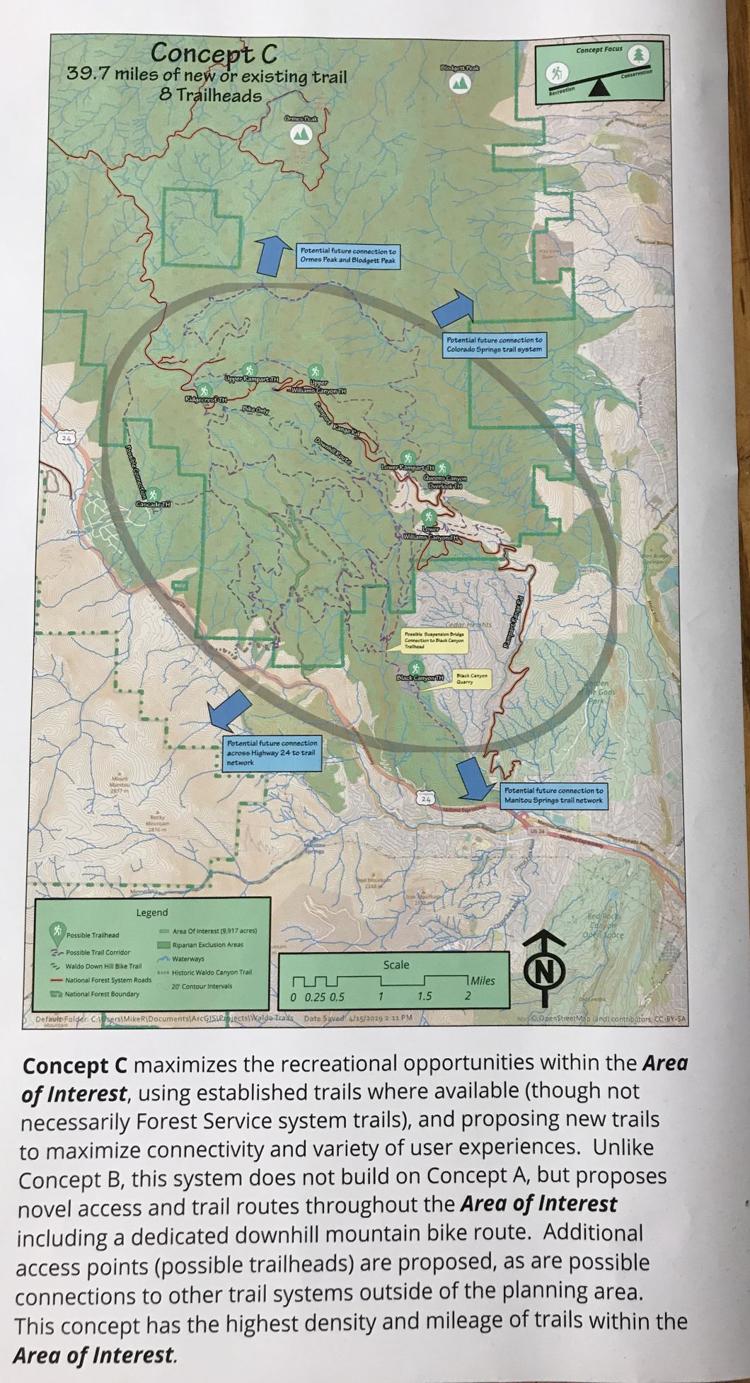 The proposals also incorporate access to Queens Canyon and call for trailheads off Rampart Range Road, one at the old shooting range.
While the lower part of the former Waldo Canyon trail has been deemed obsolete, planners say the upper loop and the beloved meadow there could still be incorporated. But it would be at a steep price for visitors — more than 1,000 feet of elevation lies between the area and proposed trails high on Rampart Range.
Planners said they would take feedback and come back with a concept on Oct. 23, the last scheduled community workshop. A recommendation will later be given to the Forest Service.
"I totally understand people want as many recreation opportunities as possible," said Susan Davies, executive director of the Trails and Open Space Coalition. "But, pragmatically, I'm thinking what can be done to get people back out there as soon as possible? From that standpoint, the first and second, concepts A and B, make the most sense to me."
Information and visuals presented Wednesday will be posted to waldocanyonplanning.com. Here's a summary of the concepts:
A: 11.6 miles of new or existing trails. Two trailheads at lower Williams Canyon and the Ridgecrest overlook off Rampart Range Road. Steep route to area of Waldo Canyon loop.
B: 29.8 miles. Four trailheads at Black Canyon Quarry, lower Williams Canyon, Lower Rampart Range and Ridgecrest. Added loops. Less elevation to Waldo Canyon area.
C: 39.7 miles. Eight trailheads at Cascade, Black Canyon Quarry, lower Williams Canyon, Queens Canyon overlook, lower Rampart Range, upper Williams Canyon, upper Rampart and Ridgecrest. Stacked loop system.