Bob Beamon raised his fist, too.
On Oct. 18, 1968, when he astonished the world and himself by defying gravity to long jump 29 feet, 2½ inches, win gold and forever place himself in Olympic history, Beamon stood at the same medal stand where Tommie Smith and John Carlos protested during the national anthem.
Smith and Carlos raised fists adorned with tight black gloves. Instant pariahs, they were quickly sent home to America.
"Just a pure statement of love and what love can do," Smith told me in October, explaining those fists held high in the Mexico City night.
Two days after the statement of love, Beamon raised a naked fist in solidarity with Smith and Carlos and pulled up his track pants to reveal black socks. His protest was virtually forgotten, overshadowed by his other-worldly jump to immortality.
"I think it was easy for those who criticized what Tommy and John did," Beamon said from his home in Las Vegas. "And it was easy for me to be associated with them. To me, during that time it was all about human rights, but it was never unveiled as human rights. It was, you know, seen as black power in a militant way.
"I was involved with human rights protests around the world. I was truly a follower of Martin Luther King Jr. I was with the cause of change. … It wasn't a one-shot protest."
Beamon speaks Wednesday at the annual Salute to the Olympic Family Luncheon at the DoubleTree by Hilton on East Cheyenne Boulevard. The event is sold out, but if you're fortunate enough to have a ticket, don't expect the standard athlete talk from Beamon, artist, thinker, social critic. Yes, he took a fantastic flight 50 years ago.
But there's more. Much more.
In our conversation, Beamon discussed chameleon artist Pablo Picasso and rebel architect Frank Lloyd Wright and ties and scarves he designs and our technology overwhelming our humanity.
During this tour of Beamon's mind, I was a little hesitant to mention the jump of jumps, but he never grows weary of time traveling back to Mexico City.
"I enjoy talking about it and actually you know" — he paused to laugh — "each time that I talk about it, it's a little bit different. It's very enjoyable to remember and at my age at 72, I'm still remembering. It's a special moment in my life. One of the special moments, that is."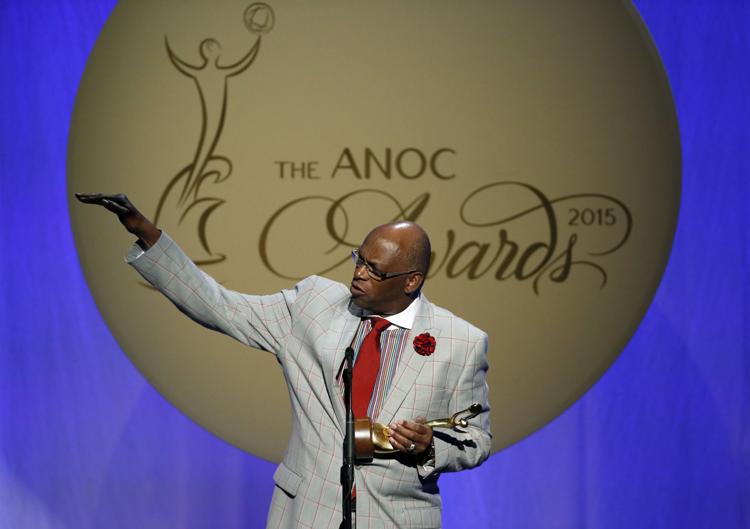 Beamon ranked as the favorite. He was 6-foot-3, 150 pounds and blessed with sprinter's speed and magnificent hops that allowed him to start dunking on New York City basketball courts at 14. He owned the indoor world record of 27-2¾.
It was 74 degrees with a 2 mph breeze when Beamon sprinted down the runway. Olympic legend Jesse Owens, who once set the long jump record, watched through binoculars as Beamon took off. He landed, and for 20 minutes officials checked and rechecked the distance.
No one was prepared for that grand distance, and no one includes Beamon. In 1935, Owens had leaped 26-8, and after 33 years the world record had crawled forward a mere 8 inches.
In one jump, Beamon crashed through history, increasing the record by nearly 2 feet. Beamon crumbled to his knees, covering his eyes.
"I was between time and space," he said. "I was truly in another world. When I finally got up and got my wits, I said, 'Well, this was a wonderful day.'"
Growing up among the teeming masses in Queens, N.Y., the glitter of Manhattan a few miles away, Beamon yearned to somehow stand out. After his jump, face in his hands, tears filling his eyes, he knew he stood above all others.
Next day, he returned to college classes at Texas-El Paso. He was never to fly so far again.
He is, as much as any elite American athlete, defined by one fantastic moment. He never again jumped over 27 feet and failed to repeat as gold medalist in 1972.
He's labored for years as an ambassador for the Special Olympics. He worked as associate athletic director at Chicago State University. And, always, he pushed his mind with the same aggression he once pushed his body as an elite athlete.
The man who raised his fist in protest after flying to gold remains troubled by his homeland.
"The state of the country today, I think that technology is so far ahead of human rights or whatever they put it these days. We have to catch up. … We got to work very hard to come to some kind of mutual understanding of each other.
"I'm a human being. Every day there are new things coming out in technology. We ought to be as aggressive with human behavior as with technology. We got to catch up."
Let's all raise a fist to that.