Even for Colorado's world-renowned ski resorts, which send up hosannas whenever snow falls, there can be too much of a good thing.
On Thursday, avalanche activity again shut down travel west of Denver and the danger is expected to continue unabated over the weekend with more snow falling in the high country of Summit and Eagle counties.
- List: Highways that are open, and those not, amid historic cycle of avalanches.
- Colorado backcountry skier killed in very large avalanche Thursday.
There was no count of how many avalanches had triggered Thursday, whether naturally or as part of the Colorado Department of Transportation's mitigation efforts, but Ethan Greene with the Colorado Avalanche Information Center expects the "impressive" activity to keep crews busy into next week.
"I think it's safe to say that nobody that is alive has seen anything like this," Greene said of the sequence of avalanches, which shut down most main highways in a seeming triangle from Vail to Leadville to Silverthorne for more than six hours Thursday.
Interstate 70, stretches of which had been closed over Vail Pass to Copper Mountain and between Copper Mountain and Frisco, reopened shortly before 7 p.m. "I-70 has reopened Utah to Kansas!! the Colorado State Patrol tweeted.
US 50: Avalanche control between MM 190 and MM 210. Monarch Pass will be closed from 5pm to 8pm for avalanche control use alternate route expect delays

— CDOT (@ColoradoDOT) March 7, 2019
U.S. 50 at County Road 250 on Monarch Pass was closed about 4:45 p.m. for avalanche mitigation. Loveland Pass also is closed and will remain closed "well into Friday," CDOT's Amy Ford said.
Authorities had opened Colorado 91, including commercial vehicles, but closed it again just before 4 p.m. between Copper Mountain and Leadville after another avalanche buried four vehicles. The State Patrol said everyone in the vehicles has been rescued, and no one was injured in what it is referring to as "snowpocalypse2019."
The closures were initially prompted by a natural avalanche triggered about 1:30 a.m. Thursday at The Narrows east of Vail Pass. That slide dumped about 6 feet of snow, trapping a tow truck traveling in the area. The driver was unharmed.
What followed was other slides across the area, which CDOT spokeswoman Tracy Trulove said made for "another long day."
One slide was 100 yards wide and 15 feet deep. Another near Jones Pass caught a backcountry recreationalist who had to be rescued, Greene said. He did not know the person's condition.
The road closures also contributed to closures and delayed starts at nearby ski resorts.
Arapahoe Basin Ski Area was closed Thursday, and its chief operating officer Alan Henceroth said it will be closed again Friday morning, though they hoped to open later in the day.
"It absolutely pains me to say this but, PLEASE stay away until we can get this situation resolved," Henceroth said in his blog on the resort's website. "This is a time of great uncertainty. We have wildly changing weather and snowpack conditions."
The area had received 14 inches of new snow from Wednesday into Thursday morning, and snowfall continued throughout the day.
Conditions also forced Breckenridge Resort to close its upper mountain lifts and terrain, though lower lifts remained open. "We will open additional lifts and terrain as we are safely able," it said on its Twitter page. Neighboring Keystone Resort also began the day with limited chairlifts open.
Copper Mountain was initially closed because of a gas leak ruptured by area avalanches, but partially reopened Thursday after the leak was fixed and as crews were able to dig out lifts.
Highway 91 and I-70 between Frisco and Copper is now open! Note that the resort will not open as we are still working to dig out. This guy included.

Be safe out there! pic.twitter.com/o8PfGdpgDd

— Copper Mountain (@CopperMtn) March 7, 2019
The closures weren't the first this week amid what the Colorado Avalanche Information Center is calling a "historic" number of avalanches, though it appears to have downgraded the potential for avalanche danger from "extreme" — the most dangerous classification — to "high," meaning dangerous conditions should discourage travel through the terrain.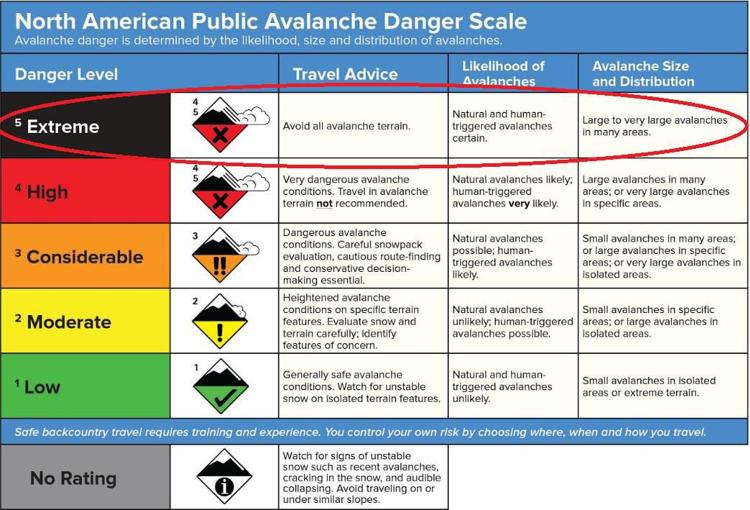 Avalanches hammered Colorado highways with up to 30 feet of snow on Tuesday, forcing closures on U.S. 550 and I-70. The closures left motorists stalled most of the day on I-70 between Herman Gulch and Silverthorne.
The interstate also was closed for hours in Ten Mile Canyon between Copper Mountain and Frisco.
At the same time, U.S. 40 over Berthoud Pass was also closed for avalanche mitigation, and U.S. 6 between Arapahoe Basin and mile marker 225 closed for rock fall danger.
Contact the writer at 719-636-0362 or find her on Twitter: @njKaitlinDurbin.