The tragedy of a 26-year-old Colorado Springs woman who died giving birth to twins has resulted in a national outpouring of support for the newborns and their grieving father.
After Sara Sewald's death on May 29, her boyfriend Dustin Sisneros' friends began a GoFundMe campaign to help the new father. Justin Spellman, Sewald's half-brother, said the fund began with the goal of raising $10,000, but after exceeding that it was raised to $12,000. A few days later, the campaign had raised more than $37,000 from over 600 donors.
The campaign attracted donors nationwide when People magazine reported about it online.
As of Sunday morning, a little over a week after Sewald died, the GoFundMe had reaped $48,093 from over 1,000 donors and was still growing.
"We're extremely thankful for the GoFundMe, but we're especially thankful for all the love," said Jolene Sisneros, Sisneros' mother. Sisneros and Sewald had recently moved in with his parents in Fountain to help with the first few months of parenthood.
"To see a community pull together, it's absolutely amazing," said Sisneros, reiterating the shock he felt from watching the campaign grow.
"It's almost surreal," he described. "The money is great, but I would trade any amount of money to have her back."
Since her death, Sewald's family said they've received various donations, from clothes to baby bottles. Sisneros plans on donating what's been given to him once his kids don't need it anymore.
People from across the country have left hundreds of supportive messages on the GoFundMe site, each hoping to extend a hand of empathy to the young dad.
However, Sisneros said, the most meaningful message was an accidental find from his late girlfriend.
Several days after her death, Sisneros said he finally had the strength to go through some of her belongings. As if she knew he would find it, Sisneros discovered a hand-written card addressed to him in Sewald's purse. She was in the middle of writing thank-you notes to people for their baby shower, he said. It was addressed to "Daddy Dustin."
"But above all," read an excerpt from Sewald's letter to Sisneros, "I hope our children will carry kindness with them in all of their actions the way that you do every day. One thing I know for sure in all of this, is that our babies will be so lucky to have you as a father, as I am to have you as my boyfriend... marry me already, would ya?!"
Sisneros said he had been planning on proposing to his girlfriend after their children were born.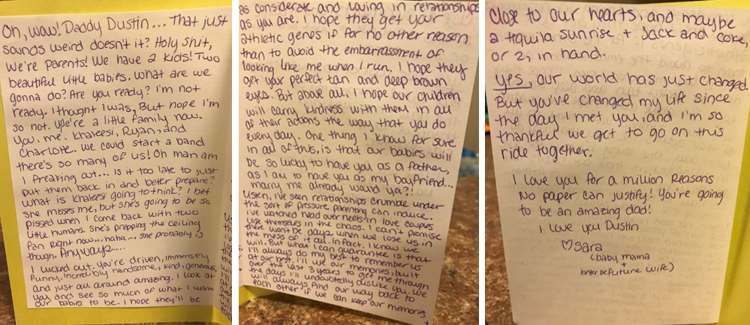 More than a week after Sewald's death, her children, Charlotte and Ryan, remain in the hospital but are channeling their mother's strength, said their father, Dustin Sisneros.
"They are both doing really good," Sisneros said. Charlotte has moved from a feeding tube to a bottle, and both babies are growing, he said.
The new father has been visiting UCHealth Memorial Hospital Central every day.
"They're both very active babies. They move their arms and kick their legs a lot, that's great to see," Sisneros said.
"Every time I go over there, I always tell them their mama loves them and it seems like they react to it in their own different way. Whether it's starting to move, opening their eyes. … I've seen them smile a couple times, so that always makes me pretty happy."
"I (visit) because I love them so much. They are, I guess, the last thing that I have of Sara but I know it's what she would want me to do and what she would be doing herself. I always promised her that I would be the best dad I could be."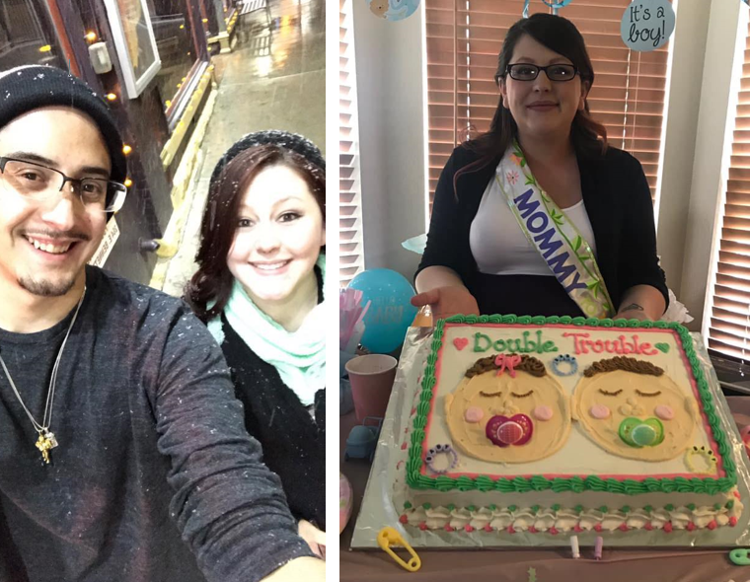 Sewald's family said she was suffering from symptoms of preeclampsia, a condition characterized by high blood pressure, and doctors were unable to stop her bleeding after she delivered via C-section. Experts aren't sure what causes the condition, but hypothesize that it begins due to a lack of blood flow in the placenta, research at the Preeclampsia Foundation shows.
Sisneros credited Memorial nurses with the twins' progress, saying they were taking incredible care of his children. He also said he imagined Sewald was still acting on her maternal instincts, even in death.
"I know my girlfriend was pretty persistent," Sisneros chuckled lightly. "She's probably in there with the nurses saying, 'Hey he's hungry,' you know, tapping their shoulder like, 'You gotta go feed him,' or 'Hey, he needs his pacifier,'"
The only day Sisneros skipped visiting the twins was Tuesday, after a memorial was held for Sewald at Memorial Park. He said he was warned by doctors to check negative or stressful emotions at the door, as his children were in especially influential stages of life. Sisneros said doctors will keep the twins there until they're strong enough to go home.
"However long it takes, it's OK," Sisneros said. "It just makes it hard because not having them here to kind of distract me, coming home at night, is tough."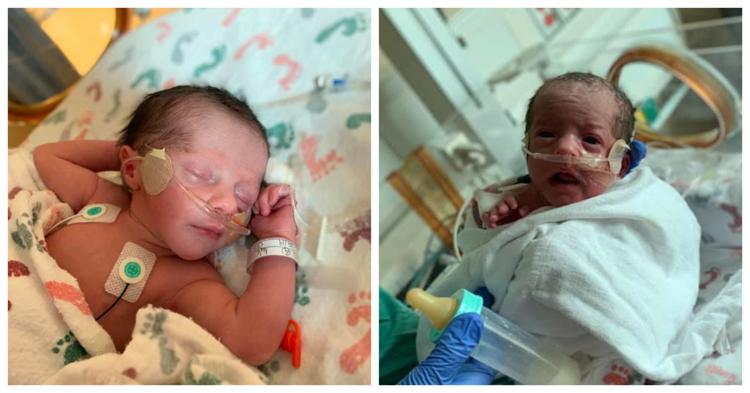 Perhaps the most emotional part of visiting his children alone, Sisneros said, was how much Charlotte and Ryan remind him of their mother.
"It can be kind of rough, because every time I go to see Charlotte, she has some of her mother's features that are so distinct," he said.
"She has her chin, her beautiful little nose, because I have somewhat of a big one," he laughed quietly. "It's pretty obvious that she didn't get mine. She was lucky enough to get hers."
Their mother had high hopes for their firstborns, too.
"I look at you and see so much of what I want our babies to be," read Sewald's letter. "I hope they'll be as considerate and loving in relationships as you are."
Although below the national average, maternal mortality has been increasing in Colorado.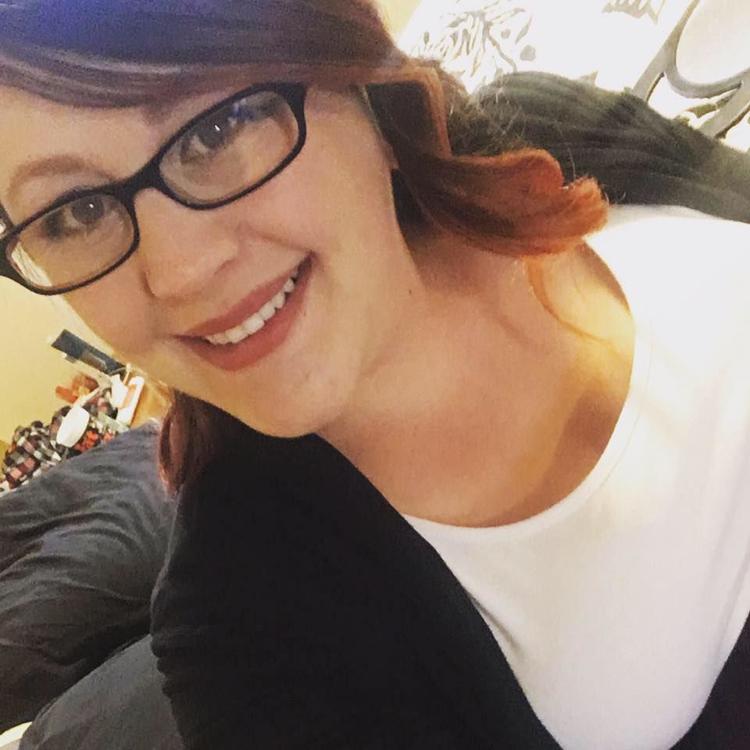 At a kitchen table the night after Sewald's memorial, Sisneros sat in silence with his parents. It was the night his girlfriend and their children were scheduled to return home from the hospital. Instead, Sisneros said he's left with thoughts of what could have been.
"Thinking about all that stuff is just super hard, you know," he said. "All the 'what ifs'" hit."
The "what ifs" that hit the hardest, said Sisneros, are the ones left behind in his girlfriend's last letter to him.
"Yes, our world has just changed. But you've changed my life since the day I met you, and I'm so thankful we get to go on this ride together. I love you for a million reasons no paper can justify! You're going to be an amazing dad! I love you Dustin."