Jennifer Madrid swung open the door to her studio apartment — the morning sunlight glinting through her windows, her pet canary, Blue, chirping.
Goodness, does she love opening that door. It's been three weeks since she first grasped its handle, ending nearly two years of sleeping in homeless shelters, ditches and beneath the trees of Acacia Park. And each time feels like the first time.
"I couldn't get the smile off my face. That's the only way I could explain it," she said last week.
Here, about 100 yards from the shelter she called home for a year, is something never before seen in Colorado Springs.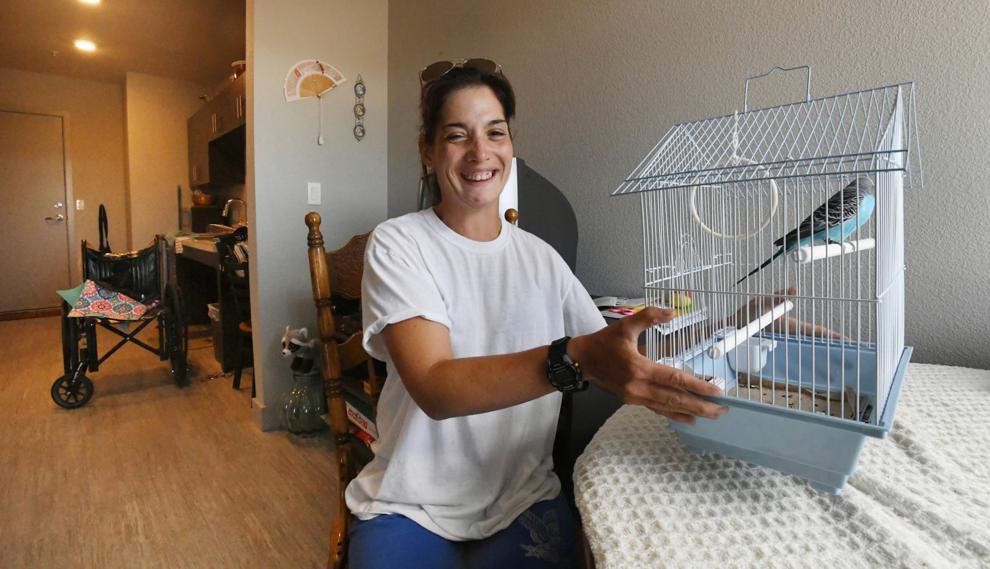 Rising four stories above downtown's southern border, a $15 million apartment building on Springs Rescue Mission's campus called Greenway Flats is filling with five dozen people just like Madrid. The goal: Help them forever escape homelessness by providing an apartment with almost no preconditions, and surrounding them with a wealth of help.
Similar apartment buildings have become commonplace in cities across the U.S. But so much of it is unique to Colorado Springs: It was built by one of the city's most prominent developers, using a form of tax credits never before awarded for a project in the Pikes Peak region. And it was built specifically for people considered chronically homeless — meaning the most vulnerable people among us, those who've often spent years living in shelters or outside in tents, in cars or in their dirt-crusted sleeping bags.
And as the first residents move in, city officials and nonprofit leaders see the building as a key step toward addressing a deep affordable housing shortage that's exacerbating the homelessness problem.
"We have had an increasing number of chronically homeless individuals, and this success is desperately needed for our community," said Beth Roalstad, executive director of Homeward Pikes Peak.
For Madrid, 35, it means something she hasn't experienced in years.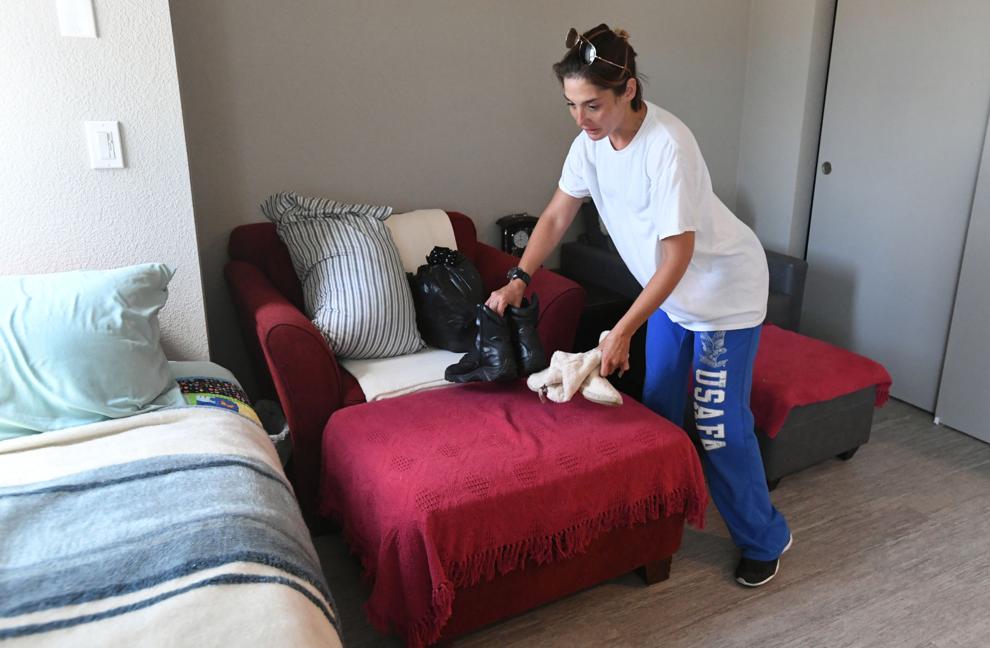 "This is home for me now," she said, that smile still on her face.
A newfound serenity
That first night, Madrid refused to turn off the lights.
All she could think about was the same thing she thought about for nearly two years: Stay alert.
"You really don't feel safe until you get the camping out of your head," Madrid said.
Other new Greenway Flats tenants slept on their apartment floors their first few nights indoors, said Pedro Arellano, the building's lead case manager. For them, a cushiony bed felt downright unnatural after having slept on the ground for years.
Aric Duckett, 54, hardly slept for weeks. Alone at last after more than four years being homeless — the last two of which were spent at Springs Rescue Mission's shelter — it was too quiet. The train horns outside were muffled. The chaos of people snoring, passing gas, rustling in their beds — all of it was gone.
That newfound serenity was so unusual that it kept him from getting a restful night's sleep.
"You have to get used to not hearing that, or putting it out of your mind," Duckett said.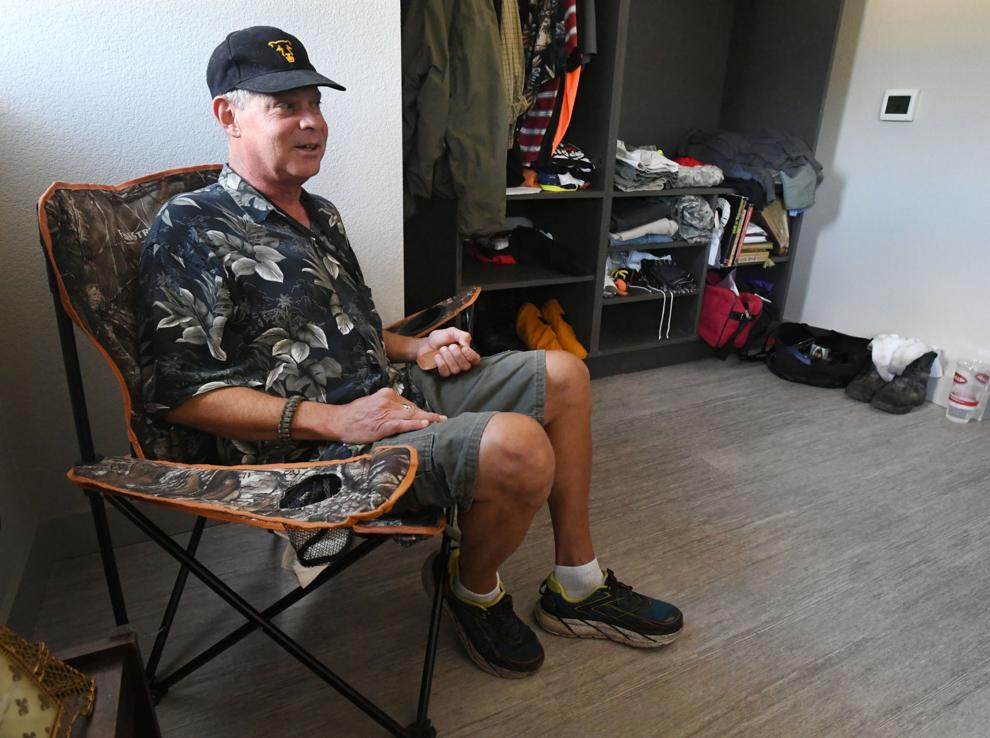 Everyone at Greenway Flats is considered by the federal government to be chronically homeless — meaning people who have been homeless at least a year, or four times in the last three years. They all also suffer from either a substance abuse addiction, a serious mental illness, a developmental disability or a chronic physical illness. Most deal with more than one of those issues.
Even though the program is a welcome first in Colorado Springs, it hasn't come without tension. Its opening has been fraught with jealousy and anger among some people who missed out on a unit, and with guilt among some people lucky enough to get a place inside. One new tenant was beat up after being told he was getting an apartment, and others struggled to look out their window at people still waiting for an apartment of their own.
Madrid's window faces east, for example, overlooking Springs Rescue Mission's courtyard. In the winter, she knows she'll see people line up in the cold, waiting for a meal.
"I get all sad, because I'm like 'I know how you feel,'" she said.
That guilt can be traced to the life-or-death stakes involved in being homeless: Every year in Colorado Springs, dozens of homeless people die from hypothermia, drug overdose, suicide, traffic crashes and a host of health ailments often associated with decades spent without access to proper medical care, healthy food and shelter from the elements.
Which is why Madrid is also so thankful to finally be indoors. She never thought it would happen.
Suffering from cerebral palsy, she became addicted to OxyContin — the prescription painkiller fueling the nation's opioid epidemic. And she lost everything.
In August 2017, she fled Pueblo and the people who fed her addiction and landed in Colorado Springs. She's been sober ever since. But that first night here, she slept in Acacia Park. Then behind an assisted living facility on the city's northwest side. Then in a ditch off Garden of the Gods Road. Finally, she stayed at Springs Rescue Mission's burgeoning campus for about a year.
But a few weeks ago, a case manager there gave her an apartment key.
It came in the nick of time. A judge gave her until September to find a mailing address to have visitations with her daughter, 14. The girl is starting high school this year, and Madrid starts smiling again talking about her. She's a straight-A student. She plays in the band and participates in track. She's an artist — just ask her to draw something, and she can do it.
"Everything, anything," Madrid said. "Faces — anything you can think of."
Madrid has finally turned off the lights at night. She's yet to use a pillow — preferring to rest her head on her arm, just as she'd done for the last two years. But maybe that, too, will change with time.
That doesn't matter now. Only one thing does.
"It's nice that I have my own spot to call home."
Sobriety not required
That some of Greenway Flats' tenants still face addictions should come as no surprise.
The project is modeled off the Housing First ethos that's become commonplace across the U.S.
No requirements such as sobriety or employment exist for people to live there. Rather, apartment keys are handed out with hardly any conditions beyond being a good neighbor — an approach that research has proven works to help break decades-long cycles of homelessness.
"People have adopted the Housing First model because that's what works," said Steve Berg, vice president for programs and policy at the National Alliance to End Homelessness. "Trying to get people to kick an addiction, or to deal with a severe mental health problem while they're living on the street, is just not practical."
"Once people are in housing, these other problems are much easier to deal with."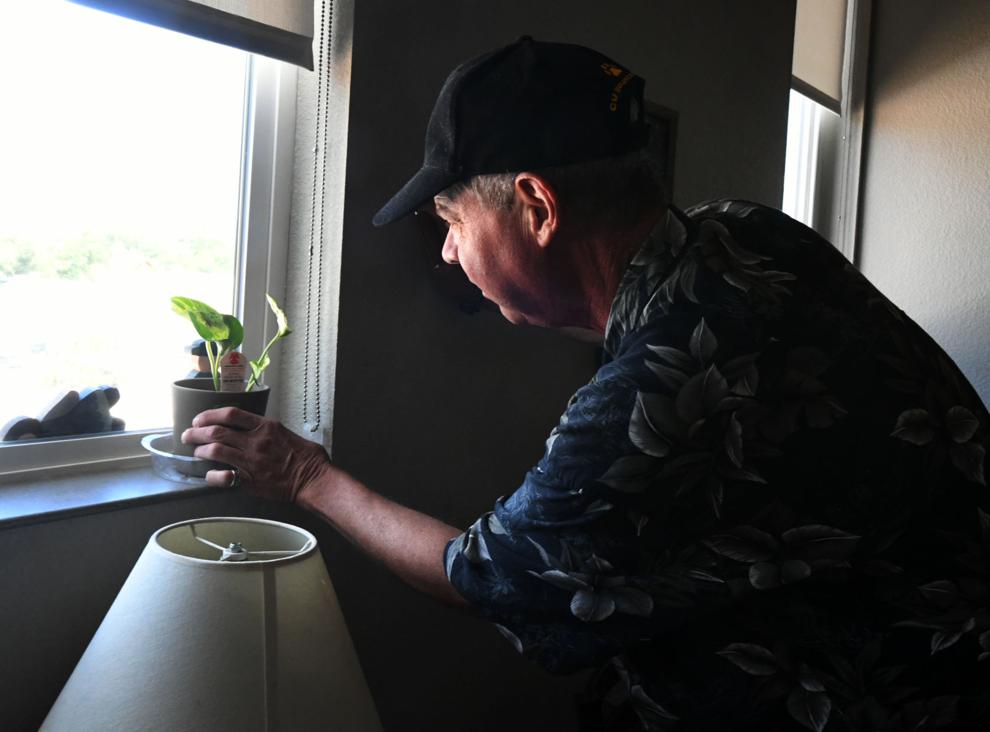 Every tenant here receives a federal housing voucher that includes case managers to help connect recipients to health care, therapy, substance abuse treatment, dental care, employment assistance and a host of other services.
The concept acknowledges that most people can't find a job without a place to shower or store clean clothes for an interview. People can't stay physically healthy without a place to store fresh food or prescription medicines. And people can't address depression, schizophrenia or an addiction to drugs while simply trying to survive — and, frequently, while ostracized by society.
"All of that relies on having a stable place where you can actually take care of yourself," said Katy Miller, regional coordinator for the U.S. Interagency Council on Homelessness. "And without that, we're wasting resources."
Other projects across the nation and in Colorado have shown success.
In Denver, about 85 percent of the 285 people housed through the city's Social Impact Bond have remained housed since being given a place to live, said Carrie Craig, who oversees the Colorado Coalition for the Homeless' Housing First program.
"It's been a pretty big success," Craig said.
Services close at hand
The addition of Greenway Flats substantially increases the number of permanent supportive housing vouchers in Colorado Springs, upping by about 50% the roughly 120 that previously existed.
Up until this point in Colorado Springs, such homeless vouchers have been scattered across the city in whatever apartment complexes would accept them. There have been benefits to this approach, experts said, including avoiding concentrating poverty and ensuring that voucher holders feel more a part of society, after having been stigmatized for so long on the streets.
But Greenway Flats is different. Here, 65 vouchers will all be used one spot, on the west side of Springs Rescue Mission's fast-growing campus, 5 W. Las Vegas St.
Organizers say its location on the campus is a unique asset because it has so many services. More than two dozen other nonprofits and agencies provide assistance on the campus, including Peak Vista Community Health Centers, AspenPointe, the Department of Human Services and the Department of Veterans Affairs.
There's also freshly prepared meals every day, as well as various 12-step meetings, including Alcoholics and Narcotics Anonymous.
Miller, of the federal government's Interagency Council on Homelessness, said concentrating vouchers next to those services is an increasingly popular idea that's been shown to work.
Much of the project's success rests in its property manager, Craig said. Flexibility and patience on missed payments, a robust and fair community policy and input from tenants are needed to ensure everyone stays housed, she said.
Her organization, for example, created a fund to help cover the cost of damages to the apartment complex. That way, tenants who live in deep poverty aren't left with a bill they can't pay.
Nor'wood steps forward
Larry Yonker, Springs Rescue Mission's president and CEO, never planned on building an apartment complex when he set out to create the city's first all-encompassing homeless service campus.
Taking cues from similar campuses in San Antonio and Phoenix, Yonker initially envisioned just a big new shelter, a homeless day center, a massive kitchen, dining hall and a welcome center.
Already, it was a lot — something that would cost about $14 million.
Then the president of one of Colorado Springs' largest developers, Chris Jenkins of Nor'wood Development Group, reached out. It was something he felt compelled to do through his religious faith, Jenkins said.
"We started talking about this on the Nor'wood team as: This is active philanthropy," Jenkins said. For example, the company reinvested its $1.4 million service fee back into the project, meaning it won't profit a dime.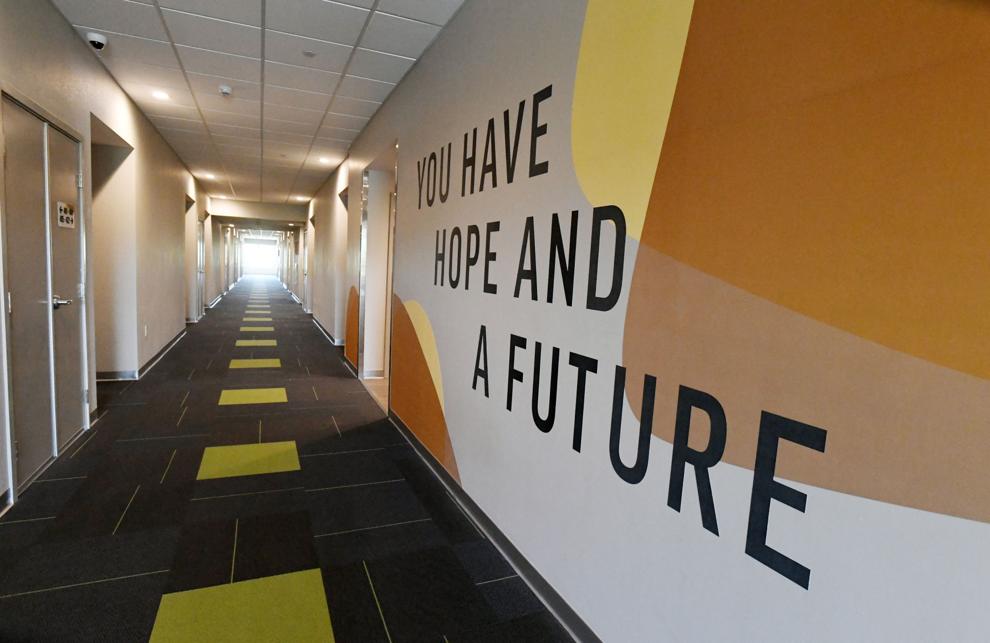 Jenkins' involvement came as a project by the state Division of Housing and the Colorado Housing and Finance Authority sought to expand affordable housing projects. In Colorado Springs, the effort largely entailed training nonprofits and developers to apply for millions of dollars in federal assistance, often through low-income housing tax credits awarded by the Colorado Housing and Finance Authority.
Springs Rescue Mission and Nor'wood turned heads by receiving the tax credits on their first application. Yonker's argument: Colorado Springs had positioned itself as an Olympic city but didn't do enough for people mired in poverty.
"And I think that over time, we've gotten more and more people to understand these are people, and that they deserve care — that they're not just problems we need to ship somewhere else," Yonker said.
The need is immense, highlighting how the new building only chips away at the problem.
The latest Point in Time homeless survey found 336 chronically homeless people living in the county in January.
And even after Greenway Flats is full, at least 300 such people who scored highest on a vulnerability index will still be without housing, according to the Pikes Peak Continuum of Care, which coordinates several local programs.
With that in mind, Jenkins said Nor'wood would "definitely" seek to participate in similar projects in the future. Several other projects also are in the works.
Freedom Springs, an apartment complex just east of Colorado Springs, is under construction and will cater to homeless veterans. And the Colorado Housing and Finance Authority is considering another application for a homeless-focused apartment complex in southeast Colorado Springs.
'I'm not homeless now'
With 50 people moved in, an additional 15 on the way and a grand opening celebration planned for Tuesday, Yonker wants the apartment complex to show that "investing in people's lives is worth it."
"We just stereotype people by what they look like on the outside," Yonker said. "In almost every situation, whether it's their weight, their race, we just stereotype people. And in this case, it's their poverty.
"It's anything we can do by having a really nice-looking campus, by treating people with dignity and respect, and seeing fruit (from that), that we'll show these people have value. And it's worth investing in them. If we don't, they're only going to get worse."
On the fourth floor, Aric Duckett gazes out of his window and surveys a view stretching from Cheyenne Mountain to the Rampart Range.
It's small and humble. But it's his. And he'll happily give tours.
As in all units, a minifridge sits inside the front door. There are a microwave and an induction plate to heat food (stoves and ovens were left out to reduce the risk of fire).
Along the west wall is some of the furniture provided in every unit — a cushy seat and table, opposite a bed. On the windowsill is his first plant.
After more than four years spent homeless — two years camping, two years at the shelter — he wants to use this place as a springboard to employment. He had a house once, but his life unraveled when he found his wife dead of an enlarged heart. He later lost his father to a heart attack.
"I just folded up, and hid my head inside of a bottle and in a tent," he said. "It was sad, and cold on occasion."
Sitting in his apartment, the afternoon sunlight glints onto his face. Like Madrid, he smiles.
"I can say that I'm not homeless now."