Construction crews will move three southbound Interstate 25 lanes onto new bridges next week, hitting a major milestone in a project that will one day connect Powers Boulevard to the freeway on the city's far north side, officials announced Thursday.
As early as Monday, crews will move the southbound lanes onto two new bridges built as part of a $65 million project that will construct a four-lane divided highway between I-25 and Voyager Parkway, south of North Gate Boulevard. The effort includes drainage upgrades, intersection improvements and six major bridges.
Moving to this final alignment marks a major milestone and the last traffic pattern change expected along I-25 as part of the effort, according to a project newsletter released Thursday.
Southbound I-25 will remain open during the traffic shift but drivers should expect overnight lane closures beginning 7 p.m. Monday, officials said. All lanes are scheduled to reopen by 5 a.m. Tuesday in the new alignment. The work is weather-dependent and its schedule subject to change, officials said.
The southbound I-25 on-ramp from eastbound North Gate Boulevard, just before the roundabout, will be temporarily closed for several months while crews modify ramp access, according to the project website. Traffic coming out of the U.S. Air Force Academy can still directly access southbound I-25 by entering the roundabout and taking the first exit.
Temporary detour pavement will be removed immediately after the traffic switch so crews can construct the interstate ramps under the new southbound I-25 bridges, according to the newsletter. Crews will also place new drainage infrastructure and build a retaining wall.
On May 14, crews will move all traffic on Voyager Parkway, south of North Gate Boulevard, to the inside lanes as they continue building two signalized intersections on Voyager Parkway, the project website states. Voyager Parkway will be reduced to one lane in each direction and work will generally occur on weekdays during daylight hours, officials said.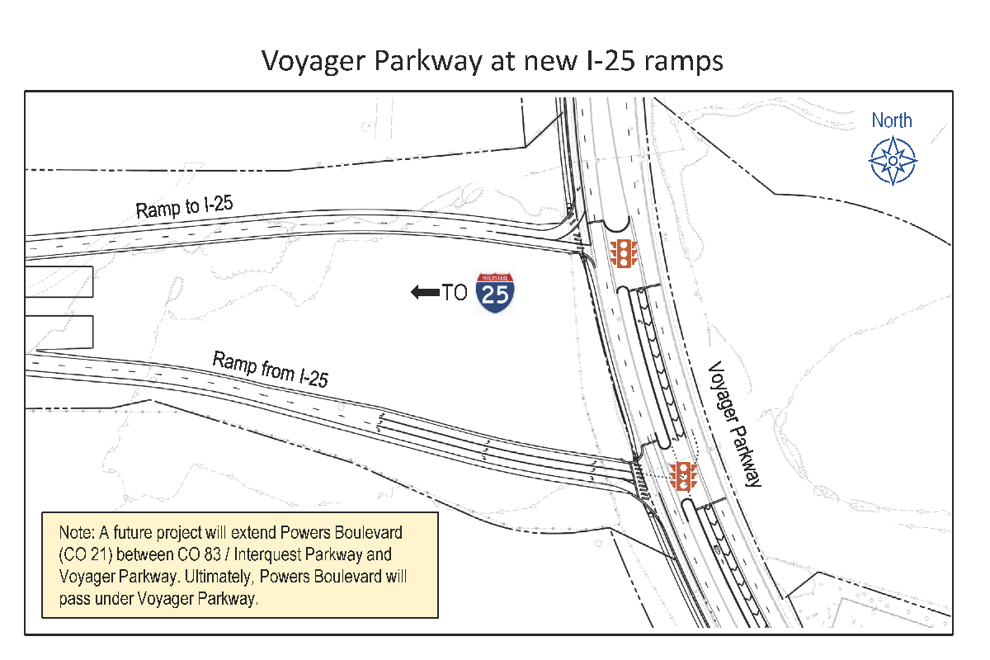 The signalized intersections will be the entrance and exit for the new I-25 interchange when it's complete. Over the next few weeks, crews will complete the final ramp connections and all four lanes along Voyager Parkway are anticipated to reopen in June, project spokeswoman Kate Binning said.
Additionally, the realigned northbound I-25 North Gate off-ramp is scheduled to open this month. With it, northbound drivers will exit the freeway approximately 1,000 feet south of the existing ramp, cross over the new southbound I-25 ramp to Powers Boulevard, then continue north to the existing roundabout at North Gate Boulevard, according to the newsletter.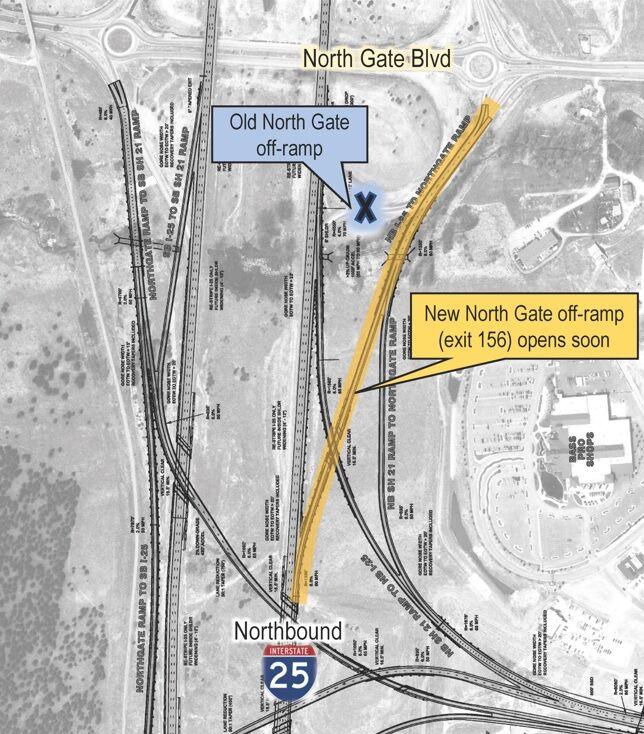 "It's a higher speed and a more gradual exit," Binning said. "Right now, it dives off and tees into the roundabout. This will be a much smoother exit with an additional 1,000 feet to make that crossover."
The new interchange will provide direct access to the retail complex Polaris Pointe, which includes Bass Pro Shops, Magnum Shooting Center, Overdrive Raceway and dozens of other businesses. The project is financed with bonds, to be repaid by revenues from Polaris Pointe.
Construction began in December 2019 and is on track for completion around Labor Day, Binning said. The project team anticipates opening in phases throughout the summer, she said.
The project is the first part of a two-part plan to eventually connect I-25 directly to Powers Boulevard at Colorado 83, where it now ends. Funding has not been secured for this final link, according to the project website.