Being the mom of a transgender child means learning how to be a different kind of parent, and a different kind of person.
Claire Schell was 16 when she decided to come out as a transgender girl, and was struggling with how to tell her parents, Jenny and Chris. They'd always been supportive and open-minded, but this news, Claire knew, was going to rock their world.
Of course it would. And it did.
"You're dealing with your child who is a boy and you have 'boy dreams' for your kid and imagining them growing up and living life as a boy … it kind of just takes some time to recalculate your brain," said Claire's mother, Jenny Schell. "I think we're super open and accepting people, but it was still tough for a little bit just to process the information that Claire was telling us."
Soon enough, though, it was just life. Claire was just Claire.
That life however came with a wave of new worries that had less to do with Claire, and more with the world in which she lives. Jenny knew there were people out there who wouldn't hesitate to be openly hostile toward her, at least on social media, simply because of who she is.
"Especially in the last few years, with transgender issues being in the news because of bills that are being considered and that are being passed around the country … it's just really hard on a parent to know that some people hate my child just because she's being her," said Jenny, her voice thick with emotion. "As a toddler, she was no different than any other toddler. When she came out, she was no different than any other 16-year-old. Why now, because she's being who she is, why is that wrong?"
Jenny realized being a good parent, the kind of parent she wanted to be — and that Claire needed — was going to call for some uncomfortable steps of her own. She realized, to truly be supportive she couldn't be silent.
"But you can't just be supportive, and be silent," she said.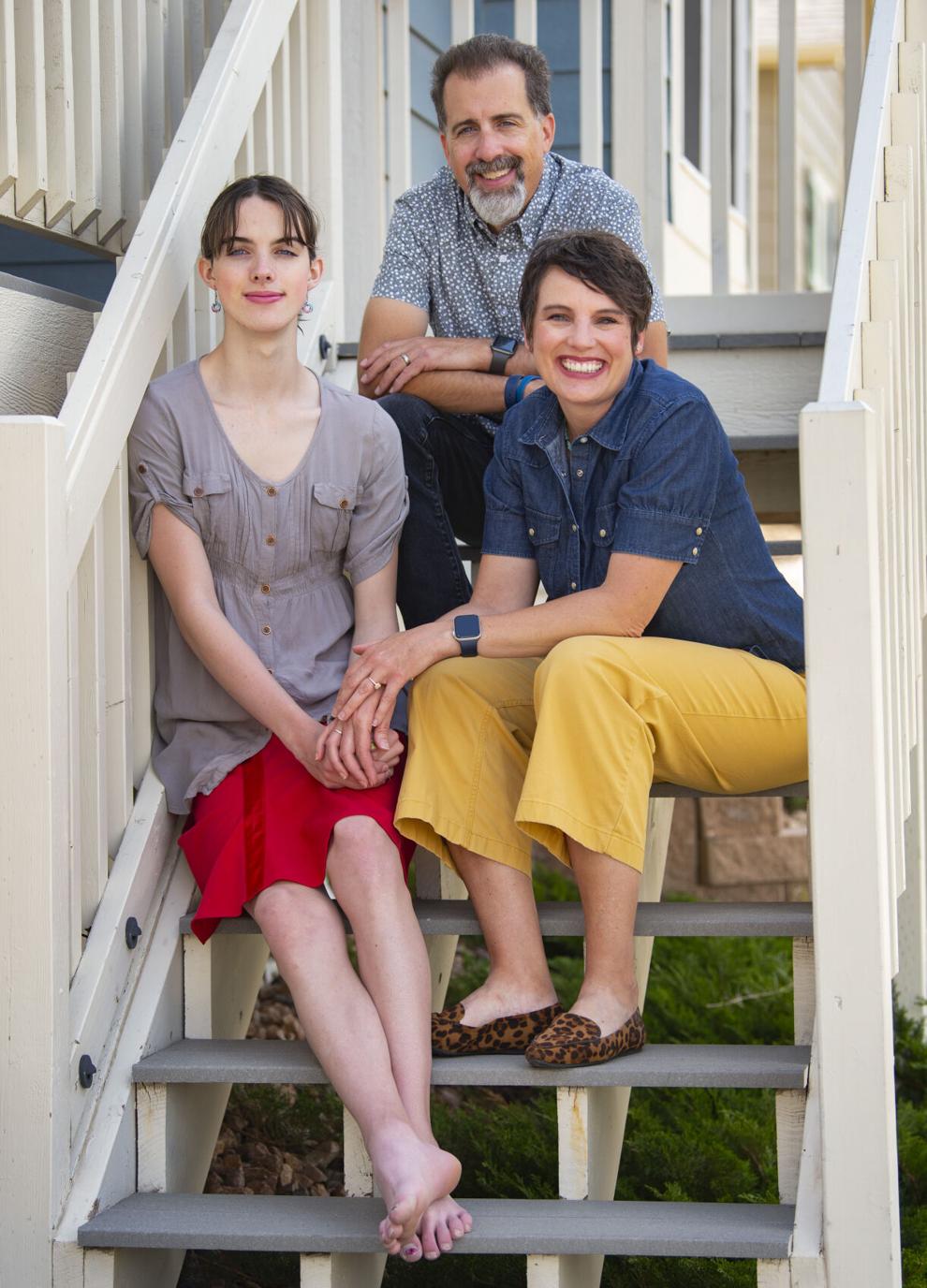 Claire is now 18 and a senior at Fountain Valley School, a private school in Colorado Springs. She plans to study physics at New Mexico Tech, and someday dreams of working for NASA. Growing up in the Springs, she had been a mostly happy kid, quiet, curious and obsessed with numbers, says her mom. But around the time she transferred from Mountain Song Community School to freshman year at Palmer High School, she slipped into a deep depression.
The high school, the first in Southern Colorado to add gender-inclusive bathrooms in 2016, was a "good place," said Claire. It wasn't a good fit, though, and it became clear to Jenny and Chris that their child was struggling with something big. Something bigger even than the normal teen stuff.
"Claire was dealing with suicidal ideation and just sad a lot, and yes it was a really scary time," Jenny said. They sent her to a therapist, and a doctor who prescribed antidepressants, but there was little improvement. "As a parent, that's just really hard when you don't know. You do the things you know, that you think and wish will help … because you don't know what else to do."
As soon as Claire had worked through what was happening, and with the encouragement and support of her girlfriend, she shared the information with her parents — via a letter slipped under their bedroom door, at 2 a.m.
"She communicated really clearly in that letter, who she was and what she needed to happen," Jenny said.
The shift in Claire's mood, and outlook, was almost instantaneous.
"It's like I was sad for a minute, and then I wasn't," Claire said.
For her parents, the process was more gradual.
"While Chris and I had had some hints leading up to her coming out I think it was still tough for us to have that kind of statement of finality, that OK, this is what's happening," Jenny said. "We never anticipated that this would be our story. It was not in the parent training book, you know, how to help your child come into themselves as a transgender person. I do think we struggled a bit in the beginning. I'm sure we could have handled it better, but we definitely could have handled it worse."
Support, from even just one adult, can mean the difference between life and death for a transgender teen, said Jessie Pocock, executive director of Inside Out Youth Services.
"Transgender youth are eight times more likely to attempt suicide … (but) the risk of suicide, for example, goes down five times if you have just one supportive adult in your life," Pocock said. "Some really basic point blank reality: Parents who are supportive are going to have healthier kids. That's just the way it is. And what we know is that parents who are not supportive of their transgender children are just at higher risk for really negative health outcomes."
Pocock knew the Schells before Claire came out, and the family stepped up its activities and involvement with the Springs' nonprofit, which supports and works with LGBTQ+ youth.
"We recognize that it's not easy for parents, either. I think all of us, it's human nature to be scared for our children, and to really worry about them …," Pocock said. "What I really love about parents like Chris and Jenny is they show up to learn. We don't always understand everything about our kids, but if we're curious and we learn and we meet them where they're at, we learn how to be supportive."
For Claire's parents, that learning process began with some uncomfortable self-reflections, and personal acknowledgements.
"I always believed I was a very open and accepting person, but when Claire came out I definitely had to navigate the feelings of that belief being challenged — because for a while I just really wished she wasn't trans," Jenny said. "I'm a person who hates confrontation but now I'm a true Mama Bear, always ready to defend Claire."
Now, that kind of fierce reaction — and a desire to help others learn — is just part of the job.
"It was a really good lesson for us to go through this with Claire," Jenny said. "I think we're much, much better people for it. We're still learning every day, just navigating the world with Claire, but all in all I think we're all in a good spot."
For both Jenny and Claire, their new lives came with new responsibilities.
As Chris puts it, the family — all of them — became "accidental advocates."
"Once you step into that limelight, you get asked to do it a lot. You become an advocate by default, because people realize you're willing and have the ability to share your story," Chris said. "I don't think either Claire or Jenny were naturally the kind of people who wanted to talk in front of crowds, but they've both learned how to do that. It's just part of their lives now."
Claire came out to her school, in a public address as part of an outreach assembly by Fountain Valley's LGBTQ+ community. Jenny said she was worried, at first, about what the response might be, but, as Claire put it, it was "all kind words of support, and tears. Lots of tears."
The response from Claire's school, peers and the community at large has been encouraging. "We've felt nothing but love and support from everybody we've been in contact with. I can't even think of a negative experience, just with people that we know…." Jenny said.
But that doesn't mean she hasn't thought about it. 
"I don't love conflict, but as soon as Claire came out and started dressing in a more feminine manner, it was an interesting … a kind of mama bear type reaction," Jenny said. "I am the last person looking for confrontation or a fight … but I will do it."
She can't protect Claire from the world, the news, and social media snipes. But she can stand up for her, be there for her, and to try to help her process and understand what's happening.
Just as her daughter has done for her.
As Jenny put it on Facebook on March 31, Transgender Day of Visibility — posted with Claire's permission:
"I didn't know that being a mom would teach me so much about being a better human, and no one has taught me more about love, acceptance and letting your authentic self shine than Claire.
"Thank you, Claire, for being the bravest person I know. For being unapologetically you and for fighting for the life you deserve."