Instructional medical manikins so technologically advanced that they breathe, blink, give birth, vomit and talk have arrived at Pikes Peak Community College's new Center for Healthcare Education and Simulation, near the school's Rampart Range campus.
"Obviously, it's not the same as a real person, but it helps us to develop that muscle memory," said second-year registered nursing student Susan Varady.
"This gives us a great learning experience where we can be challenged and make mistakes in an environment that's much more realistic."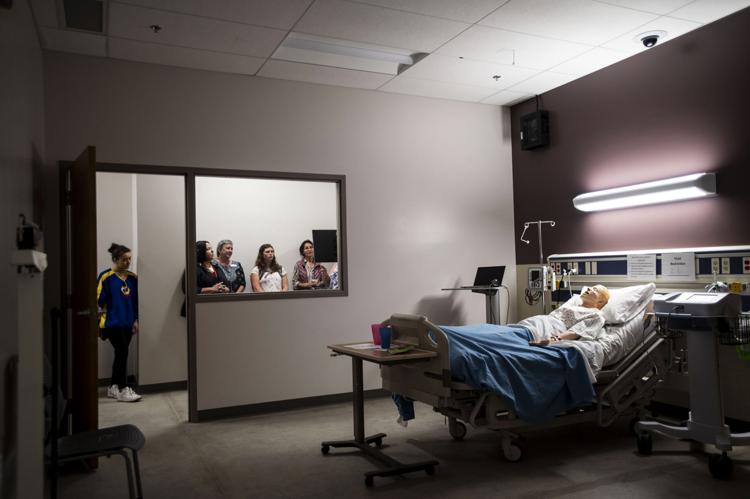 And no one gets hurt, PPCC President Lance Bolton said Friday, at a ribbon-cutting celebrating the completion of the first phase of remodeling the nearly 70,000-square-foot building at 1850 Cypress Semi Drive.
With a "critical nursing shortage" locally and nationwide, Bolton said health care facilities are taxed by supervising and training nursing students during on-site clinicals, a progression toward obtaining a degree.
Students treat the sophisticated dummies as though they were actual human patients, Bolton said.
Thus, "The pressure is there to get it right, but there's no risk to life."
PPCC's new simulation lab on Friday morning received the news that it had earned accreditation through the Society for Simulation in Healthcare.
"It really is a big deal," said Doug Murphy, acting simulation director.
The designation means the lab meets national standards for policies and procedures.
Accreditation involved spending 60 to 80 hours developing each simulated lab, of which there are 85 — just for the nursing program, Murphy said.
Because of the controlled and targeted environment, each hour a student spends in the simulation lab is equal to two hours learning clinical skills in the field at a hospital or other health care facility, he said.
Video screens outside replicated hospital rooms allow PPCC instructors to control the manikins and monitor student response in diagnosing a given scenario and responding.
The setup is "very helpful to students," said simulation lab facilitator Karyn Gonzales.
Some of the procedures students do in the lab are not allowed in an actual hospital setting, she said, such as handling blood. It's fake, she added, but still useful when learning about hemorrhaging, for example.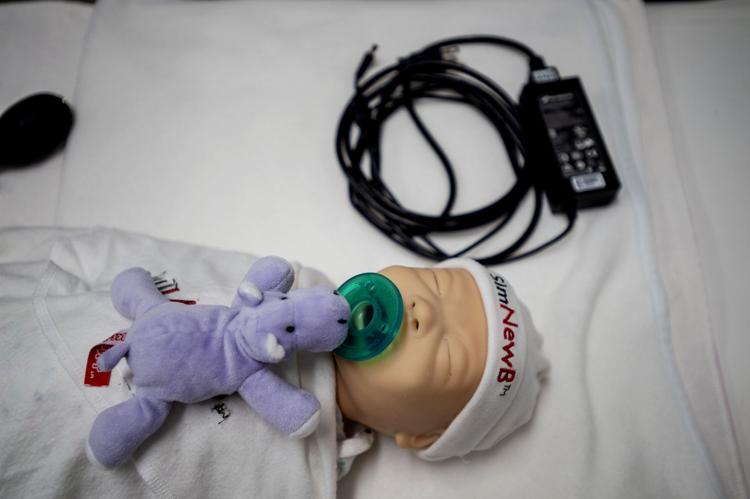 Five simulation labs can run simultaneously and have up to 60 students in each.
To pay for the $4.5-million lab, the Pikes Peak Community College Foundation started fundraising seven months ago and has collected $1.5 million, said Lisa James, the foundation's executive director.
The most expensive manikin was $120,000, James said, and other equipment, such as Pyxis drug dispensing towers for pharmacy tech students, are costly as well.
"We see this as a life-or-death proposition," James said. "If we don't have well-trained nurses, certified pharmacists and technicians, and with high level of skill, the community suffers."
The labs are just part of the $21.5 million center, which has nursing and EMS classes this school year and lots of room for enrollment to expand.
At completion in the spring, the center will house other health care courses including medical and dental assisting, phlebotomy, pharmacy tech and surgical tech.
The center is designed to be interdisciplinary and go well beyond classroom instruction, said Marilu Alltop, PPCC's nursing director.
"By allowing students to work in a hospital-like setting in a team environment with pharmacy techs, EMS, dental and medical assistants, fire and police means they're not operating in silos," she said, "which is what the real world is like."
Contact the writer: 719-476-1656.