A man was killed Saturday morning in a deadly confrontation with Colorado Springs police outside an apartment complex near Motor City south of downtown.
No officers were injured in the shooting, police said. The name of the dead man has not been released.
Officers were investigating a report of a suspicious male in a stolen vehicle in the parking lot of the Elevate Apartment Homes at 340 Crestone Lane when a violent struggle erupted just before 5:30 a.m.
The man "began struggling with officers and shots were fired," The El Paso County Sheriff's Office said in a news release. Shootings involving law enforcement officers are typically investigated by a neutral agency to avoid a conflict of interest.
The Sheriff's Office did not say if the suspected car thief was armed, how many shots were fired and by whom.
The officers involved have been placed on administrative leave, a routine action when they fire their weapons.
Earlier Saturday, a man was killed outside a southeast Colorado Springs nightclub in an unrelated shooting.
If both deaths, and another on Jan. 5, are ruled homicides, defined as the killing of a person by another person, they would be the second and third homicides this year in Colorado Springs.
A neighbor, who asked not to be identified, said he heard at least one shot fired and recorded videos of the aftermath.
"As soon as I heard gunfire, I started recording," he said. "I didn't see a body, but I took video of an officer handling a handgun, I think unloading it. After, they started setting up crime scene tape."
The neighbor said he didn't hear police issue commands before the gunshot.
Later that morning, sheriff's deputies demanded that the neighbor hand over his phone on which he recorded the video. He initially refused, citing his First Amendment right to videotape police in a public place. Deputies eventually confiscated the phone.
"My phone is the way I can protect myself," he said, adding that he has been wrongfully arrested by local authorities.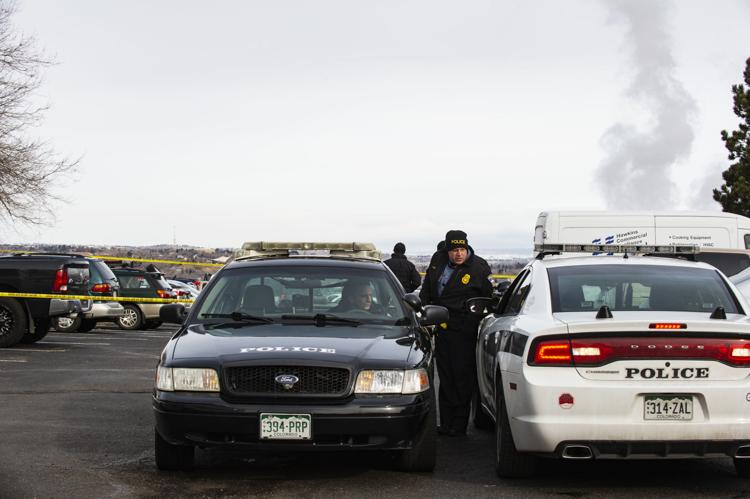 Ruben J. Romero, who lives in the apartment building next to where the shooting occurred, said he brought his Chihuahua outside about 7 a.m. and walked up to the police tape. He said he saw a body near a tan truck with the inside of the windows covered with hanging blankets and the bed filled with various items.
"I could tell someone was living in it, and I knew that it didn't belong to anyone here," he said.
Romero said people sometimes camp out in the back parking lot because it is isolated, dark and sheltered. He has had to call the manager in the past to have them removed from the property.
Romero has seen drug deals and other minor crime at the apartment complex but nothing deadly.
"When you see a body, it's pretty disturbing," he said.
A man was killed just over a year ago about three blocks away. Benjamin Sharkey, 30, had been out of prison for 12 days when he was killed in what police have described as a drug deal robbery at an apartment