Thousands of tarantulas are on the move and searching for love.
Every year a massive tarantula migration sweeps through Southeastern Colorado as male spiders search for burrowed females to mate with. When will it peak? It's starting to happen right now. The mating season normally peaks anywhere from mid-September into early-October.
Reporter Dallas Krentzel from KUNC met with 22-year-old Keythur Merchant, who says you'll find so many tarantulas running around that they're hard to miss. The student of wildlife and natural resource management is no stranger to the wild world of tarantula hunting. He's found these hairy spiders lurking in parking lots, soccer fields, and even in open fields behind Colorado State University-Pueblo.
According to The Denver Channel, one of the best places to see these tarantulas is at Comanche National Grassland near La Junta, Colorado.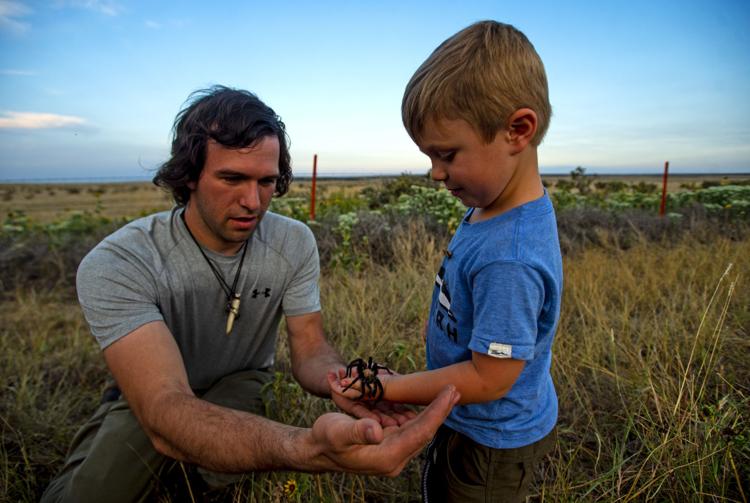 The fall breeding season brings a few different species of tarantulas to Colorado including Aphonopelma echinum (nicknamed the Colorado chocolate brown), Aphonopelma coloradanum, and Aphonopelma hentzi, also known as the Oklahoma Brown Tarantula. These hairy eight-legged critters can grow a leg span of up to 11 inches—nearly twice the length of a dollar bill. 
Male spiders wait 10 years to reach sexual maturity. To find a female mating partner hidden in a burrow about a foot underneath the ground, male tarantulas use their hair and legs to detect vibrations. Sadly, they'll mate once and die, often killed by the female they mate with. Female tarantulas can live up to 20 years or more.
According to a report from the Durango Herald, a male tarantula will wander about a half-mile a day searching for a female mate.
Two more great places to spot this natural phenomenon include just north of Ordway on Highway 71 and between La Junta and Kim on Highway 109, according to the La Junta Tribune-Democrat.
Lucky for all the arachnophobic people out there, tarantulas are pretty harmless and rarely bite humans. If it does happen, a painful bite comes with very mild venom. If you're curious to know more about the spiders roaming around the state, here are 5 dangerous spiders you'll find in Colorado.