On the night of Oct. 21, 2020, Jodie and Donnie Kern were looking forward to enjoying a full rack of slow-cooked ribs, a family favorite.
Before the meal could be finished, smoke from the East Troublesome fire — earlier in the day considered relatively stable — began pushing into Grand Lake and its surrounding neighborhoods. The skies grew so ominous that many residents, including the Kerns' son and his girlfriend, decided to leave, although the first evacuation notice hadn't been received. 
Some 90 minutes later, Jodie, a 9-1-1 dispatcher, told Donnie to start packing. Within minutes, a pre-evacuation notice was issued, and a final notice went out a scant 20 minutes later. The couple rushed out of the home in separate vehicles with their two dogs, Mia, a German Shepard, and Vince, an Akita.
"I've been a 9-1-1 dispatcher for 22 years, so I like to think I'm pretty chill when things are going really bad," Jodie Kern said, "and I was freaking out. "I even called 9-1-1 as we were leaving just to tell them, 'Hey we just left our house, this is where it is and it was on fire when we left.'"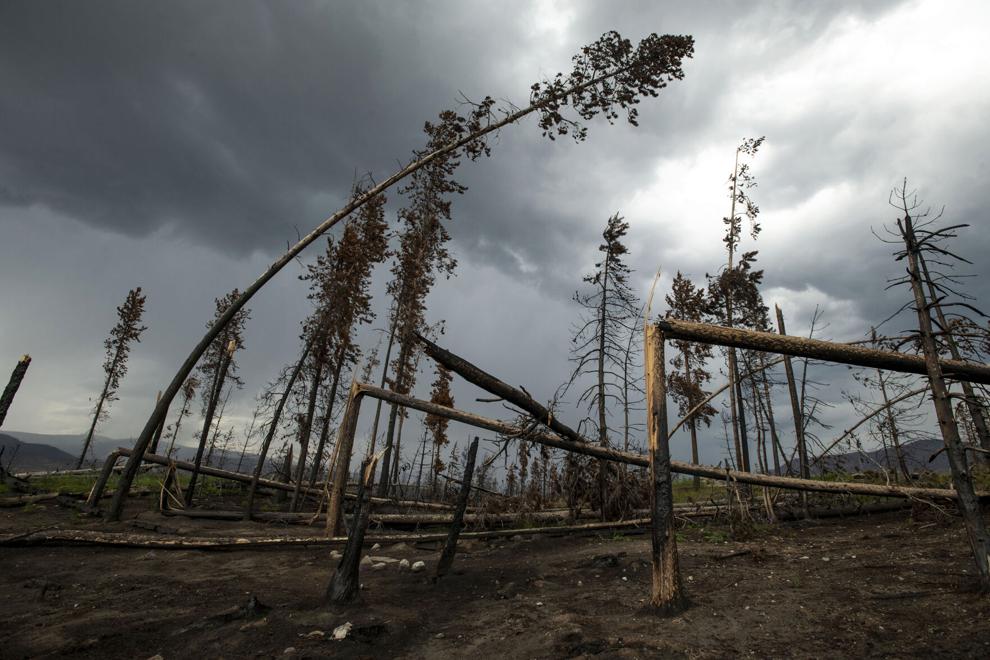 About 3 a.m., the Kerns received a call from the Grand County Sheriff's Office. The house in which they'd raised their two children, Damien, 23, and Rowan, 19, during the two decades it had been their home had been reduced to ash. The family kitchen where they spent hours talking about each other's day was gone, as was Donnie's 19-foot tie-dyed teepee, his man cave.
Ten months later, Jodie and Donnie still live on Mustang Trail, but in a rental, just yards from their lot that is dirt and ash.
"It's been hard," said Donnie Kern, a retired firefighter wearing his favorite tie-dye sweatshirt and sweatpants. "I'd be lying if I said it wasn't."'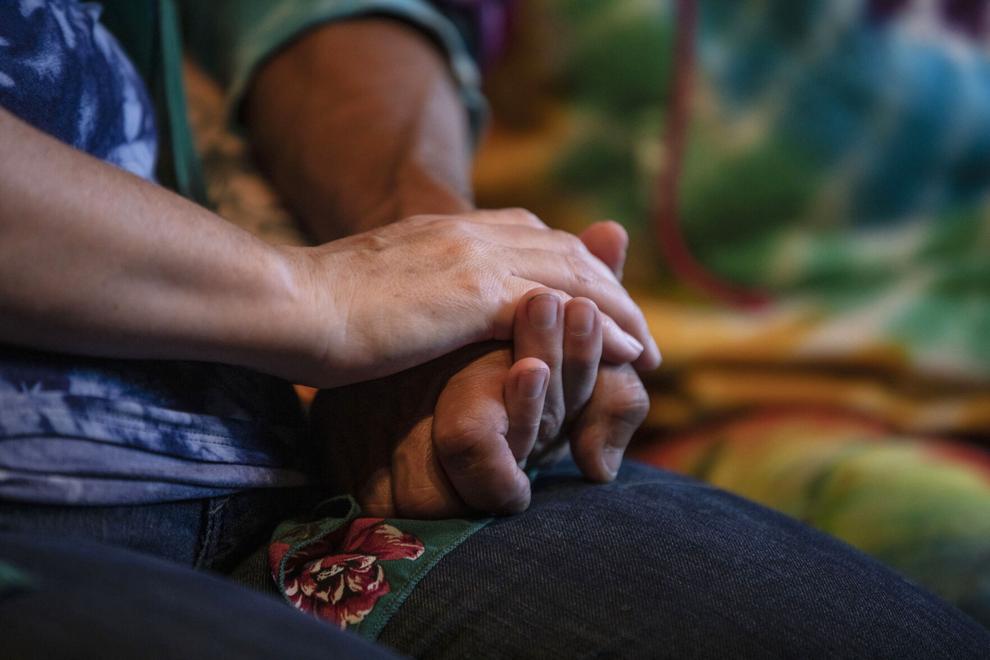 Between the time that Jodie began smoking the rack of ribs and the following afternoon, the East Troublesome Fire exploded from 18,550 acres to 187,964 acres, as wind gusts of 60 mph struck the region, according to InciWeb. Throughout the night and into the following day, 370 homes, including the Kerns', were destroyed. An additional 188 outbuildings including barns and sheds were also destroyed, according to data from the Grand County Office of Emergency Management.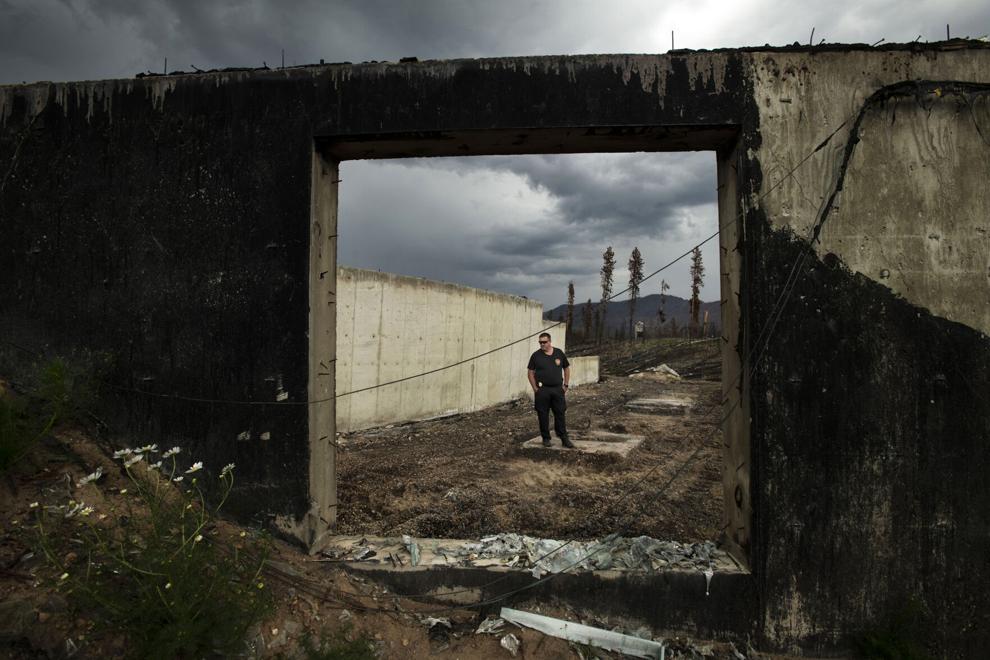 While much of the town of Grand Lake proper, its homes and businesses, were spared, surrounding and outlying neighborhoods were devastated by the East Troublesome inferno. It will take years for those areas abutting the popular west entrance to Rocky Mountain National Park to recover.
Twenty-five percent of the destroyed homes were insured and an additional 40% were "severely under insured," officials said.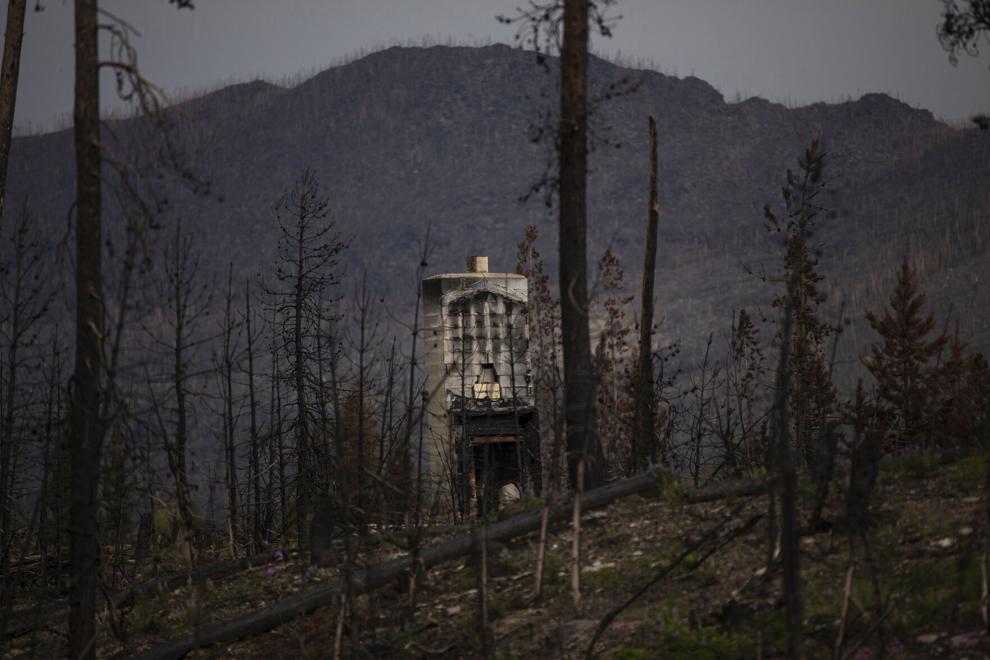 But as the acute chaos and destruction of The East Troublesome Fire has cooled, the response to the fire has switched into recovery mode. Life in the much-loved mountain town of Grand Lake has resumed. 
Recovery is going smoothly, community members told The Denver Gazette, with many citing the support and kindness of their neighbors and many others from far away as the reason. 
"To whatever extent you've lost faith in humanity, you start to see it back again when something like this happens," said Dan Mayer, the fire marshal for the Grand Lake Fire Protection District. "I think it's shown me how great people are when you need them."
Recovery efforts in Grand Lake began almost as soon as pre-evacuation orders were issued Oct. 21. Grand County's Office of Emergency Management quickly established emergency shelters and resource centers for those impacted, while the firefighters and members of the sheriff's office worked to get residents out,  officials said.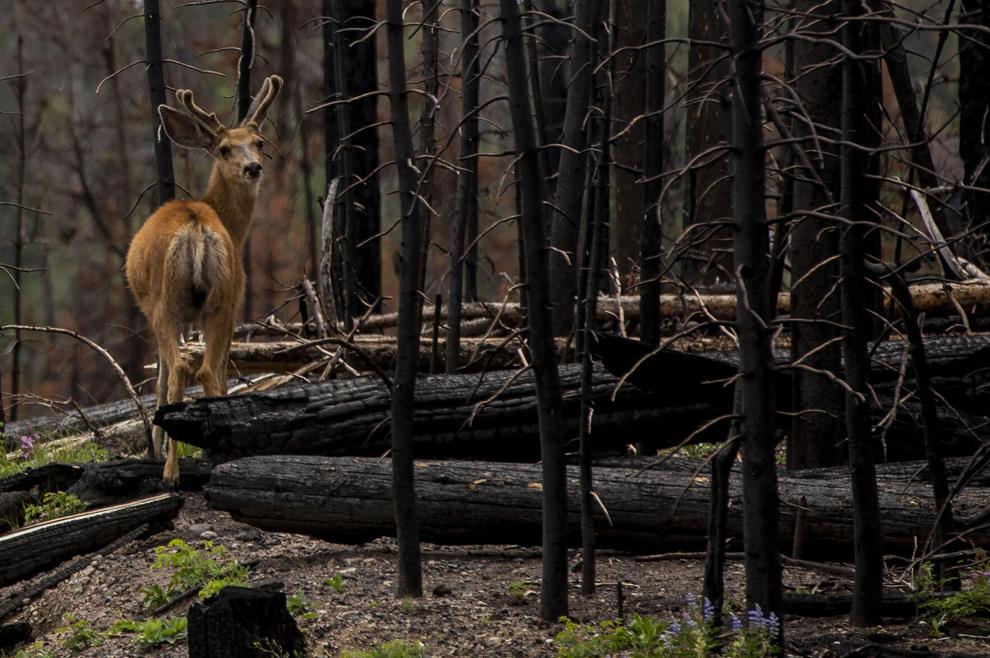 "Typically if you've got a fire, the firefighters are going to be fighting the fire, they're going to be out working on it, but at that point, we had recalled all of our employees and we had all of our firefighters (at the station)," Mayer said. "We used our entire fire department to help the sheriff's department with evacuations and just get people out." 
The Kerns didn't utilize the shelters because a family friend found a condo at the Silver Creek Inn in Granby for them to stay. But the following day, as the fire continued its rampage, they were ordered to evacuate again. They left for Denver. 
"We were like, 'We're done, we're going to Denver because the fire won't reach us in Denver,'" Donnie Kern said. 
While evacuations were taking place, county commissioners were considering how to best establish a disaster relief fund. At the time, the Grand Foundation, a non-profit, was already administrating and facilitating federal coronavirus relief funds.  
Because of the foundation's experience, two county commissioners asked if it could take on fire relief, as well.
"I said to this county commissioner, 'Yes … we can do whatever you want,'" said Megan Ledin, the foundation's executive director. 
And within a few hours the Grand County Wildfire Emergency Fund was created. To date, it has received $3.8 million in donations for recovery efforts.
Firefighters worked continuously fighting the blaze around Grand Lake by rotating around various neighborhoods and putting out as many spot fires as they could. Sheriff's deputies were responsible for making sure everyone was out, no one returned, and they helped wherever they were needed.
Both fire marshal Mayer and Grand County Sheriff Brett Schroetlin said they didn't sleep for 48 hours.
"I was more scared than I've ever been in my entire life and (that includes) 34 years of being a cop," Mayer said. "You felt helpless."
An outpouring of support
It wasn't just first-responders who were prepared to do anything for those impacted by the second-largest wildfire in Colorado's history. County Commissioner Merrit Linke took in more than 100 horses, 25 goats, equipment and even an old Model T on his homestead near Fraser for residents and businesses evacuating their properties. 
An outpouring of support from people from Grand County, from Colorado and from across the United States began. In Grand Lake, donations of food, water and clothes began to pile up at the fire house for first responders and for people who lost their homes. 
"You didn't know how all of this was happening because you weren't involved in it, but it was," Mayer said.
Some of the food, water and other donations came from community members who purchased items at the City Market in Granby, officials said. Food came from the O'Conners, who own Blue Water Bakery Cafe in Grand Lake and Midtown Cafe in Granby. They began cooking for first responders on Oct. 24, said Erin O'Conner, the restaurant's general manager.
The firefighters "were coming back to essentially no food after 12 hours on the line, so they'd have like a granola bar, so we came back and started pushing food out, while we were camping on the floor of Midtown," O'Connor said.
Ledin said she walked into the Grand Foundation office in Fraser and every phone was ringing with people on the other line from across the country wanting to help in anyway possible. 
"I worked 58 days straight taking phone calls from people who wanted to donate, and they realized the devastation that had happened in our community," Ledin said.
As the fire moved northeast into Rocky Mountain National Park and towards Estes Park, more people were allowed to return to their homes and witnessed the devastation for themselves firsthand.
Some, like the Kerns, waited until they found housing in Grand Lake before returning. Roughly three weeks after the fire, the family returned to where their home had been.
"We weren't there very long the first time," Donnie Kern said. "We sat in the cul de sac and took our time to walk to the driveway, and we kind of walked out a little bit and thought, 'Yep, we'll come back.'"
Debris riddled each of the 370 lots where homes once stood with metal, concrete foundations, melted glass and other remnants . To remove the debris from each it can cost between $5,000 and $9,000, said Joel Cochran, director of the Grand County Office of Emergency Management. 
One of the first callers to the Grand Foundation relief line was Dennis Belz, the state director of the Colorado Baptist Disaster Relief, whose organization has spent hundreds of hours helping clear destroyed homesites and recovering such valuables as they could.
Since May, the group has assessed 114 properties, cleaned and removed debris from lots and sifted through burned areas to find precious and everyday items that survived the blaze. 
"It's a dirty job," said Belz, the director of the relief program, "but someone has to do it."
They've found 12 rings, wedding bands, guns and other items that survived the blaze. 
"It's amazing to help people and see them go from their depression and being so upset," Belz said. "It's tough to see people loose everything they've ever had, so we sift and if we can find one little item that'll perk 'em up and they get excited, but for us to see that makes it all worth it."
Several other organizations such as Team Rubicon and Manic Training of Highlands Ranch have helped residents, including the Kerns. 
Manic Training "saw us on Channel 31 and said they wanted to come up and help us, so they arranged to have a dumpster delivered to the house and they came up with 47 people and cleared out all the big metal debris, the foundation," Jodie Kern said. "It was amazing. Anytime we spent time at what was left at the house was with that crew."
And without these volunteers, recovery wouldn't nearly be as far ahead as it is, Cochran said.
"It's been real vital resource to really the people of the greatest need in this community," Cochran said.
But it's not just nonprofits and other organizations lending a helping hand. Neighbors who have started groups such as the East Troublesome Adopt-A-Family, which connects families impacted by the fire to a sponsor family for support, said Emily Hagen, the executive director for the Grand Lake Area Chamber of Commerce.
"This community really knows how to circle up around each other," Hagen said. "Even sometimes it's almost like a sibling rivalry, you might not like someone else, but you have their back."
As the fire became more contained, officials allowed assessors to begin evaluating the damage caused by the fire. The total destroyed property in Grand County was over $146 million last year, according to the county assessor's office.
While people were returning to their homes, assessments of the total damaged continued. It was during this process that officials learned that 25% of the properties destroyed were uninsured and an additional 40% were "severely under-insured," which left people not only wondering where they were going to live, but how they would have the money to afford another home, said emergency relief director Cochran. 
To that end, a presidential disaster declaration was sought to provide assistance to impacted homeowners, and to provide access to the Federal Emergency Management Agency's disaster relief programs.
Former President Donald Trump made the declaration, but because of the overflowing support from the community and beyond the county declined several assistance programs from FEMA, said county commissioner Linke.
National Park heavily impacted
The East Troublesome Fire also ravaged through Rocky Mountain National Park.
Forty-eight miles of trails were devastated by the fire and will take time to repair and reopen, according to park officials. Additionally, a number of structures, historic buildings and park houses were destroyed. 
As with the Grand Lake area, recovery efforts in the park began even as the flames continued to burn, said Karen Nydick, chief of resource stewardship at the park. 
"I brought in a lot of experts to assess the conditions both on the ground where it was safe to do so, and where we could actually see because of the snow on the ground," Nydick said. "We also used satellite imaging and created modeling of potential flooding and debris flows."
To park officials surprise, soil damage in some areas was not as extreme as feared.
"Frankly, many areas looked torched," said Nydick. "But in looking more closely with the soil scientist lens, we saw that the as was mostly black rather than white, which means it still has some organic matter in it."
The samples indicated that there were still some roots intact in the ground.
Although park officials received positive feedback from experts, they are unsure how the forest will recover. 
"Some burned forested areas may not come back as forests or they may come back as different types of forests as they burn more frequently, and climate conditions shift, potentially, to no longer supporting the same species that previously made up the forest." Nydick said. "
In that way, in the era of climate change, fires may not be "good" for sustaining the way things have been on our timescale. Disturbances like fire may essentially speed up ecological change that would have occurred more gradually as climate changes. But, we just don't know yet about tree seedling regeneration in the burned areas. What is certain is that these forests are going to burn. Whether the shift to landscapes of the future will be good or bad depends on your perspective."
Even though park officials have reopened several impacted trails, they're asking people to go in with an open mind.
"It's the same trail, but it looks very different," said Doug Parker, the park's trail and program supervisor. "In some areas it's really beautiful, but in others it isn't recovering as quickly and is still very black and dark and you can walk through there and it still smells like post-fire."
Lingering effects, booming summer
While recovery efforts are in a second phase that includes clean up and debris removal, rebuilding and issues housing permits, it will take years for the Grand Lake region to recover from the East Troublesome Fire.
Mudslides and debris flows are expected to continue for up to five years around the fire's burn scar, especially around U.S. Highway 125. And it could be years before vegetation returns to the area, officials said. 
"This was so destructive," fire marshal Mayer said, "I don't see a positive about something like this coming through."
But regardless of the fire and its lingering affects, locals and people from all over continue to support the Grand Lake community. Carol Silk, hotel manager at the Historic Rapids Lodge and Restaurant, said since May they've been fully booked every night. 
Suzy Adams of Omaha and Jennifer Love of Wilmington were two of these travelers, friends who said they felt they had to come back.
"It's been my happy place for 54 years," Love said. "I grew up in Kansas and we used to come here every August. It was just breaking my heart to see how close that fire was getting, so you really just want to support the rebuild and want to make sure this place is here for all of us to enjoy."
Adams and Love's sentiment can be seen across Grand Avenue as visitors flock into restaurants and stores from vehicles with Texas, Ohio or Minnesota plates. Chamber of Commerce executive director Hagen said the community is projecting around 2 million visitors this summer, which would be a record. 
"Back in October, I thought, 'Who's going to come? Who's going to come to Grand Lake?'" she said. "And the people who love us have shown up for us."
The feeling of caring
While recovery is ongoing, progress is being made.
The Grand Foundation has spent $850,000 to help those who lost homes. Another $550,000 has been committed for debris removal.
A community member with a vacation house paid for the damage sustained by fire department vehicles. Children made cards thanking firefighters and an abundance of signs reading, "We love our firefighters" and "Thank you firefighters" hanging from residences along U.S. Highway 34.
And the feeling of caring is felt throughout the community, whether someone lost a home or not.
"'Special' is not a big enough word (to describe this community," Hagen said. "It's been remarkable to see the outpouring of love from not just our community, but our Grand County community and even nationwide. There's been some really remarkable volunteer groups that have come and done some really amazing things here."
Because of the community support received since Oct. 21, 2020, the Kerns ultimately decided to stay in Grand Lake and rebuild, instead of taking the insurance money and moving away. 
"It confirmed that this is where we should be, because we definitely thought, 'our kids are gone now, and there's really nothing keeping us here, so maybe this is a sign,'" Jodie Kern said. "After that, there's no way we could leave."
On the wall of their living room of their rental sits a diagram of Mount Everest, and it's being used to track the process of their rebuild. Currently, it's still at the base of the mountain as the family is waiting for their building permit to be approved.
Once they reach the peak, the Kerns said they will be hosting a party "of the century." And there will even be another 19-foot teepee installed in the backyard, Donnie Kern said.
"We've never been able to build a new home," Donnie Kern said, "so that's probably the pot of gold at the end of the rainbow."