Overdoses related to fentanyl — a potent synthetic opioid — more than doubled last year in El Paso County, according to data from the county coroner's office.
For years, public health and law enforcement officials warned about the powerful drug that was causing spikes in overdoses on the East Coast and steadily making its way toward western states, including Colorado.
Forty-seven people died of fentanyl overdoses in El Paso County in 2020, compared to 21 in 2019, data shows. The deaths from fentanyl last year were five times the number in 2018, when nine people overdosed from the drug.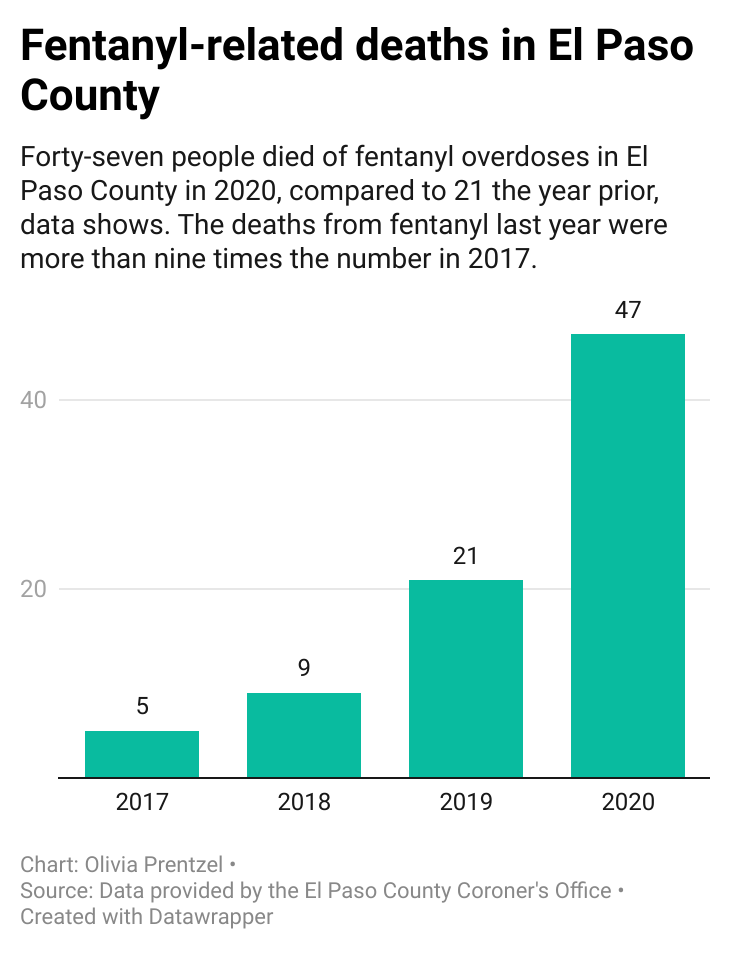 "We know from other places in the country, that once fentanyl has made its way into the drug supply in your community, your overdose deaths are going to skyrocket," said El Paso County Coroner Dr. Leon Kelly. "There are no safe drugs to use, but once fentanyl is in there, you're in trouble as a community."
Overall drug overdoses in El Paso County climbed to 186 last year from 130 in 2019, according to data.
Statewide, fentanyl-related deaths also more than doubled in the past year, jumping from 534 in 2020 from 222 in 2019, according to the latest data from the Colorado Department of Health and Environment. All overdose deaths in 2020 totaled 1,457 — a 26% increase from the 1,072 Coloradans that died in 2019. 
The data highlights a public health crisis that is becoming more urgent and one that has drawn fewer resources and received less attention during the COVID-19 pandemic, officials said.
The fears of health officials that stressors caused by the pandemic, including isolation and financial instability, could lead to more drug deaths became a reality.
"So, while we were all kind of focused on mental health and suicide prevention during all of this, the world's most dangerous drug snuck in the back door," Kelly said.
Officials said the illicit form of the drug — found in powder or pill form — is typically made in Chinese labs before it's shipped to Canada and Mexico. Drug distributors cart fentanyl up from Mexico, through Colorado Springs along Interstate 25, before transporting it to Denver. From the east, drugs are often transported along Interstate 70.
Because fentanyl can be mixed with less potent drugs, overdose victims often have no idea they have consumed it, Kelly said. Drug dealers can mix fentanyl with less lethal drugs like heroin and methamphetamine. It is also sometimes pressed into pilled to look like oxycodone and other prescription pain medicines.
"It's now made its way into nearly all illicit drug supplies, so no matter what you think you're getting at this point, there's a good chance that it's got fentanyl in there," Kelly said.
Only three years ago, when fentanyl-related overdoses were densely concentrated in the northeast United States, the drug was barely registered as a cause of death in El Paso County. In 2017, five people died from the drug, data shows.
"We knew it was coming. But combine the two significant events at the same time, which is what I think got us that massive jump in just one year," Kelly said. "There's no reason to believe it is going to get better this year."
As COVID restrictions begin to loosen and in some places disappear, PJ Higgins of Community Health Partnership doesn't see the demand for substance abuse treatment going down.
Among those who sought treatment over the past year, Higgins said he's seen generally more severe cases of addiction and noticed that people are waiting longer to seek treatment. The lack of community over the past year and ensuing isolation caused some to relapse, even after being sober for years, he said.
Treatment also became more difficult to access as COVID-19 restrictions placed a limit on how many patient facilities could admit.
"It really coalesced around this bad, perfect storm of decreased availability of treatment and the increase in demand for treatment," Higgins said.
While the pandemic and the prevalence of fentanyl were two main factors in last year's spike in drug deaths, it's difficult to gauge how much each are linked, he said. 
The rise in fentanyl has led to test strips being distributed through Colorado Health Network's (CHN) needle exchange program in Pueblo and other parts of the state.
The thin, white paper strips can detect if fentanyl exists in drugs like meth, heroin or other substances in a matter of minutes. After mixing water with the residue of the drug, people can dip the strip into the water. One line will appear if fentanyl is present, two lines will appear if it doesn't.
Since distributing the strips, most people have reported that they are being "more careful" with using the drugs, said Matt Fischer, CHN's director of prevention services. Some reported using less of the drug or using with another person in the case of an overdose, and some said they don't use it at all after realizing fentanyl is present.
"We're not trying to convince you to do something differently that you are already doing. We just want you to know what is in your drug and be the safest you can be if you are using that drug," he said.
Many people in Colorado Springs travel to Pueblo for the organization's syringe access program — one doesn't exist in Colorado Springs — but anyone can get test strips by contacting Colorado Health Network, Fischer said.
"I think that there is this idea that, by giving out fentanyl test strips, that we are somehow encouraging drug use. … Whether we are there or not, people are going to use, and we just want people to be informed," he said.
Fischer said there's also been a reported increase in the use of naloxone, a medication designed to rapidly reverse overdoses. CHN and other prevention centers in the area distribute it free of charge.
In addition to immediate overdose prevention tools and more funding for treatment services, Higgins said solutions to the opioid epidemic lies in systemic changes.
"We are working to make substance abuse that is something that is more openly talked about in the community — trying to celebrate people who have achieved recovery and helping people who don't necessarily have a direct connection to this problem see that that it affects everyone," Higgins said.
"It is a public health concern, and that the best way for us as a community to solve the problem is to approach it as a public health issue."