At the center of Denver's northern boundary lie the historic Globeville and Elyria-Swansea neighborhoods, a community of working-class Hispanic families these days, originally settled by immigrants from Eastern Europe and elsewhere who came to work in the dangerous and dirty smelters associated with Colorado's gold and silver booms.
Separated from most of the city by the South Platte River and rail yards, the neighborhoods and those adjacent through the decades found themselves host to many other industrial activities that Denver's more comfortable confines didn't want. A rendering plant. Meatpacking. A refinery. The wastewater treatment plant. Stockyards. Metal fabricators.
The original construction of Interstate 70 tore the neighborhoods in two and resulted in the loss of hundreds of the tidy little immigrant-built homes that lined the streets there. The population of the two neighborhoods was pegged three years ago at about 11,000 residents in some 3,100 housing units by the Piton Foundation's Shift Research Lab.
THIS SERIES:
Despite opposition from neighborhood, Central 70 project keeps driving forward
Colorado I-70 construction problems lead to extra $100 to $150 million cost
Video: Central 70 project is troubling residents
The promise of an interstate highway through Denver decades ago tore apart community
Suffice it to say, the neighbors are no strangers to heavy industry that has poisoned the very ground on which their homes stand, to air that is filled with toxins and dust, with stink. Proud and gritty, they are accustomed to the hardships that have long come with being home to enterprises perhaps necessary but unwelcome elsewhere in town.
But this time around, as they bear the brunt of the most recent wallop to their community — the Colorado Department of Transportation's massive $1.2 billion Central 70 project — many say it's different.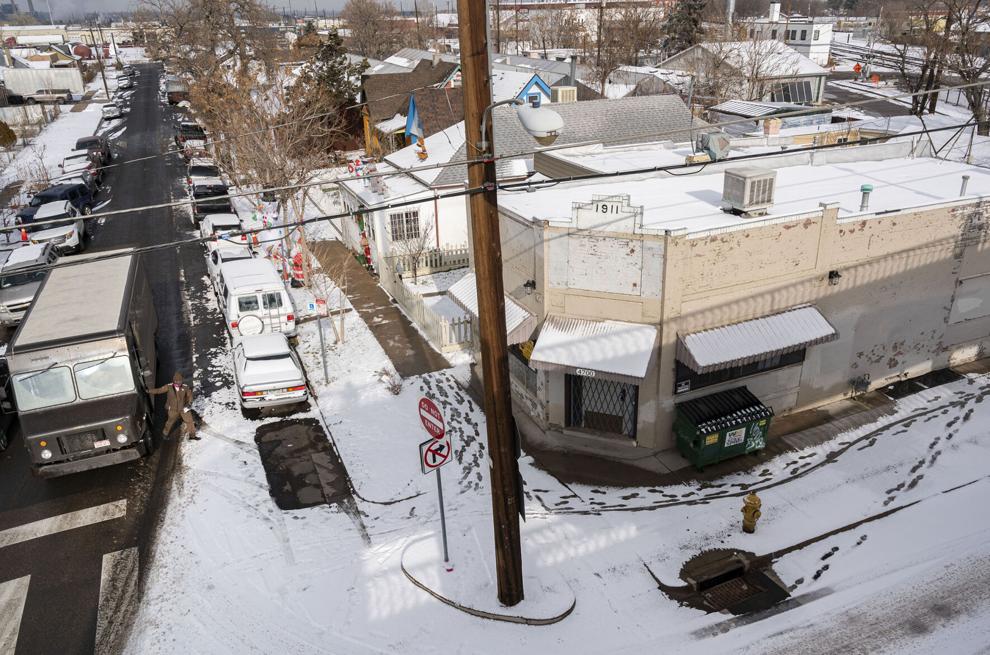 Saddled for decades with notoriously poor health outcomes, residents of Globeville and Elyria-Swansea have been struck hard by the COVID-19 pandemic. With jobs and salaries lost, extended family members have consolidated into single houses, worsening case numbers.
At a time when incomes are vanishing and rents are escalating, the odds of displacement are increasingly high.
"It's a nightmare. The rent situation in over half of these homes is month to month," said Nola Miguel of the GES Coalition Organizing for Health and Housing Justice, a community group formed in part to advocate for equity in health care and housing policies that would benefit neighbors. "Families are having to double up. Sometimes there are three to four families in one home who may or may not be related."
Halfway through a projected four years to completion, the Central 70 project has brought clamor and cracked foundations and has possibly stirred up toxic dust that might be impossible to contain despite CDOT's best efforts. And still another fear is rising in the neighborhoods, as implausible as it might seem.
Gentrification.
Denver's 80216 ZIP code, which includes Globeville and Elyria-Swansea — with its two Superfund sites and six brownfield locations, that is, land deemed hazardous for redevelopment because of existing contaminants — has earned infamy in research studies and lawsuits alike as the nation's most polluted. "Environmental racism" is a term used to describe what has befallen neighbors over time.
And yet, gentrification is bringing a new sense of dread.
CDOT officials say that by today's standards I-70 wouldn't have been built through the neighborhoods in the first place. And in an attempt to at least partially right past wrongs, Central 70 will duck underground where some of the existing elevated viaduct stands today. Part of it, an express lane and 3-4 general use lanes in each direction, will be capped by a new park, with soccer fields and other amenities.
Residents can envision the new infrastructure, splendid in schematic renderings. They are aware of another neighborhood in the ZIP code's southwest quadrant, Denver's River North with its hot RiNo Arts District. They can read the Zillow ads in which a 1,000-square-foot home built in their neighborhood in the 1890s is listed for more than $300,000. They know that Denver Mayor Michael Hancock promised "bold transformational change" to boost Globeville and Elyria-Swansea, this as long ago as 2013.
Activists and everyday neighbors alike consider all of this and believe they are enduring another brutal stretch of their community's present-day reality to build toward a future that doesn't include them.
"There's going to be all this infusion of resources to redevelop and to complete all these major infrastructure projects; but if people are forced to move out because they can't afford to live in the neighborhood anymore, then that — that to me would be the ultimate injustice," said Jim Garcia, CEO of Tepeyac Community Health Center, the beating heart of health care in Globeville.
Central 70 communications manager Stacia Sellers acknowledged the problem: "One of the biggest fears for most folks is gentrification. They don't want to be pushed out of these neighborhoods that they've lived in for generations."
CDOT paid to move the families who were residing in the 56 homes (and 17 businesses) that were demolished to make room for this new round of I-70 construction, added rent assistance to them in their neighborhoods and elsewhere and set up an affordable housing kitty of $2 million. That effort has been joined by a community-based alliance, by Habitat for Humanity, by the city of Denver and others.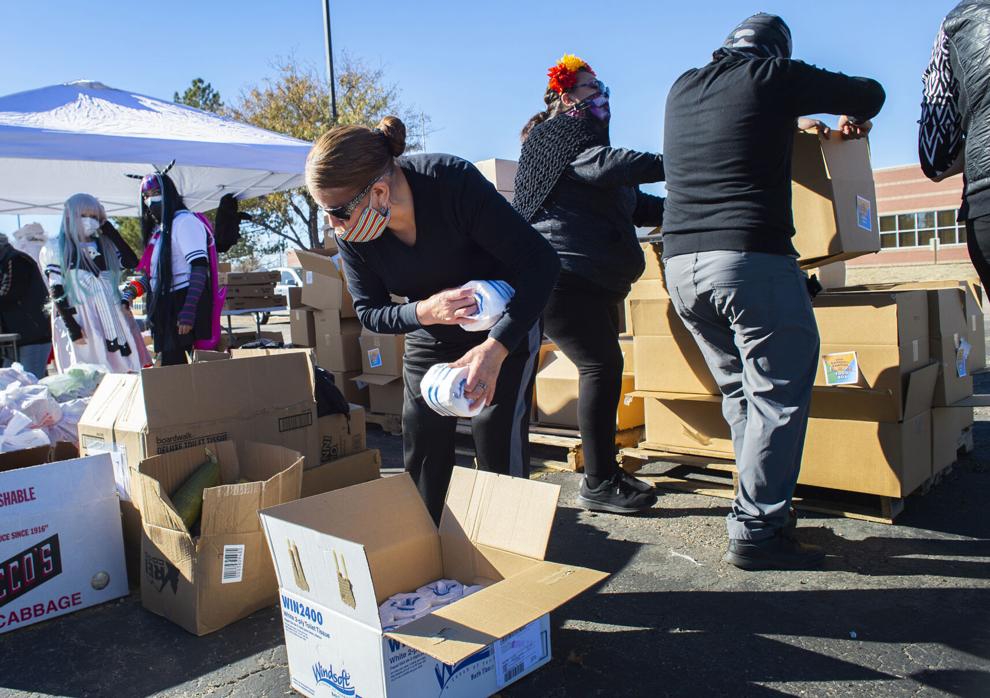 But with rents and home prices jumping, with big plans afoot for their blocks of tiny houses and narrow streets often with no sidewalks and treeless yards, the fear is palpable among many neighbors that they will be forced out.
And this while living in the midst of vast-scale construction that combines elements of Boston's Big Dig and Seattle's Alaskan Way Viaduct demolition, a pandemic raging about them.
II.
Last March, Nancy Santos, a child care worker, lost her job as COVID-19 began to surge. Unable to pay her rent of $1,450 per month (up from $1,000 in 2012), Santos and her two daughters, 13 and 11, moved two doors down the street to live in her sister's three-bedroom home with her sister and her four children. It's been a very big change, Santos said of the room she now shares with her two girls.
In addition to being cooped up, Santos' daughters both suffer from asthma and one from autism, making it difficult for them to spend time outside.
"My daughter, she's 11 years old, she's autistic and she has asthma. She has lots of issues, and she's like, 'Mom, I just hate my life,' " Santos said, adding that her youngest child often feels afraid of going to school or even leaving the room she shares with her mom and sister.
Both girls are students at Morgridge Academy, a facility school associated with National Jewish Health for children with chronic illnesses.
A resident of her neighborhood for 20 years, Santos is a member of the GES Coalition.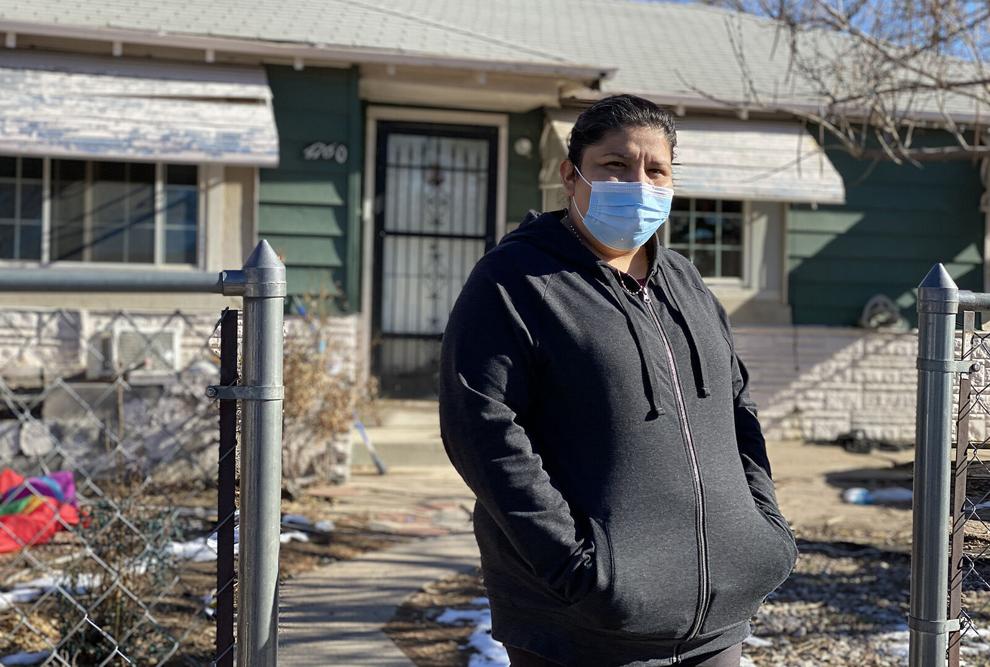 In mid-November, Santos' mother, 62, was released from the hospital after a nearly monthlong stay battling COVID, including a stint on a ventilator.
"It's been very difficult, but she's trying her best," said Santos, who now visits her mother multiple times a day to give her medicine.
Given her circumstances, Santos understands as well as anyone the difficulties facing her neighbors in GES: abnormally high rates of health problems, housing insecurity, the pandemic's impact on education, the disruption caused by the highway construction, as well as other issues that affect personal health, including the fact that GES is one of Denver's recognized food deserts, without a grocery store.
"I mean, I love my city, but with all these situations, it seems like it's better to run away than stay here," Santos said.
Another person with keen community awareness is longtime resident Fran Aguirre, who has been active with a community advisory group to one of the Superfund sites. She has lost four of her seven siblings to cancer, which she connects to the neighborhood's historic contamination.
"I know families where everybody in the family has asthma," Aguirre said.
"We have a real caste system in this country. You know, some people can make it, and some people can't," Aguirre said. "And it so often depends on the language you speak. It depends on the color of your skin."
Veronica Rivera lives on Josephine Street, her residence separated from the gaping maw of the construction site only by a chain-link fence.
According to Rivera, the construction will typically go from 6 a.m. until 10 p.m. and has caused small cracks in her floor tiles as well as pictures to fall, shattering the glass. Her front porch is cracked around the door, caused by the heavy construction equipment, she said.
While CDOT promotes the benefits and new opportunities Central 70 offers to residents, including hiring a sizable number of them to work on the project, Rivera doesn't buy it. Living near a superhighway is always going to have its dangers.
She, too, has pondered Santos' question about whether it might be better to flee. To move out would mean starting over, and to her, given the much higher costs of living elsewhere in Denver, her home, it doesn't seem feasible.
"It's not possible," Rivera said in Spanish. She will not let Central 70 chase her away. "I have to stay."
There were 29 homes for sale in Denver 80216 for a median price of $303,800, according to a summary by Realtor.com. A short jaunt to the east on I-70, there were 84 homes for sale in Denver 80238, which includes Central Park (formerly Stapleton) for a median $595,000.
Staying put may seem less tenable now than previously, but moving on can seem impossible. Many people point out that their families have lived in the neighborhood for generations. This is their history, even if they now feel trapped by it.
III.
While many residents cite constant street closures and unexpected detours as another irritant from the construction, CDOT points to its "Know Before You Go" campaign, which offers weekly emails or texts about street closures, restrictions and detours in English and Spanish. The public also has the option to visit the website c70.codot.gov that offers traffic updates or to call 833-C70-INFO to hear a recorded message about weekly traffic restrictions and changes in English or Spanish.
Although some complaints have been received about the project, CDOT public information spokesperson Emily Clarke said the number of gripes is not high.
"It really isn't as much complaints as you would imagine seeing with a corridor this populated," Clarke said.
Many of the neighbors opposed the new project, preferring instead an option that would have moved I-70 north into Adams County. When they lost, they perhaps lost interest in formally complaining.
But that doesn't mean they are sanguine about what is going on around them.
"The noise, it's overwhelming," said Yadira Sanchez, a longtime resident and "navigator" with the GES Coalition, a position from which she, among other duties, helps try to resolve tenant-landlord disputes. "The reroutes are overwhelming. The potholes are overwhelming … I live right in (the) spank middle of it.
"They don't put signs on the streets to notify us and say, 'Hey, there's going to be a change of route this time to this day,' like they would normally do it in other neighborhoods. So the impact is horrible. It's overwhelming for people who are (like) us who have family, that have children with disabilities and children with breathing problems. It's horrible."
Sanchez herself only recently emerged from a desperate battle with COVID-19.
Other residents report that the moving earth, the vibrations and jarring of heavy equipment, has damaged their homes and cracked foundations, walls and windows.
According to CDOT's Clarke, damage to homes will be surveyed and compensated for after the project is completed.
Day-to-day aggravations aside, Central 70 has stirred old fears deeply rooted in the neighborhoods' history. With its mass excavations to move the freeway below grade, the enterprise is digging in troubled ground.
To its credit, CDOT has made no attempts to deny it. While vowing that soil contamination and air pollution are being closely monitored and regulated throughout the project, with 1,800 soil samples taken along the 10-mile stretch under construction, the reports about what has been found are unvarnished.
Under existing conditions, the agency's management plan describes that "based on a review of available documents and information" there have been contaminants found including arsenic, lead and gasoline range organics in various soil samples. In the groundwater, cadmium, arsenic, iron and chloroform have been detected "above the groundwater standards" as well as pH levels "outside of the range allowed by typical dewatering permits," demonstrating that contaminants do still exist, and in some cases, they exist at alarming levels.
The Vasquez Boulevard/Interstate 70 Superfund site joined the national register in 1999. The site, one of two in 80216, was divided into three "operable units" for easier management.
Mary Hernandez, who lived in Globeville for 25 years, is a children's author and a longtime employee of the Denver Public Library. She, too, participated in the Community Advisory Group for the VB/I-70 Superfund site, largely because of the horrific health outcomes experienced by her family.
In the past, she lived near a still-operating smelter while pregnant, and she rues the day she renovated her basement, digging up soil that she now believes was toxic.
"It's not only my daughters," she said, describing a litany of birth defects, including cerebral palsy and septo-optic dysplasia, a condition that can affect optic nerves and sight, as well as premature death among adult relatives. "It's been my whole family through generations."
Much has been reported and written about the environmental issues plaguing GES through the years. The state successfully sued Asarco, the copper mining, smelting and refining conglomerate, as far back as 1983. A class-action suit by Globeville residents in 1991 led Asarco to commit to cleanup efforts. The GES Coalition was a participant in the suit brought against the Central 70 project, the settlement of which includes a new health study of the neighborhoods.
Victories have been won.
But the perception within the community is not that much has changed, neighbors say.
Said Superfund CAG participant Fran Aguirre, "How do we give people a hope that their life can be better when we have just pollution and more pollution and more pollution? I don't know."
IV.
"This area was previously smelters, so there are high levels of arsenic, lead and some metals in the area," said Megan Wood, environmental manager for Kiewit Meridiam Partners, lead contractor for the Central 70 project. "We did, before we even started construction, sample all the soils … so we were able to kind of say, 'Here are the areas where we have specific levels of whatever contaminant and how we're going to manage it.'"
In addition to concerns about the soil contamination, there are fears of the impact that air pollution is having on the already troubled respiratory health of residents within the community.
CDOT points to the four air monitors established in the GES area to constantly search for levels of dust in the air.
"They send out … an hourly average," Wood said. "So contractually, we have a requirement to stay below 135 micrograms per cubic meter. So if we have any kind of dust exceedance over that, then we get an alert the project team does — and … that just tells us, you know, 'Hey, you're getting high with your dust level, so you need to implement some kind of mitigation.' So then, we're able to go out, see what the operation is, do some further controls, whether it's a water (truck) or, you know, maybe we need to stop the operation and figure out a better way for … whatever it might be that's causing the dust."
Despite such precautions, neighbors describe dust seeping into their homes as invisible as a gas, leaving fine layers everywhere.
"The expansion is going horrible because they have not been taking out the dirt in an appropriate manner, so all of that contaminated ground that they're digging up, it's just flying all over the homes," Yadira Sanchez said. "There's no protection."
Access to health care and the ability to afford treatment for conditions including asthma is a rising and expensive issue, said Jim Garcia, Tepeyac's CEO. An inhaler can cost hundreds of dollars.
Garcia describes his Globeville medical facility, which provides a wide range of services to those on Medicaid and those without insurance, as a "health clinic of last resort."
He thinks the Central 70 project can ultimately offer benefits to the community in the long term in regard to the investment in more services and facilities. He also worries about the impact that the construction and the highway is having and will continue to have.
"There's still concerns that there's issues with — you're still next to a major highway, which presents challenges with regards to air quality. And so that's something that has to be monitored really closely, especially knowing that we have an elementary school that's going to sit right next to the highway even closer than it was before."
The school referenced by Garcia is Swansea Elementary, located hard on the construction site, its drive separated from the big dig only by a wooden fence covered by murals, one of which features a cartoon boy on an excavator digging in what is clearly depicted as poison.
CDOT wanted to move the school away from its site, but the neighbors objected, citing Swansea's cohesive role as the community's center.
V.
So what about Central 70 and gentrification?
Certainly, gentrification is not a new phenomenon to the Mile High City, with neighborhoods including River North, Highland, Five Points and Central Park (formerly Stapleton) often cited as recent examples.
A 2020 report from the National Community Reinvestment Coalition found Denver to be the second most intensely gentrified city in America during 2013-17, trailing only San Francisco in the share of vulnerable neighborhoods that gentrified.
According to data compiled by the Denver Department of Public Health and Environment, Elyria-Swansea was 80.49% Hispanic, on average, during 2013-17, with 19.5% of families living below the federal poverty level. The corresponding figures for Globeville were 57.11% Hispanic with 24.20% of families below the poverty line. Citywide, only 4.52% of Denver families were below the line during that time.
In 2016, the GES Coalition knocked on 1,500 doors across the neighborhoods resulting in 500 household surveys related to income and housing stability. In the study, published in 2017, the coalition found that 52% of respondents earned less than $25,000 per year and 76% earned less than $35,000. Among the respondents who rented their homes, 51% reported having no lease.
The burden of increasing rents and risk of displacement "is just really, really high," said Nola Miguel, director of the GES Coalition. "And we're just seeing that go up and up."
She said a new survey across the communities, expected to be released soon, shows worsening conditions for current renters. A separate survey by Neighborhood Scout shows the area surrounding East 48th Avenue and York Street in Elyria-Swansea with an average rental price of $1,616 and a median real estate price of $321,481.
In 2018, the GES Coalition announced its Affordable Housing Collaborative, a nonprofit community land trust model, with the goals of creating new affordable housing units, preserving existing affordable housing and offering educational efforts to help residents transition toward home ownership.
In addition to CDOT's $2 million contribution, the City of Denver has contributed to the project. The Brothers Redevelopment Group is involved, and Habitat for Humanity is working with the GES Coalition, in addition to building two additional housing projects: Swansea Homes and 51st Avenue Townhomes. The Swansea Homes project involves 32 affordable new homes, with a three-bedroom house having a minimum monthly income requirement of $4,112 and of $4,430 for a four-bedroom house.
The GES Coalition's 4-year-old door-to-door survey on income isn't an apples-to-apples comparison in stating who might qualify for Habitat, but it does suggest some residents would struggle.
Another housing effort is a collaboration between Tepeyac, Columbia Ventures and the Urban Land Conservancy to offer 150 affordable apartment units as well as a clinic space on the ground level. The groundbreaking ceremony occurred in late October. According to Tepeyac CEO Garcia, priority will be given to those who were displaced by the Central 70 project.
Even the reconstruction of Denver's renowned National Western Center, lodged in the middle of Globeville and Elyria-Swansea, which will house a new Colorado State University campus among many other amenities, suggests big future change for the GES community. In promising "a dynamic year-round tourist destination and agribusiness incubator," National Western says it will "reconnect the neighborhoods of Globeville, Elyria and Swansea with not only new streets and bridges but with new educational and economic opportunities."
Not everyone believes all this change will be good for many current residents.
"Affordable housing is a moniker that is used by politicians and regulators and developers. It is not a reality," said Bridget Walsh, a Denver real estate broker and a member of the Community Advisory Group. "They're not doing it for the neighborhood."
In Walsh's opinion, new construction projects should not be taking place at all, citing concerns about toxins and pollution that she believes still exist and are affecting the health of community members.
For the neighborhood women activists who speak for GES, who watch over it day to day, it is the combination of events — the economic disruption, the illness, the loss of life during the pandemic, the seemingly endless highway construction, health issues linked to historic contamination, the threat of gentrification — that bring words of despair.
Yadira Sanchez, who also participates in the Community Advisory Group, believes there is a lack of concern about issues faced by the predominantly lower-income, working-class Hispanic GES community.
"I think that every night that I hang up with the CAG, I have to cry because I'm sitting here saying, 'I'm freaking dying here, and they're telling me that I'm dying here. And I can't leave.'" Sanchez said it feels like she's being walked to her grave.
Santos agreed with her friend. She said she feels trapped by all the construction and dust that she believes still carries harmful contaminants.
"We feel like — like rats," Santos said. "We deserve to be treated as a normal person, because we're human beings."