On the heels of a winter storm that brought sub-zero temperatures to the Front Range and Denver metro area Wednesday night into Thursday morning, is a second storm lambasting the southern mountains of Colorado.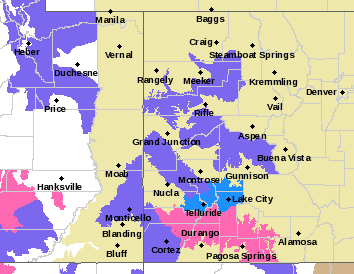 A winter storm warning is in effect for parts of southwestern Colorado and the San Juan Mountains until 5 p.m., Friday. Heavy snow will continue throughout the day today into Friday with another 7-14 inches and locally amounts of up to 20 inches around Wolf Creek Pass.
The Colorado Department of Transportation on Thursday afternoon reported that US-160 westbound was closed from South Fork between County Road 20 (South Fork) and USFS 667 (12 miles east of Pagosa Springs) from Mile Point 184 to Mile Point 157 due to poor visibility. Travelers were told to expect delays due to safety concerns.
The first storm laid down snow accumulations of 13-23 inches in the San Juans by Thursday morning, keeping several highways closed or delayed Wednesday into Thursday. 
Wolf Creek Ski Area reported on its website "the west side of Wolf Creek Pass will be closed until CDOT (Colorado Dept. of Transportation) has determined that all avalanche hazards have been mitigated," and travelers only have access to the mountain via the east side (South Fork and Del Norte).
Check cotrip.org for opening and other information regarding travel conditions statewide.