A gunman killed six members of an extended family Sunday at a birthday party at a mobile home in Colorado Springs before turning the gun on himself, police said, in what appears to be the fourth deadliest mass shooting in state history, tied for the deadliest mass murder in the city's history.
The killings happened just after midnight Sunday at the Canterbury Mobile Home Park on Preakness Way off Powers Boulevard, near the airport on the city's east side. Officers, racing to a reported shooting, arrived at a trailer to find six dead adults and a man with serious injuries who later died at a hospital, Colorado Springs police said in a Sunday news release.
The suspect, the boyfriend of a female victim, drove to the trailer where a birthday party was being held with friends, family and children. Inside, he began shooting party attendees before taking his own life, police said, adding that the children present "are now with relatives."
---
RELATED:
Governor, Colorado Springs mayor, release statements on shooting
Powerful images from the scene of the shooting
Neighbors mourn 6 slain in Sunday shooting at party
History of mass killings in Colorado Springs, going back to 1911
---
The incident was Colorado's worst mass shooting since a gunman killed 10 people at a Boulder supermarket March 22. The killings appear to be the deadliest gun-slaying in Colorado Springs history, and are tied for the deadliest mass murder in Colorado Springs history, said Colorado Springs Police Department historian Dwight Haverkorn.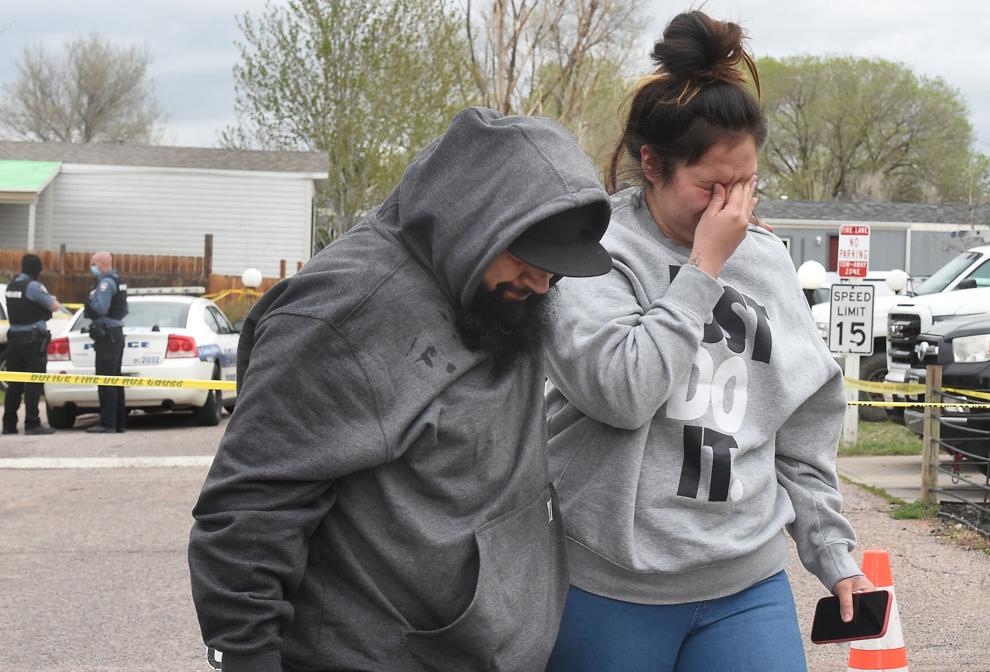 The party celebrated the birthdays of Nubia Marquez, 28, and her brother, Melvin Perez, who would have turned 31 this week, as well as their mother, Joana Cruz, who would have turned 54 this week, Nubia Marquez said on Sunday.
"My mom had always liked celebrating them together," said the woman, who had attended the party with her husband, Freddy Marquez.
Had the couple not left around 10 p.m., their fates might have been different. When they departed Joana Cruz's home, "everybody was calm," Freddy Marquez said. "Everybody was good."
Both Melvin Perez and Joana Cruz were killed. Also among the deceased were Nubia Marquez's other brother, Jose Guttierez, 21; Melvin Perez's wife, Mayra Perez, 32; and Mayra Perez's sister Sandra Ibarra and brother Jose Ibarra, the couple said.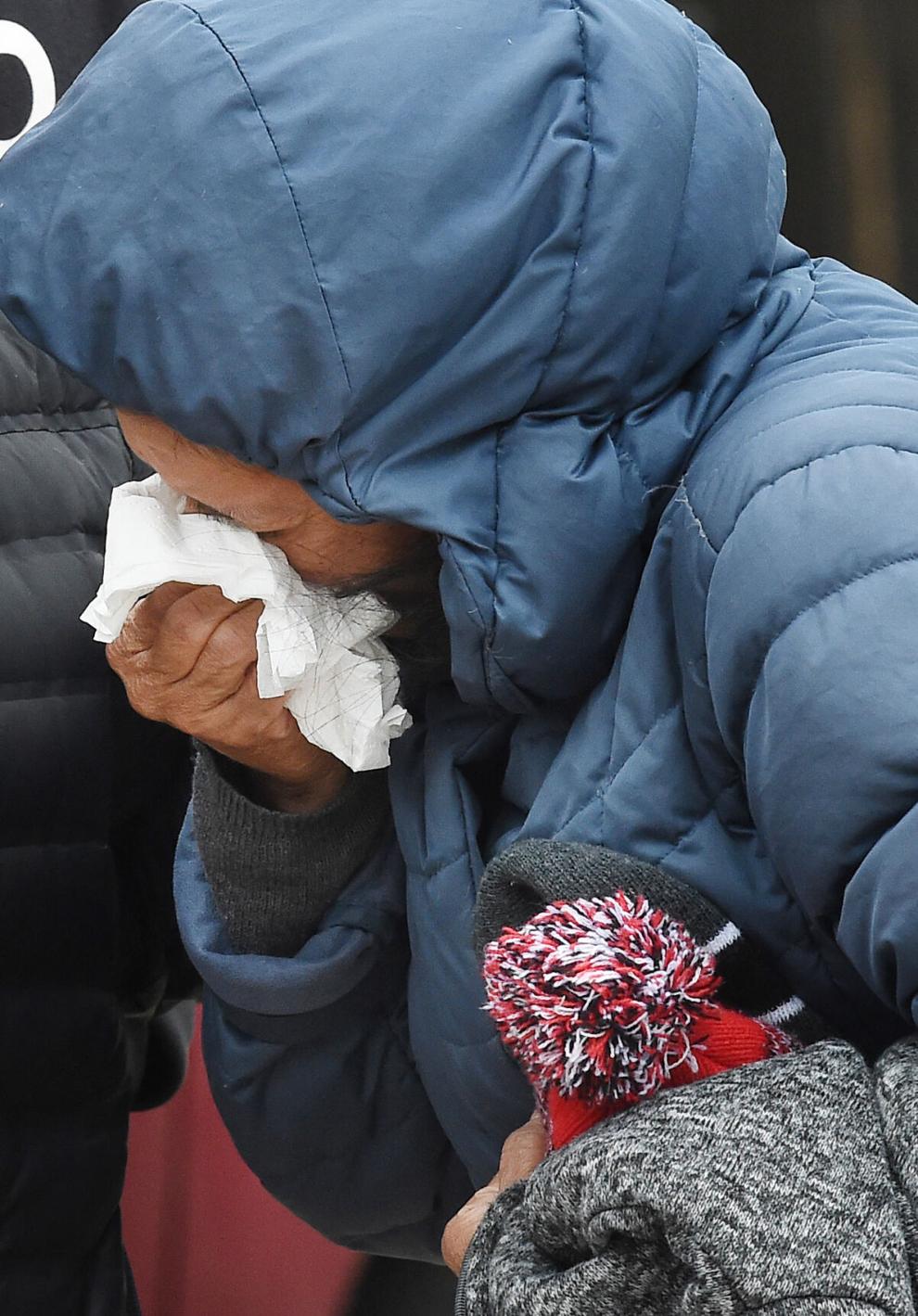 Freddy Marquez identified the suspected shooter as Sandra Ibarra's boyfriend and described him as "quiet" and "serious," and said he always carried a gun. He had met the alleged gunman only once and said "there was nothing out of the ordinary" about him. The couple knew the man only by the the nickname "Junior."
Freddy Marquez described his mother-in-law, Joana Cruz, as "loving" and "hard working."
"She was always laughing," he said of the mother of four.
Her sons were "just like their mom," he added. "They were all great people."
For hours Sunday, Freddy and Nubia Marquez huddled with relatives outside crime tape, about 200 feet from where their loved ones died. Freddy Marquez wrapped his arm around his wife's neck and she rested her head on his chest, blocking her view of crime scene technicians outside her mother's home.
A woman who lives nearby in the mobile home park said she awoke to the sound of what she believes were gunshots and eventually heard crying outside. Two young children were put in the back of a patrol car.
"And on Mothers Day," said the woman, who did not wish to be named.
In a Sunday statement Colorado Gov. Jared Polis called the mass murder a "terrible act of violence," occurring as "many of us are spending the day celebrating the women in our lives who have made us the people we are today."
"Families torn apart, and at a birthday party, no less," he said.
Colorado Springs Mayor John Suthers called the shooting a "senseless act of violence" and asked for the public's patience as the police department investigates.
"Today we find ourselves mourning the loss of lives and praying solemnly for those who were injured and those who lost family members," Suthers said in a Sunday statement. "We think, too, of the emergency personnel who responded to a horrific scene and we keep them in our prayers today."
#Breaking: 7 killed at birthday party at #ColoradoSprings mobile home park. Police say shooter, a boyfriend of one of the victims, is among dead.

— Olivia Prentzel (@oliviaprentzel) May 9, 2021
Colorado Springs Police Chief Vince Niski said officers and investigators who responded "are all left incredibly shaken."
"This is something you hope never happens in your own community, in the place that you call home," he said.
"My vow to this community and to the families who have lost someone today is that this department will do everything we can to find you the answers you deserve and be here for you with an unwavering support."
The department's Violent Crimes Unit is leading the investigation, police said. As of Sunday night a motive was unclear.
Those with information about the killings who haven't spoken with detectives were asked to call the Colorado Springs Police Department at (719) 444-7000, or the Crime Stoppers Tip Line at (719) 634-STOP (7867) or 1-800-222-8477, if they wish to remain anonymous.
The Sunday scene was deadlier than mass killings Colorado Springs has mourned in recent years. In 2015, a man shot three people to death at random before dying in a shootout with police in Colorado Springs on Halloween. Less than a month later, a man killed three people, including a police officer, and injured nine others in a shooting at a Planned Parenthood clinic in the city.
In 2007, a man opened fire on the Youth With a Mission Center in Arvada, killing two and injuring two before escaping. Later that day, he made a similar attack on New Life Church in Colorado Springs, killing two and wounding three before shooting himself.
Until Sunday, Colorado Springs' deadliest gun slaying appears to have occurred May 17, 1986, when five people were gunned down execution-style during two business robberies, according to Haverkorn. The alleged murderer killed himself when confronted by police the next day.
Sunday's event appear to tie with a Sept. 20, 1911, mass murder of six neighbors from two houses — all killed with axes — for the deadliest mass murder in Colorado Springs history. The murderer was never identified.
Statewide, Colorado's deadliest shooting remains the Columbine High School massacre of 1999, in which two armed teens went on a shooting spree, killing 12 students and one teacher, and wounding more than 20 others. The gunmen then killed themselves.
The state's second deadliest shooting occurred at an Aurora movie theater in 2012, when an armed gunman opened fire at a midnight showing of "Batman: The Dark Knight Rises," killing 12 and wounding 70.
The March 22 attack at a south Boulder King Soopers remains the state's third deadliest mass shooting, with 10 dead, including a police officer. The suspect awaits trial.
Sunday's birthday party massacre becomes the state's fourth deadliest mass shooting, with six dead, in addition to the alleged gunman, whom police say killed himself.
Colorado was tied for fourth in the nation with Washington for the U.S. state with the greatest number of mass shootings between 1982 and April 2021, according to Statista.com. California came in first, with 21; Florida second, with 12; and Texas third, with 11.
Colorado is fairly middle of the road when it comes to firearm mortality by state. In 2019 it ranked 19th in the nation, with 14.2 firearm-related deaths per 100,000, according to the U.S. Centers for Disease Control and Prevention. 
In 2018 the state ranked 33rd in the nation for firearm homicides per 100,000 individuals, with 2.31, around half of the national average of 4.12, according to a 2021 report from the Institute for Health Metrics and Evaluation at the University of Washington, citing data from the global burden of diseases study published in the Journal of the American Medical Association.
Gazette reporters Wayne Heilman, Linda Navarro and Tamera Twitty contributed to this report, as well as The Associated Press.