New Horizons is now North 49.
It's more than a name change. The new owners of the north Colorado Springs apartment complex, Denver-based Slipstream Properties, are looking for a complete break with the past. Slipstream bought the property and six other complexes in southeast Colorado Springs from Terry Ragan in May for $102 million.
While other investors are snapping up old apartment complexes to refurbish and make a profit in Colorado Springs' hot real estate market, Slipstream is looked upon as something of a savior.
Under Ragan's ownership, New Horizons and his six apartment complexes in southeast Colorado Springs — South Pointe Apartments, Pine Creek Village, Cedar Creek Club, El Vecino, Shannon Glen and Timbers Apartments — were notorious slums. Crime and code violations were rampant. Apartments were often uninhabitable due to mold, cockroaches, leaks and broken furnaces, windows, kitchen appliances and locks.
In the seven months since Slipstream took over, that's been slowly changing. Building by building, the company plans to replace nearly everything. 
"It's a big ship to turn 180 degrees in the other direction," said Anthony Loeffler, a partner in Slipstream.
For anyone familiar with gentrification in other cities, improvements come with a predictable trade-off.
Nicer apartments will attract tenants able to afford higher rents, enabling Slipstream to recoup not only the purchase price, but also the millions it is investing in renovations.
But Colorado Springs, which already has a huge deficit in affordable housing units that advocates say contributes to homelessness, will lose what city officials have admitted were among the few apartments the working poor, single parents and the disabled could afford.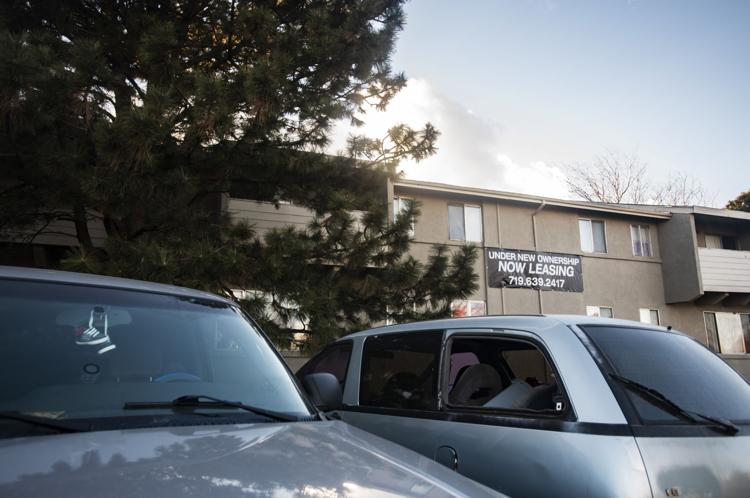 Mayor John Suthers has rejected any suggestion that the city should mandate that a portion of new developments be set aside for lower-income tenants. Instead, he advocates increased competition to push out unsavory landlords, such as Ragan, or force them to improve their properties to remain competitive.
Complaints down dramatically
Earlier this year, 3 percent of rental property owners in the city accounted for 50 percent of code enforcement's cases and follow-up inspections, said Code Enforcement Manager Mitch Hammes.
No. 1 on that list was Ragan, whose properties accounted for 198 housing cases between June 27 and Oct. 31 last year. The property owner who was second on the list was responsible for 17 cases.
Since Slipstream came in, code enforcement complaints are down substantially, Hammes said. 
In September 2017, when Ragan was still the landlord, his seven complexes were responsible for 26 housing cases, Hammes said. This September, there were seven.
"Less people are turning to code enforcement, which would tell me that the management is responding to tenant concerns much more," Hammes said. "It certainly is encouraging to know that now there is an owner of these buildings that's taking responsibility and doing the right thing."
The most tangible change is that complaints about crime or requests for repairs aren't simply ignored.
Tenants, knowing Ragan's property managers wouldn't fix or replace anything, had grown accustomed to going directly to the city, said Nick Lazarra, president of Urban Phenix, Slipstream's rental property management company. It's taken awhile to gain their trust, he said, but complaints to the city have dwindled.
That benefits the entire city by freeing a full-time inspector to handle other code violations, such as overgrown weeds, junk vehicles and trash, Hammes said. 
Broken windows
In law enforcement circles, there's a concept known as "broken windows policing." It's been long overdue at the former Ragan apartment complexes, according to Sand Creek Division officers who patrol southeast Colorado Springs.
"If you show that you care about a property and take care of it, if a window gets broken and you immediately repair it, or if you make sure a broken light bulb is fixed, it makes it a less-desirable environment for those looking to do stuff in the shadows," police Lt. Steve Noblitt said.
The percentage of police calls to Ragan's properties more than doubled between 2003 and 2016. It's too soon to have crime statistics for the seven months the apartments have had new owners, Noblitt said, but Sand Creek officers are seeing a turnaround.
Apartment managers communicate with police, do background checks on prospective tenants and take action when residents cause problems, he said. 
"(Management) made a point of telling us that if we had issues with specific apartments, they would give them the appropriate due process, but they would not be invited back," Noblitt said. "When you've got people that care, they care about the quality of the place, then other people are going to notice that and want to live there."
Not all of Ragan's tenants welcomed the changes under Slipstream, though, Loeffler and Lazarra said. Some were reluctant to abide by new rules. Others didn't pay their rent.
When Slipstream took over, there were numerous evictions,which have continued each month, Lazarra said. 
"This is necessary," Lazarra said. "We have to have people accountable for making payments, accountable for their behavior."
'An unfortunate price'
Single bedrooms once rented at New Horizons for as low as $630 a month, Lazarra said. In North 49, they'll go for about $1,050.
Studios will rent for about $975, and two-bedroom apartments for about $1,225, he said.
Rents in Colorado Springs have been rising in recent years, with the current average at nearly $1,160. Ragan's apartments had rented for as little as $510.
Already, city officials anticipate a deficit of 26,000 affordable housing units this year, and rent increases at Slipstream's nearly 1,200 units could further diminish the supply.
The loss could take years to undo. The city gained nearly 500 affordable units last year, and Suthers challenged the community to double that over the next five years. 
Even if that goal is met, Suthers conceded, it's unclear whether that progress can outpace the city's exploding population and need for affordable housing.
The reality is the days of a $500 apartment are long gone, Lazarra said.
"I don't think you'll find anything (at that price) on the Front Range," he said.
Despite the higher rents, Lazarra and Loeffler said their renovated apartments still are an affordable option for Colorado Springs renters.
"If you have a job at a restaurant or a bar, you can probably afford to live in one of our units," Loeffler said.
Loeffler and Lazarra said they would discuss voucher programs on yet-to-be-renovated apartments and would consider other options to minimize the effect of the rent increases.
"We're not heartless," Loeffler said. "We want to help people out in every way that we can that makes sense for us, the community and everybody else."
City Councilwoman Yolanda Avila, whose southeast district is home to most of the complexes, said she was disappointed that rents would essentially double in some complexes, but she understands the company's need to recoup its investment.
"It's a very sad consequence of something that's good," Avila said. "It's an unfortunate price to pay for some people that aren't going to be able to manage that rent payment."
She said the apartments might have been inexpensive when Ragan was the landlord, but Slipstream's renovations are much needed and long overdue.
Suthers agreed, adding that as the supply of new apartments increases to meet demand, rents will stabilize.
"The fact of the matter is that we don't want affordable housing that doesn't meet basic housing codes," he said. "I'm a marketplace guy. And the marketplace is going to determine what the rents are and what the various levels of affordability are."
Avila disagreed with Suthers that rents should be determined solely by what the market will bear.
"If it were up to me, we'd have some sort of rent control," she said.
Despite the shortage and impending increases, Suthers said Colorado Springs remains relatively affordable nationally. "But for someone who can't afford to live here, that's little consolation," he acknowledged.
Suthers and Avila hinted that there are housing projects on the drawing board that could alleviate some of Colorado Springs' pressing need for affordable housing. They declined to disclose locations and timetables.
"There is a plan for three different locations for affordable housing in my district," Avila said. "We're talking about it right now."
The city isn't about to get into the housing business, but it can help facilitate new projects, Suthers said. "We've had a lot of inquiries from folks who invest in affordable housing who think that Colorado Springs looks like a pretty good marketplace for the future." 
The problem is what to do in the meantime, Avila said. Those short on rent need to rely on each other for support and take advantage of available community resources to help save money, she said.
Suthers said, "You've got to look at what the job opportunities are, where they're available … what the price of housing is in various parts of the country and things like that and make decisions that are good for you and your family.
"If you can't afford to live in Colorado Springs, you might check and see if there's another place that's more affordable."