Of the 80 men who struck America's first, and arguably most famous, retaliatory blow in World War II, Lt. Col. Dick Cole is the last living.
And while he misses his comrades, the 102-year-old Cole had a sense of humor about his long-lived status after he was lauded Thursday at the National Museum of World War II Aviation in Colorado Springs.
"It's not my fault," he said with a grin as he sat in the shadow of a B-25 Mitchell bomber like the one he helped fly in America's first raid against Tokyo in one of World War II's most audacious missions.
Just months after Japan struck America's Pacific fleet at Pearl Harbor, Cole and his comrades were called to fly a secret mission. They were given few details other than that it posed great risk.
They took their land-based B-25s and trained to launch them from the deck of an aircraft carrier. The bombers, which normally used more than a mile of runway to get airborne, would take off in just 500 feet.
After training in Florida, the Raiders found themselves in mid-Pacific. Their mission had to take off prematurely when the task force was spotted by Japanese fishing boats — adding even more danger to a mission that required the planes to fly their maximum range.
Still, Cole says, the well-trained crews had no fear as they launched from the carrier's rolling deck.
"It was no different than if we were taking off from a runway," the Ohio native said.
Cole was co-pilot for the leader of the operation, then-Lt. Col. Jimmy Doolittle, who became such an Air Force hero after the mission that he has a building in his name at the Air Force Academy.
As they neared the Japanese coast, the complete surprise of the secret raid became evident.
"We were expecting anti-aircraft fire," Cole said. Instead, the B-25s flew unopposed over downtown Tokyo.
"Our target was northwest Tokyo, because we had firebombs," Cole recalled.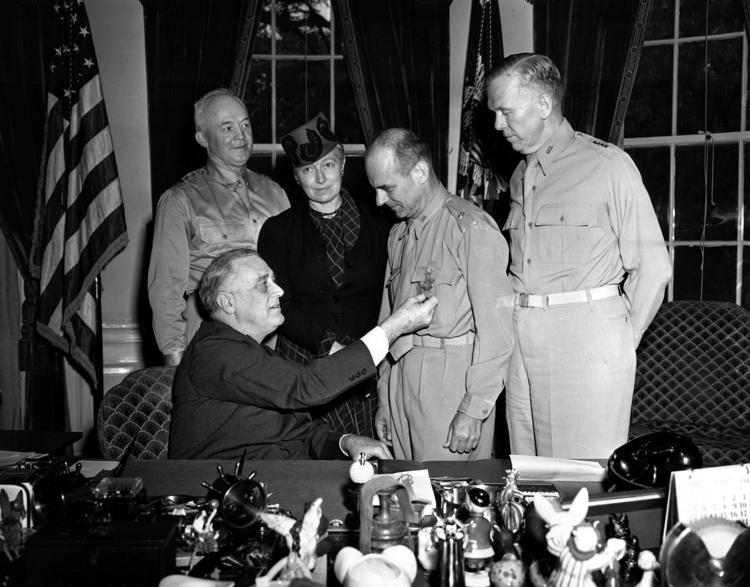 Accuracy in bombing wasn't part of the Doolittle plan. The bombers had their high-tech sights removed so the enemy wouldn't capture them. The replacement was a simple device crafted from sheet metal that gave only rudimentary aim to the bombs.
That wasn't a problem, Cole said. With a massive neighborhood as a target, it would be impossible to miss.
"He could drop them anywhere," Cole said.
The bombing was the easy part. Finding a safe place to land afterward was hard.
While the B-25s could take off from a carrier, it was impossible to land them back on the ships. The mission called for the airmen to fly to an airfield in China to land.
But they had taken off hundreds of miles farther from Tokyo than planned because they'd been spotted by the fishing boats.
Cole talked to the navigator aboard his B-25 about the predicament. They didn't have enough fuel to make it.
"He told us that we would be 180 miles short of China," Cole said.
But luck sometimes favors the bold. A mysterious tailwind blew in from the Pacific, pushing the planes along even as their fuel tanks ran dry.
Cole remembers seeing the Chinese coast.
"We were just happy to be there," he said.
Cole and Doolittle realized that while they had made landfall, they would never make it to a Chinese airfield. So as the engines of the B-25 started to sputter, the crew bailed out, parachuting into enemy territory.
Three of the Doolittle Raiders died in landing attempts as the 16 crews of the B-25s crash-landed or bailed out. Eight Raiders were captured, and four of them died as prisoners.
Cole and his crew were assisted by Chinese troops, American missionaries and other well-wishers and made it back to American lines.
The museum's Scott Klaers said local efforts to restore World War II planes are driven by legendary figures such as Cole.
"We are here every day to honor these men and women," Klaers said.
Cole donated a copy of the Congressional Gold Medal given to the Raiders that will be displayed at the museum, at 755 Aviation Way on the west side of the Colorado Springs Airport.
Cole said he hopes his story and the medal are a reminder for young people in the Pikes Peak region that liberty has a cost.
"If you want to enjoy freedom, you have to step forward in case of emergency," he said.
Contact Tom Roeder: 636-0240 Twitter: @xroederx