On a sunny Monday in March, Chad Campagnola ran down the broken white line on northbound Interstate 25 near Tomah Road, trying to make room for an 8-foot-wide, 30-foot-long fire engine and an ambulance.
Clad in a reflective vest and firefighter gear, the captain motioned to drivers sitting in bumper-to-bumper traffic on either side of him: Move to the left, closer to a concrete construction barrier on the inside of the highway. Veer to the right, toward the cable barrier on the outer edge of the road.
For the firetruck to squeeze through, the vehicles needed to be within inches of the barriers.
No one was seriously hurt in the two-car crash that was waiting for Campagnola and his crew on March 4.
But Larkspur firefighters dread the day when they can't get to someone who's suffered life-threatening injuries in a wreck because they are stuck in traffic like everyone else on I-25 between Monument and Castle Rock, where crews broke ground last September on a four-year widening project.
"Somebody is going to die," said Charles Walden of Larkspur Fire Protection District.
"It's not an if, it's when," added District Chief Stuart Mills. "If we don't have access, we may not get there in time."
Mills said state transportation officials haven't provided the district the resources or access it needs to respond to the rising number of crash reports the agency is fielding now that construction is in full-swing.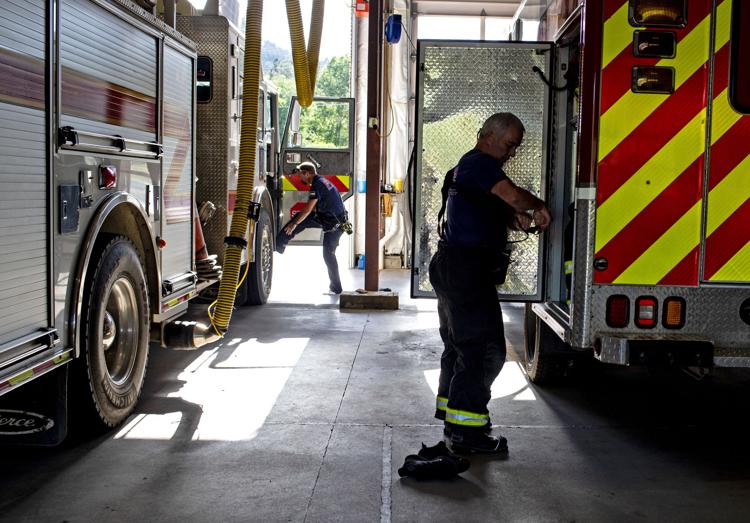 Larkspur Fire helps Colorado State Patrol respond to crashes on about 14 miles of the 18-mile work zone, known as the I-25 'Gap.' Sometimes, firefighters make it to the accidents before troopers, who also get delayed by congestion, Walden said.
The district, with an annual budget of about $2.9 million, serves about 7,000 residents across 100 square miles.
Mills wrote Gov. Jared Polis in April, requesting that the Colorado Department of Transportation identify better access routes, re-evaluate the construction plan and take other measures before "a tragic and avoidable loss of life" occurs.
CDOT Executive Director Shoshana Lew said the state fulfilled some of those requests and has gone "above and beyond" to improve traffic flow in the construction area.
The speed limit, initially lowered from 75 mph to 65 mph, was dropped again to 60 mph in response to Larkspur Fire's concerns, she said.
Electronic signs have been installed so that the speed limit can be further reduced when traffic is heavy.
The state has also heightened State Patrol's presence in the area, and transportation officials regularly meet with first responders from local police and fire agencies along the corridor, she said.
"We believe we are doing a lot. We have significantly increased the resources that we are putting into enforcement to make sure that we're being mindful of this being a particularly complicated traffic pattern," Lew said.
As of the end of May, crashes in the I-25 Gap were up more than 50 percent since construction began last fall. Most of the wrecks that accounted for that increase only resulted in property damage, not injury or death, according to data from State Patrol.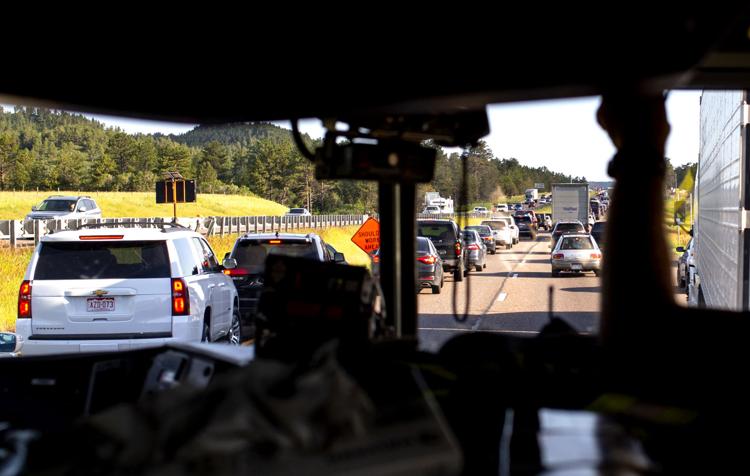 "The Gap construction project is going to help overall traffic safety once it is complete," Trooper Gary Cutler, a spokesman for State Patrol, said in a statement. "CSP has adapted to the changes with the Interstate during the construction, and our commitment to continue to provide the necessary response needed to assist with crashes in the area will be sustainable."
Larkspur Fire was called to I-25 nearly 470 times from September 1 through the end of June for crashes or other incidents, such as medical emergencies or fires, according to data provided by the agency. In the same 10-month period during the prior three years, the district fielded an average of about 340 calls to I-25.
Tri-Lakes Monument Fire Protection District, too, has seen an increase in calls to the interstate since construction began. However, it's unclear how many of those calls were in the construction zone, said Jamey Bumgarner, the district's administrative battalion chief and fire marshal.
The area surrounding the two miles of the Gap north of Monument is more developed, so Tri-Lakes crews can typically access I-25 via adjacent routes or emergency entrances if they need to, Bumgarner said.
But in Larkspur and Greenland, there are no frontage or side roads to get to the interstate. The highway is bordered by rocks, ravines, steep slopes, and hallmarks of foothills terrain that firetrucks and ambulances can't navigate.
In the most rural part of the Gap, crews are erecting concrete barriers, shifting traffic, and shutting down lanes overnight. The Colorado Renaissance Festival, which creates an annual summertime traffic nightmare in Larkspur, is adding to the dilemma.
"It all comes down to access," Mills said. "We don't have any alternate routes to get to an incident on the interstate."
Facing traffic snarls, Larkspur Fire has seen its response times rise. In the fist six months of this year, the department's top 30 longest response times for calls to I-25 averaged about 21 minutes. That average was about 13.5 minutes in the first half of 2018.
About a month ago, crews spent more than 40 minutes trying to get to a crash on I-25 that they could have gotten to in about 10 minutes if the road wasn't so congested, one firefighter recalled.
Often, calls come in one after another.
On July 14, in less than two hours, the department responded to a report of a medical emergency at a local home, an accident on I-25, and another medical-related incident at the Renaissance Festival. Then, they were again called to the interstate.
"We've all lost a little bit of hair from this project," said Campagnola, the captain that left his spot in the engine's passenger seat to direct traffic in March.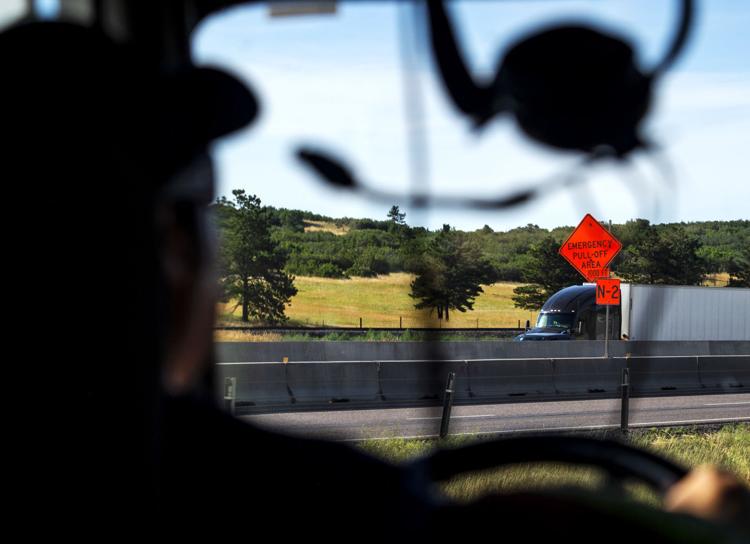 Before construction started, he'd never had to clear the way for the engine on the interstate. But since crews began working on the Gap, he's done it at least three other times, he said.
"We may not turn a wheel because it's literally jam packed, Campagnola said.
The fire protection district pitched two more solutions in a June 14 letter to CDOT: hire a Colorado-based contractor that can temporarily staff the corridor with paramedics and EMTs on motorcycles, and provide additional funding to supplement the district's staff.
CDOT isn't moving forward with that plan, which Larkspur Fire officials estimated would cost more than nearly $600,000 over a year.
The state transportation department typically works with State Patrol to manage the impacts of such large-scale construction projects, instead of funneling money into local agencies, Lew said.
"We have been and will continue to have eyes and ears on how it's going and stay ahead of concerns that may warrant future changes as the work is going to continue to evolve," she said. "Part of managing a construction zone in a busy place is that people have to drive carefully."