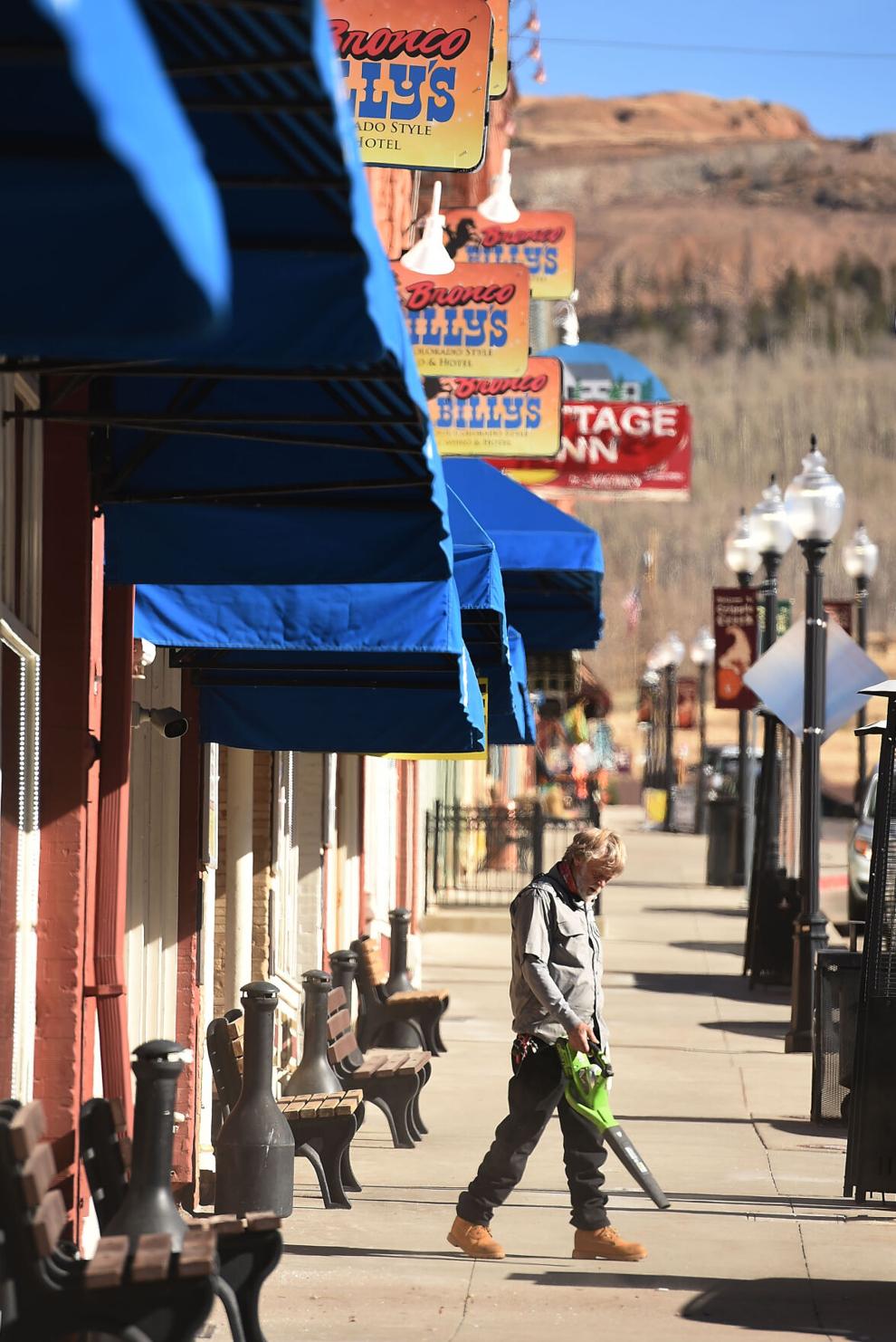 CRIPPLE CREEK — Lady Luck was shining on both the house and gamblers in Cripple Creek Monday as public health officials granted casinos a reprieve for new coronavirus closures.
Casinos are being allowed to remain open despite more stringent restrictions that were imposed countywide at 5 p.m. Monday to help control rising COVID-19 levels, Teller County Public Health and Environment officials said.
Local casinos will be considered "indoor events" for the purposes of the state's virus monitoring but are not being required to close  as previously indicated, Teller County Administrator Sheryl Decker said in announcing the decision.
The Colorado Department of Public Health and Environment, the Casino Association and Gov. Jared Polis' staff worked together to determine that casinos could continue operating at reduced levels of 25% of posted capacity, not to exceed 50 people per room.
The three Teller County commissioners issued an eleventh-hour plea Friday after state public health officials announced the county's 125 new cases in the past two weeks and an 11.6% positivity rate meant more restrictions would be instituted beginning Monday night.
Maggie's Restaurant employee Ingrid Still breathed a sigh of relief Monday. She's worked at the restaurant inside the Colorado Grande Casino for a few years. 
"I love my job, and I want it to still be there," she said. "I was worried about being depressed if I couldn't go to work."
On top of that, Still said, "Everybody feels like casinos are being picked on."
County commissioners said in a public letter issued Friday that casinos "have been singled out in the public health order as the only industry required to close … with the exception of alcohol-only bars."
The "orange" level on the state's scale of restrictions now in place in Teller County further limits personal gatherings, restaurants, churches and other indoor events, outdoor events and commercial businesses, such as gyms and fitness centers — most of which can operate at only 25% of posted occupancy.
Casinos were slated for closure.
That would have been sad, said Pat Parlin, a retired small business owner from Colorado Springs who was playing slot machines at the Midnight Rose Casino. She drove to Cripple Creek to try to her luck on Monday, "just in case they closed after today."
Commissioners argued in their letter that while countywide numbers are concerning, just 5% of the county's 413 cases have been in Cripple Creek.
The casinos "have done an exemplary job of compliance to COVID-19 state regulations," the letter said.
Temperatures and health screenings are conducted before people enter casinos, sanitation stations are set up, and an outbreak at Wildwood Casino, detected Oct. 26 with four employees testing positive for COVID-19, was "handled effectively and expeditiously," commissioners said.
If the casinos weren't cleaned properly, Parlin said she wouldn't have gone to one on Monday.
"Nobody wants to go around spreading the COVID," she said. "Everybody does what they're asked up here. People are listening. It seems pretty safe."
And, "If they shut down Cripple Creek, they'd have to have a pretty damn good reason for not closing Black Hawk and Central City."
Restrictions in the cities of Black Hawk and Central City in Gilpin County, where legalized gambling also is allowed in Colorado, were made more stringent on Friday, but not to the point of closing casinos.
Cripple Creek's 36 table games, which include Black Jack, craps, poker and roulette tables, were closed during the statewide economic shutdown in March and April, and haven't reopened since.
In 2018, 1,956 casino employees worked in Cripple Creek, according to the Colorado Division of Gaming. About that number of workers were furloughed during the state's six-week shutdown, state officials said.
Cripple Creek casinos currently have 825 employees.
With the continued ban on table games, the workforce is below that now.
No matter what happens, "Cripple Creek is not going down without a fight," said Lara, who works at the Rocky Mountain Canary General Store and didn't want to give her full name because she doesn't own the store. 
"I'm still making fudge, nuts, waffle cones, ice cream," she said. "We'll be here."
Cripple Creek's streets and sidewalks were nearly empty Monday. Buses dropping off people wanting to give slot machines a whirl weren't in sight while employees and a sparse number of gamblers waited to hear the fate of business operations.
"Business has slowed in the last couple of weeks because people are scared about coming out again," said Still, the restaurant worker. "Everyone's scared about their finances and mental health, and were looking forward to Thanksgiving and Christmas because a lot of people come up for the holidays."
Jerry Seabrook, who has lived in Cripple Creek for seven years, said he doesn't come into town much. But he did Monday.
"I'm just really stunned at how dead and quiet everything is," he said, sitting on a bench with his dog, Jewell. "People are not coming because they don't know what direction we're going."
The main message he hopes people hear: "Save our town."
The Colorado Department of Public Health and Environment will continue to monitor COVID-19 cases for one to two weeks, officials said, and will meet with Teller County Public Health and Environment officials at that time to re-evaluate.
Failure to improve COVID incident rates may lead to further restrictions, state health officials said.