In the bleary-eyed hours of Labor Day morning, 8-year-old Ean Reza of Falcon was enjoying his job.
Ean stood in the middle of a crowd gathered near a seahorse-shaped balloon at Memorial Park, awaiting the final Colorado Springs Labor Day Lift Off.
Kids stuck out their hands and tugged the sleeves of Ean's bright yellow shirt that said "Volunteer," clamoring for him to give them a collectible card about Neptuno, the name of the 120-foot-tall hot-air balloon that speaks of the ocean.
"This is my third year," Ean said. "I like handing out the cards. It's not a hard job. It's a cool job."
As Ean worked diligently, thousands of people reveled in the sight of nearly 80 balloons filling the sky and making their toils seem a little lighter.
"We always come on Labor Day; this is our family tradition," said Kimberly Mason of Colorado Springs, who was with her husband and children.
"My grandparents used to bring me," she said. "It's good family fun, even though it's 5:30 a.m. when we get up."
Ava Thieme, 13, had a "very hard time" waking up to attend the festival Monday.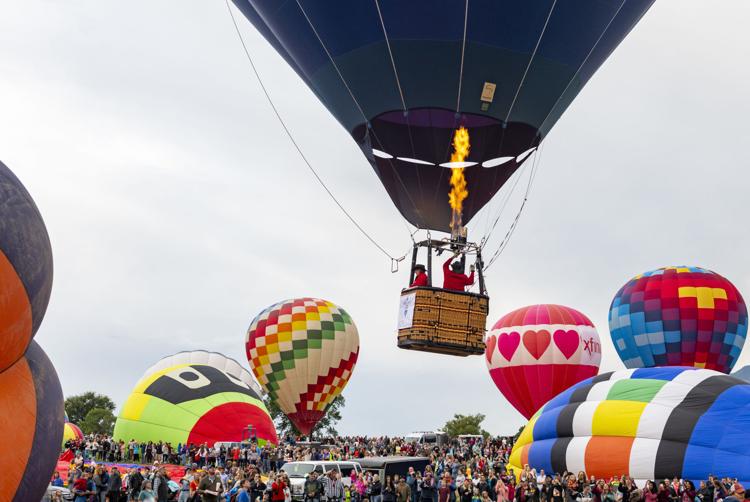 "But I think it was definitely worth it," she said.
Ava's favorite balloon was the enormous orange and red crab with bug eyes and lots of yellow legs.
"It's still childish, but it's fun. And cute."
Specialty shapes — including the seahorse, the crab, a scarecrow and a dinosaur — didn't take off Monday. After the first wave of liftoffs that began shortly before 7 a.m., the wind picked up, preventing the last of the ascents.
Poor weather conditions grounded the balloons Sunday morning and also scrubbed Saturday night's balloon glow.
"It's a bummer — we're here to fly," said Scott McClinton, owner of Neptuno the seahorse and 16 other hot air balloons. "But safety is our only priority."
With Pikes Peak as a backdrop, the Colorado Springs event is popular among balloonists, said McClinton, who lives in Louisville, Ky. "It's such a beautiful area to fly."
It's also a costly business or hobby, McClinton said, with specialty shapes costing up to $100,000 and "a couple hundred dollars an hour" to operate.
But nothing beats the experience, festivalgoers said.
Ava and her dad, Tom, were happy they got to see his favorite part: watching balloons fly directly over their heads after inflating and skimming the ground before becoming airborne.
"Standing in front of them as they lift off and taking pictures as they fly above you is amazing," Tom Thieme said.
The fact that festivalgoers can stand by the crews as they set up their rigs, fill the balloons with cold air, blast hot propane flames inside and see them off has drawn Donna and Lyle Peters of Colorado Springs to Memorial Park for the 42-year-old event for years.
"It's not an event you have to stand around on the sidelines and just watch — you can walk in and around the action," Donna said.
"Every time you come, it's a little new and different, and you still have that same feeling of exhilaration and excitement and adventure."
Some out-of-towners said they were practically speechless.
"This is pretty fantastic," said Susan Nakada of Alaska, who's visiting her Air Force Academy cadet son. "We heard about it and raced over here."
Heather Jones from Hawaii had never seen a hot-air balloon before.
"It's a first for us, and it's amazing," she said. "I don't have much else to say."
The colorful, other-worldly aircraft tend to speak for themselves.
Contact the writer: 719-476-1656.