Famed wrestler-turned-actor John Cena has responded to calls from Colorado Springs police for him to visit officer Cem Duzel, who is struggling to recover from a gunshot wound.
A video message from Cena to Duzel was posted to the department's Facebook page Friday after weeks of the department asking for Duzel's favorite hero to "come meet ours."
Cena said he's stuck in Vancouver filming "Playing with Fire," a comedy about a crew of firefighters who "meet their match" when attempting to rescue three rambunctious children. The actor also commended Duzel for his "perseverance and grit."
"I'm very honored to be part of such an amazing story," Cena said.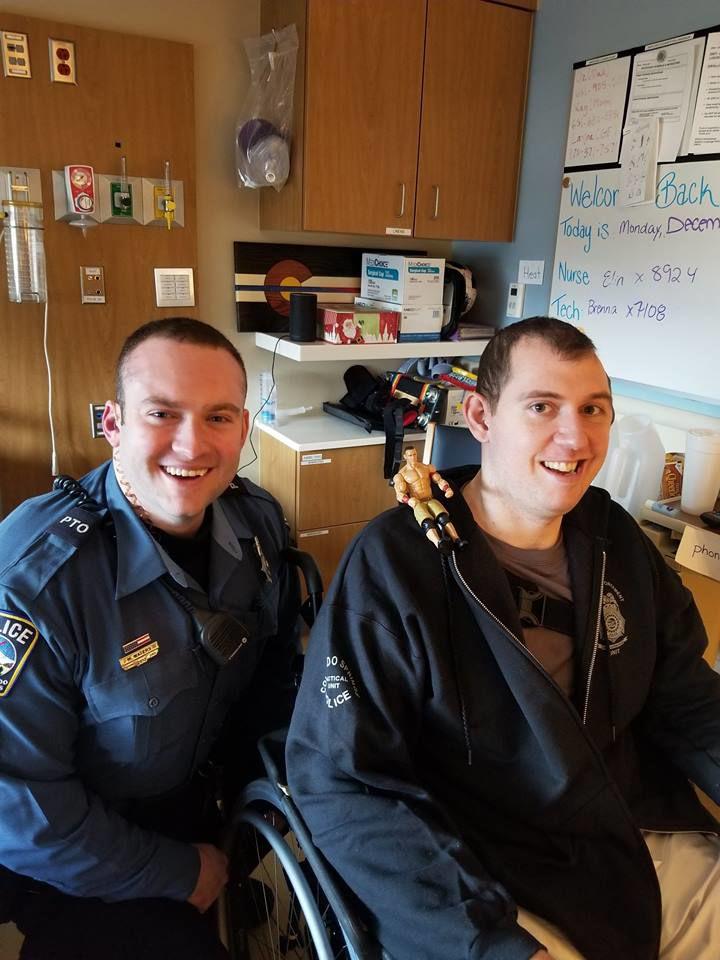 A toy action figure of Cena from his wrestling days with the WWE — which he quipped looks like him, "only with a different haircut" —has been making appearances around Duzel's hospital room. Police explained last week that the figure was an inside joke between Duzel and his roommate, fellow officer Matt Waters.
"(Duzel) began just kind of like hiding (the action figure) around the house and it turned into a game between the two of us where he would hide it, I'd find it, and then I'd hide it for him," Waters said in a different video posted to the department's social media.
The figurine has since taken up residence in Duzel's room at Craig Hospital in Englewood, where he continues to receive treatment for his head injury.
When he recorded his message, Cena apparently didn't know the background behind the toy. He joked about how else Duzel might use the mini Cena:
"Is it maybe when times get a little difficult you need somebody to punch? That's OK, I'll be that guy," Cena said.
"Or maybe,"Cena said, "it's because of the three words I hold so close to my heart: Never give up. Words that you embody."
Police said they appreciated the words of encouragement but are taking Cena's motto to heart by not giving up on bringing Cena to Colorado Springs to meet Duzel in person.
"Our officer put everything on the line for his community, now his community is working overtime to support him," police wrote to Cena in its Facebook post. "Come spend some time with our hero."
Incredible Hulk actor Lou Ferrigno stopped to visit with Duzel just a few weeks after the shooting while he was in town for the Colorado Springs Comic Con. Ferrigno posted a picture with Duzel on his Twitter feed, calling the officer his "inspiration."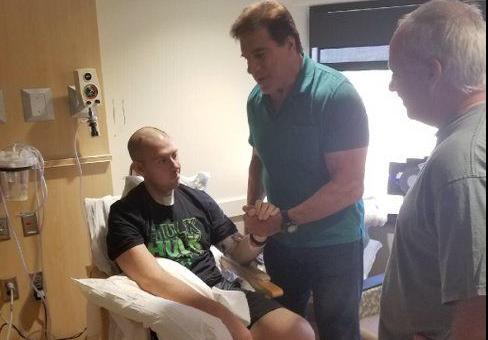 Duzel has been "in the fight of his life" since he was shot in the head Aug. 2, east of the Olympic Training Center. The five-year police officer was responding to call of a gunman who reportedly became belligerent with an Uber driver and was refused a ride.
Pictures and videos of Duzel posted by the department since the shooting appeared to show him doing well — out of hospital clothes, laughing and joking. But he also continues to undergo numerous surgeries. Police say Duzel's journey has been tough.
The accused gunman, Karrar Noaman Al Khammasi, 32, has pleaded not guilty to charges of attempted murder of a police officer, assault with a deadly weapon, felony menacing and illegal possession of a weapon. Last week, he was ordered to undergo an evaluation to see if he's mentally competent to stand trial in May.
Contact the writer at 719-636-0362 or find her on Twitter: @njKaitlinDurbin.