After almost a year of saying he was pondering a run for president, John Hickenlooper has finally made it official.
The former Colorado governor and Denver mayor at 4:30 a.m. MT Monday declared he was launching a campaign for the White House, pitching himself as a seasoned executive with a progressive record who can "repair the damage done to our country."
It's a bid that has to be considered a long shot, given the star power of the nationally known politicians arrayed against him.
"I'm running for president because we need dreamers in Washington, but we also need to get things done," Hickenlooper says in a campaign video announcing his run. "I've proven again and again I can bring people together to produce the progressive change Washington has failed to deliver."
His campaign will kick off Thursday with a rally and concert featuring local rock heroes Nathaniel Rateliff and the Night Sweats at Denver's Civic Center Park.
Hickenlooper plans to embark the next day on a two-day swing through Iowa, which will hold the nation's first presidential nominating contest in February 2020.
Over images of Colorado wildfires, floods and the aftermath of the mass shooting at an Aurora movie theater, Hickenlooper says in his kickoff video that as governor he promised "we would rebuild our communities better than before, and that just offering thoughts and prayers would never again be sufficient."
Then, after footage of President Donald Trump fills the screen, he adds:
"I'm running for president because we're facing a crisis that threatens everything we stand for. As a skinny kid with Coke-bottle glasses and a funny last name, I've stood up to my fair share of bullies. Standing tall when it matters is one of the things that really drives me."
Hickenlooper, 67, has been flirting with a White House bid for years. In April 2018, he told Colorado Politics D.C. correspondent Tom Ramstack: "At some time I want to sit down and spend some time to think about it. ... Maybe this summer."
In 2016, he landed on Democratic presidential nominee Hillary Clinton's short list of potential running mates. In recent months, Hickenlooper has been touring early primary states after forming a federal leadership committee called the Giddy Up PAC, named after the punchline to a trademark joke — the set-up involves a student who asks, "What's the opposite of woe?" — he's told for years on the campaign trail and in office.
On the stump in early primary states, Hickenlooper has touted Colorado's record expanding health care coverage and regulations his administration crafted limiting methane emissions.
But the onetime petroleum-industry geologist's perceived friendliness toward oil and gas interests — he once drank a glass of fracking fluid to demonstrate its safety — has sometimes put him at odds with his party's environmentalists.
He also points to legislation he signed enacting universal background checks for gun buyers and banning high-capacity ammunition magazines. In addition, as governor Hickenlooper put in place the world's first framework for a recreational-marijuana market after Colorado voters legalized it.
But it's Hickenlooper's image as an unlikely politician cultivated in quirky campaign ads — he once parachuted out of an airplane in suit and tie to promote a statewide ballot measure and took a shower while fully clothed to denounce negative political ads — that could set him apart in a field of more than a dozen Democratic primary opponents.
Amid a crowd of politicians with higher national profiles — including senators Bernie Sanders, Kamala Harris, Elizabeth Warren and Cory Booker — a Washington Post columnist wrote last fall that Hickenlooper is just the kind of "moderate, unassuming, reality-based leader" who can stand out as a former mayor and governor who has "actually accomplished some goals that progressives share."
Colorado's U.S. Sen. Michael Bennet is another Democratic senator considering a presidential run. Bennet, a former superintendent of Denver Public Schools, got his start in Colorado politics when Hickenlooper ran for mayor and later served as Hickenlooper's first chief of staff.
After Trump took office, Hickenlooper joined with fellow governor and former presidential candidate John Kasich, an Ohio Republican, to urge Congress to adopt a bipartisan health care plan — sparking speculation that the two might run on a national unity ticket, though both quickly threw cold water on that notion.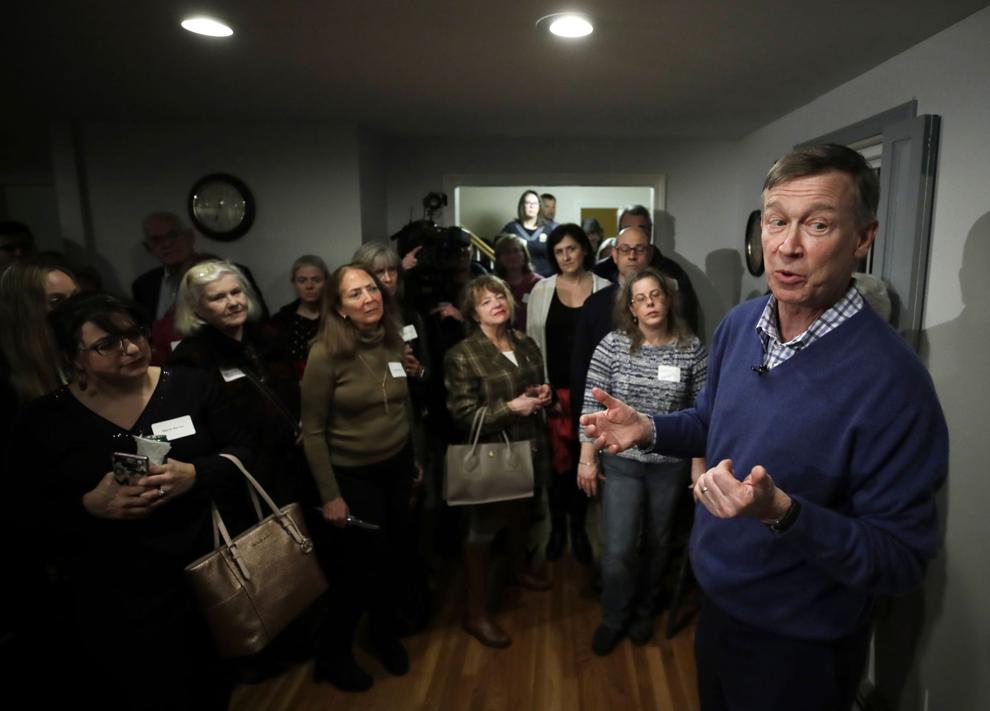 Hickenlooper didn't enter politics until he was in his 50s, when he launched a long-shot bid for mayor of Denver and won the first of two terms. He was easily elected governor in 2010 and won a second term in 2014 by 3 percentage points, one of just two Democrats to win in battleground statehouse races during a Republican wave year.
When he took office in the wake of the Great Recession, Colorado's economy was back in the pack, ranking 40th in the nation for job creation. But during the business-friendly governor's two terms, the state jumped to become the top economy in the nation by some measures.
Hickenlooper will be the first Colorado Democrat to seek the presidency since former Sen. Gary Hart's runs in 1984 and 1988.
Born in Pennsylvania, Hickenlooper moved to Colorado in the early 1980s and worked as a petroleum geologist for several years until he was laid off during an industry downturn.
After being out of work for a couple years, he opened a brewpub in the moribund Lower Downtown neighborhood near downtown Denver, launching a business that eventually grew to more than a dozen brewpubs and restaurants.
"In the end," he says in his presidential campaign video, "we didn't just build a restaurant. We created a whole neighborhood that never looked back."