At an informal gathering with area media in January, El Paso County SWAT officer Jeremy Juhl described an increasingly dangerous job, but records of the team's operations the last two years paint a much less threatening picture.
SWAT teams are called to the highest risk situations, frequently involving weapons. Last year, Juhl was wounded by friendly fire while trying to arrest a murder suspect.
Hollywood doesn't help, projecting movie versions of military style assaults by men strapped in heavy protective gear who kick down doors, wrestle with suspects or narrowly escape explosions.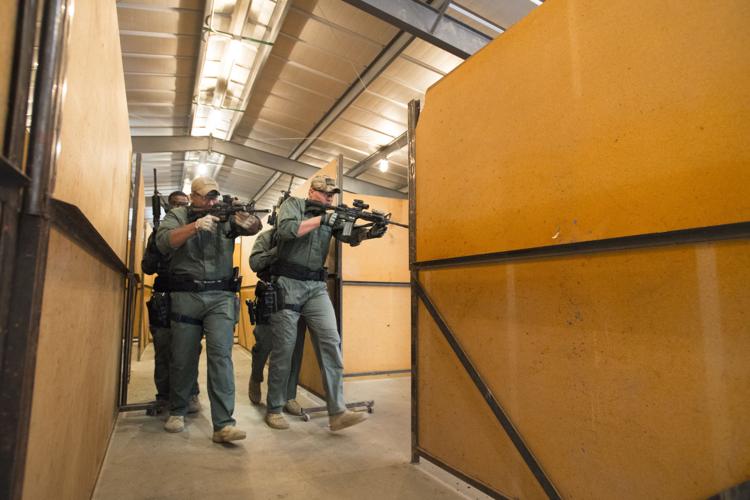 That's not what area SWAT teams are facing on the street.
In the past two years, the county's 18-man SWAT team has responded to 214 calls, mainly to assist in serving search warrants, using force in only 6 percent of cases. The Police Department's SWAT, the Tactical Enforcement Unit, took part in 291 high-risk operations in the same period, using force about 27 percent of the time, records requested from the agencies show.
"The pop culture of blowing doors and rushing in and no-knock search warrants, that's not the reality of our life every day," county SWAT Sgt. Jason Hess said.
"We have that capability, but that's not something that we want to use unless it's absolutely necessary. We would only do that if it was for the immediate protection of life."
The teams define use of force as any time their actions cause pain to a suspect, including physical arrests, strikes and use of a taser, firearm, K-9 or chemical gas. That happens, but not often.
Records show that when force is used, it's most often physically restraining a person or using tear gas to get a suspect to surrender.
In over 200 incidents apiece in the last two years, city and county SWAT teams have each shot two suspects.
Those stats reflect SWAT's overall goal to use only "objectively reasonable" force to gain compliance, Hess said. Sometimes, that means just showing up and giving commands.
"The use of SWAT is actually a de-escalation technique," Hess said.
"Sometimes it just takes a little bit of talking, and they realize that police aren't going away and it's going to get resolved."
Unlike Juhl and other SWAT officers who spoke to media in January, Hess was hesitant to say the job is getting more dangerous. It's always been dangerous, he said, adding that the majority of people they encounter are armed or have access to a weapon.
SWAT officers don't wear body cameras to record their and suspects' actions.
"The reason the public does not see the dangerous side of SWAT operations is intentional," the Sheriff's Office said in an email.
Hess said the job can be a lot more boring than Hollywood suggests. Some of SWAT's actions depicted in movies "would violate our safety protocols," he said, because the goal is not to put lives at risk or to strong-arm suspects, especially if there is no immediate threat to others.
Instead, they go slow. Talk. Plan. Assess risk. Prepare. Talk some more. And then, if necessary, act.
"The movies are fun, I like watching them, too, but sometimes SWAT work is a whole lot of planning and a whole lot of preparation," Hess said.
Editor's note: This story was altered to clarify that police's and sheriff's SWAT agencies were each involved in two shootings from 2016-2018.
Contact the writer at 719-636-0362 or find her on Twitter: @njKaitlinDurbin.