AUSTIN, Texas • One by one they gather, some bringing cans of corn and beans, others just bringing themselves. One man brings a plant he calls coffee kale — a plant he's only watered with freshly poured java, hoping to give it that extra kick.
"Anybody hungry? Let's get this party started," says tonight's amateur chef, Jessica Mitchell.
They've come to make soup, that most simple of dishes. And they've come to make it together — all the while fashioning something far more complex, far more meaningful than just a meal.
Here, across the fence line from Austin's city limits, exists a community of nearly 170 people who have lived years — sometimes decades — without a home. And living in their midst are about 50 people who have never known life on the streets: a cardiovascular sonographer, recent college graduates, retired pastors and even a high-ranking executive of a multi-billion dollar international technology company.
This Community First! Village sits at the forefront of a national movement to house homeless people in tiny homes, often because other solutions are too expensive or simply haven't worked.
In diverse cities including Seattle, Kansas City and Springfield, Mo., these villages mark the latest trend in a deadly serious effort to get homeless people off the streets and within the safety of four walls and a roof. The goal: Offer help before individuals succumb to the elements, violence, addiction, depression or other ticking time bombs that accompany a life spent surviving outside.
Some wonder if Colorado Springs should be the next city to join the movement.
Off a dusty, potholed road just outside the Colorado Springs Airport is an 18-acre tract where an Austin farmer and entrepreneur has set his sights on creating his own tiny house village for the homeless. The compound he envisions for this barren piece of land would immediately rank as Colorado's largest and among the largest in the nation, with 200 tiny homes and 50 recreational vehicles.
Joe Basel, 33, is not associated with Community First!, but he does not hesitate to reference it as his key inspiration. But Basel's vision differs in major ways from the Austin operation, which has robust substance abuse and medical services on site. Basel said his version might not cater solely to the chronically homeless.
For it to happen, he'd first need approval for a use variance by the Colorado Springs Planning Commission because the land is near an airport runway.
While no development plans have been submitted, Colorado Springs' point man in addressing homelessness says the concept is promising — if executed correctly.
"I support the idea of a tiny home village for the homeless under really one circumstance, and that is there are adequate services provided on the campus," said Andrew Phelps, the city's homelessness prevention and response coordinator. "And that's one of the things I think has made the Community First! Village (in Austin) so successful. It's more than just buildings. It's about building a healthy community for folks with wraparound services so people can continue to heal and find self-sufficiency."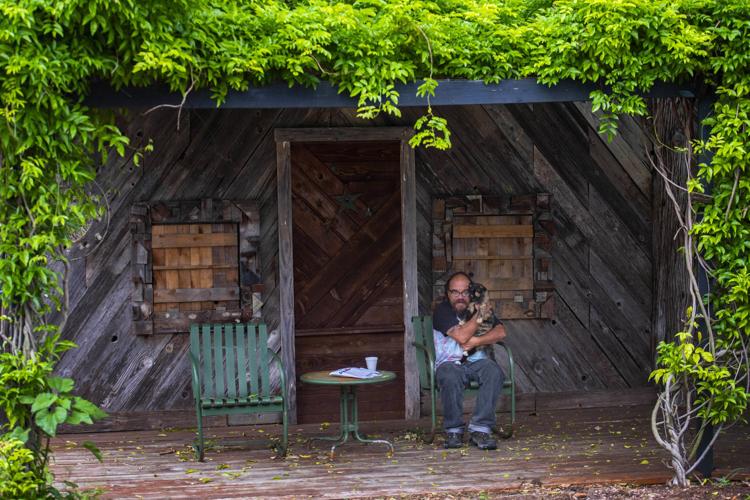 Now the question is: Can a village such as the one in Texas be replicated in Colorado Springs?
Sobriety not required
On this night in Austin, someone new is spending his first night in the Community First! Village.
Carrying a can of vegetables, a spoon and a Tupperware container doubling as his bowl for the evening, Byron Burns walked sheepishly up the wooden ramp to the kitchen, offering his share for the meal.
He's camped in Austin's woods along a bus line since 2015. And his mother in nearby Bastrop has worked to get him here, indoors and in this community.
His face is a splitting image of singer-songwriter Jason Isbell, with a sculpted chin and steely gaze. But his voice is almost a whisper — underscoring his wariness of social gatherings.
"There's a good sense of community," says Burns, 45, of his new surroundings.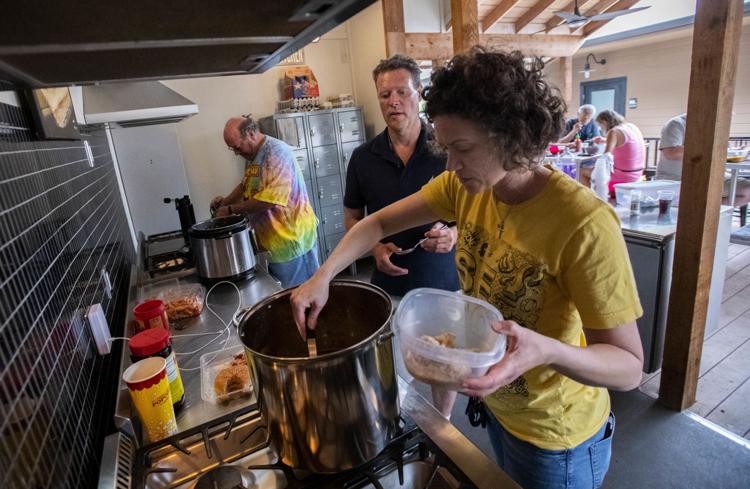 To the east are 150 houses of 180 to 200 square feet, and to the west are 100 recreational vehicles, each lining roads with names such as Peaceful Path and Grace & Mercy Trail. None of the tiny houses has plumbing. They're spartan but do have refrigerators, microwaves, crock-pots and quick-boil kettles.
Interspersed between the tiny houses are community bathhouses, kitchens and laundry rooms. Most of the residents formerly met the federal definition of chronically homeless: a person with a disabling condition who has been homeless a year or more, or who has had at least four episodes of homelessness over the past three years.
They don't have to be sober. Their only strict mandate is to pay $220 to $440 in monthly rent or face eviction.
To help meet that rent, the nonprofit offers myriad jobs to the residents, including maintenance and grounds-keeping, and gives them free produce grown on the premises.
On this evening, Burns doesn't stay long — just enough to finish his soup, down it with a little grape soda and thank his hosts for the meal.
Then he walks down the steps and toward his own pre-furnished tiny home and his first night indoors in more than four years. He knows what's in store. Along the way, he made a softly spoken prediction.
"I think I'm going to sleep peacefully."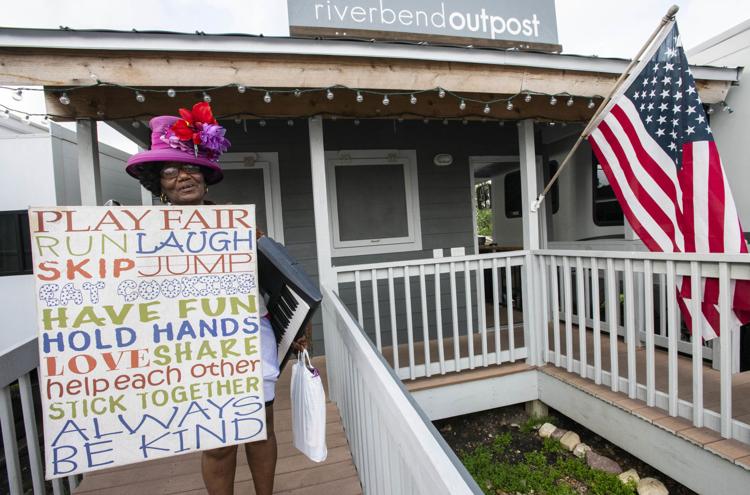 Does tiny have true potential?
The village here is unique for its size. But it's far from alone.
Tiny house villages catering to homeless people have taken root in cities across the nation in recent years, including in Denver, where a village of about a dozen tiny homes has garnered praise from University of Denver researchers for its effectiveness.
In Colorado Springs, one-time mayoral candidate Juliette Parker has worked for a couple of years to create a tiny house village through her nonprofit MENDA, Meaningful Empowerment through New Development and Art. Her biggest roadblock — as with so many tiny house initiatives — has been finding land for it. Parker's efforts are not related to Basel's plan. 
Fueling this nationwide push for tiny house villages is a steady climb in homelessness across many cities, coupled with a dire shortage in affordable housing that has left people stuck in shelters without much hope of moving out.
In tiny houses, some nonprofits have found a relatively cheap way to bring chronically homeless people indoors, where they finally can begin to address the deeper issues of addiction, poor health and joblessness that kept them on the streets for years.
But no two communities are alike, leaving advocates for homeless people uncertain about their true potential to help.
Some villages consist of little more than huts of less than 100 square feet placed on concrete blocks. Others, including this one abutting Austin, resemble carefully planned communities.
Are such homeless-centric tiny home villages offering respectable dwellings where anyone would want to live? Or do they amount to makeshift shanties — providing little more than shelter without access to nearby services such as food, medical and behavioral health care?
With so much variation between manufacturers, offering a blanket endorsement for the concept is impossible, said Eric Tars, senior attorney for the Washington D.C.-based National Law Center on Homelessness and Poverty.
"Our goal is that everybody be able to enjoy the human right to housing — to fully adequate housing," Tars said. "And where tiny homes fall on that is often somewhat fact dependent.
"Tiny homes look really cute when you first build them and they have a fresh coat of paint on them. But my concern is that without proper maintenance, these essentially become shantytowns. And that we end up segregating a huge swath of people, poor people, into these shanty villages. Then some of the complaints that occur around regular encampments start to crop up."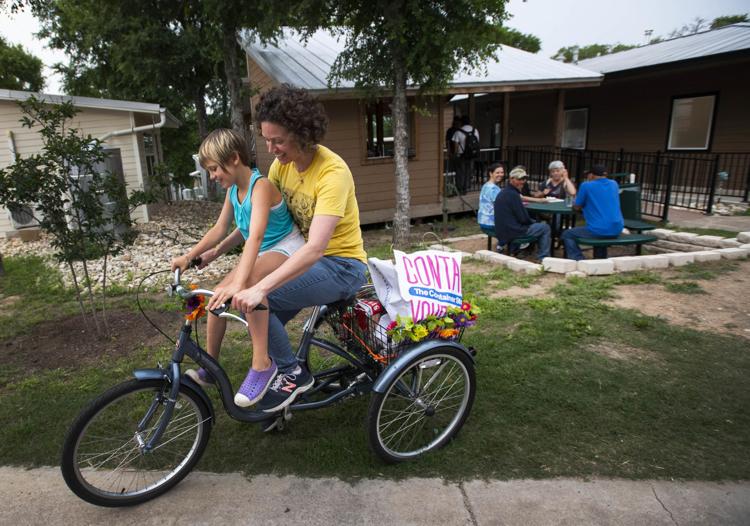 'All about community'
The man who created this Texas village is quick to answer those concerns.
"Part of the big mistake of the tiny home movement — in terms of homelessness — is a failure to understand what we're really trying to accomplish," said Alan Graham, 63, sitting on the porch of his own tiny house in the Community First! Village. "It's all about community. Housing will never solve homelessness, but community will."
Graham's path to tiny houses started with a food truck.
It wasn't the type of food truck so popular at breweries these days. Rather, it was a glorified pickup chock-full of food — all newly prepared, no leftovers — that met people where they were rather than forcing them to trudge to a central location.
Those early meetings were critical to what would happen over the next nearly two decades. No longer was he standing behind a counter ladling out the soup. Instead, he stood on the same side of that meal counter as the people seeking his food.
"It required this intimate, human-to-human, heart-to-heart relationship," Graham said. "And that, to my mind, was the game changer. Because now you're building a relationship with somebody."
And as he got to know those people more, he became more curious.
In 2003, he and about a dozen other advocates spent three nights sleeping outside with the same people visiting his food truck. The experience changed his entire perception of homelessness.
"And now you're beginning to really learn their stories," Graham said. "And I began to realize and put all the pieces together that what they really lacked was family.
"It's an infinite number of ways that that family gets fractured, but for the most part, it's fractured extraordinarily early on. You know: single mothers, no fathers, father's in prison, drug and alcohol abuse — all of that kind of stuff that leads to that profound catastrophic loss of family."
Graham started by offering one person an RV, but he quickly set his sights on creating a village where he could offer a community, one that would stand for family.
His initial site in Austin garnered intense "not in my backyard" opposition. He turned to Texas' unique land-use rules, where zoning generally doesn't exist in unincorporated areas. So literally on the other side of Austin's eastern city limits, he set up shop — raising millions of dollars and creating his own small city on 51 acres.
Here, none of the tiny houses has back doors. Their front doors all face at least a few other units — packed so closely that neighbors could sit on their own front porches and easily converse.
"The world thinks it's housing and a shortage of housing, affordable housing …. "(but) people need to live in a community. People need to be around people that care about who they are."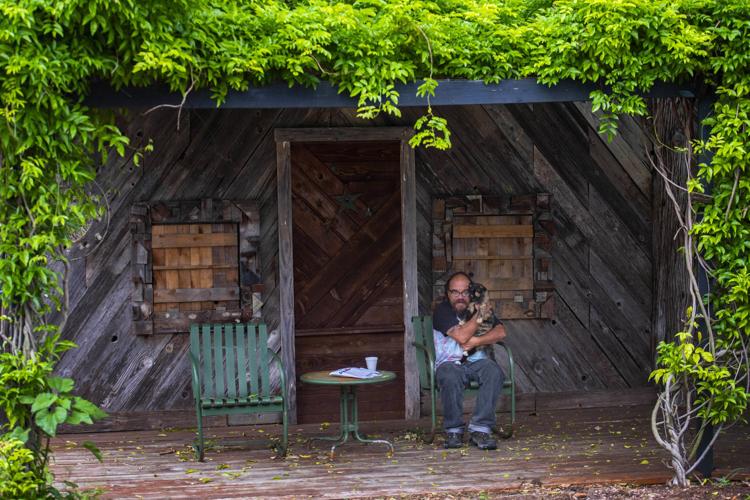 Village offers goods, services
Almost every inch of this village is geared toward instilling a sense of community.
On a recent Tuesday morning, a few hundred yards from Graham's front porch, an open-air kitchen bustled with activity ahead of a community brunch as three people — a formerly homeless tenant, a faith-based mentor and a volunteer — cooked sausage, bacon and eggs laid by hens living on the village's nearby farm.
Down the street — called Goodness Way — several men wrenched away and earned a paycheck in an auto shop where tiny house tenants do emissions tests, oil changes and car washes, among other services. The tools and machinery — including a 12,000-pound car lift — were donated by Austin auto dealer Charles Maund Toyota, which also trained the residents in mechanics.
Farther down the road sat the Community Market — a small store packed with paintings, small sculptures and jewelry made by residents to sell to the outside community.
Some of the figurines were forged at the community's own blacksmith shop, where a staff member works the kiln and trains people newly off the streets. He has even held a metal-working competition here that's open to the public. Other items for sale were made by tenants at the village's woodworking shop.
A 40-feet-wide outdoor cinema sits at the end of the road. It was sponsored by a downtown draft house. And every Friday night, families from surrounding neighborhoods gather with village residents for free community movie nights.
About a dozen RVs and teepees, too, provide Airbnb accommodations for people visiting this vibrant city.  A few of the Airbnb units resemble the tiny houses that residents here call home. These line a creek bed lush with flowers.
At the main entrance, a bus stop draws people heading downtown or elsewhere to work. Austin's buses never went this far east before the village took root, but the nonprofit's leaders managed to persuade the city to extend a line so residents — most of whom don't have cars — could get around.
The amenities are important to the village's success, Graham said. But even more important are people like him, who have never been homeless but who choose to live here.
People like Pablo Rangel, 48. Despite having never been homeless, he signed a one-year lease to live with his two young daughters in this village and act as a Christian mentor to tenants who are newly off the streets. They're called "missionals," and they come from all walks of life.
"I've seen miracles here, and I see them every day," Rangel said.
It's a sight, he says, that every city should have the opportunity to witness.
At the center of this community, a thriving garden grows almost every vegetable imaginable. On this overcast morning, a dozen people plow the ground by hand and pick mulberries and kumquats. Volunteers provide a constant source of produce, most of it free to village residents.
Activities such as these help people make the transition from life on the streets, said Heidi Sloan, 33, director of the Genesis Gardens.
"One of the big things that's a struggle for people when they first move out here is having a reason to get up and do something in the morning and figuring out how to manage their own time," Sloan said.
A garden "needs you," she said, "but it's not a person that needs you, because that can be really messy and intimidating to start out with. A plant that needs you, or an animal that needs you, is a really safe place to start wanting to be needed and seen in that way again."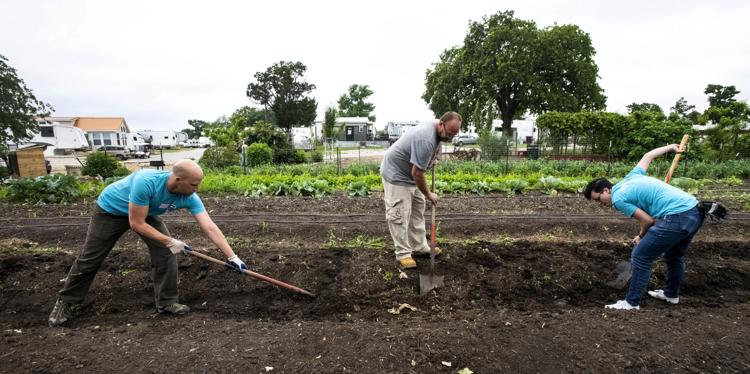 Something that inspires
Keeping all of this going is a perpetual effort, said Amber Fogarty, president of Mobile Loaves & Fishes, the nonprofit that operates the Community First! Village.
Donations provide about $4.4 million of the nonprofit's $6 million annual operating budget. No funds come from the government; it's all private money. And most of that goes to pay the nonprofit's roughly 60 staff members, who maintain the grounds and operate the many programs.
"In order to make it self-sustained based on rent, you'd have to charge rent that is unaffordable for the people you serve," Fogarty said.
That's a distinct contrast with the nascent plans for a tiny house village in Colorado Springs.
Basel plans to use his partner company, Paradigm Partners, to help finance and build the village for at least $14 million.
He said a "substantial portion" of cash rent collected at the village would go toward "maintenance and debt services and paying back the money we borrowed," and the village might be profitable "someday." He then plans to create a nonprofit that would seek donations to help provide services at the village.
The Austin village's substantial fundraising heft can be attributed to the trust it has established with the surrounding community and its donors, Fogarty said. "We've built a lot of trust, and I think we've done something that inspires people," she said.
Last fall, the Texas nonprofit broke ground on a massive expansion to the west to accommodate another 300 tiny homes and RVs, bringing its capacity to about 550 people.
Once it's finished, the nonprofit should be able to house nearly a quarter of the 2,200 or so people counted during the city's federally mandated Point in Time homeless count, and about half of the people who said they were unsheltered.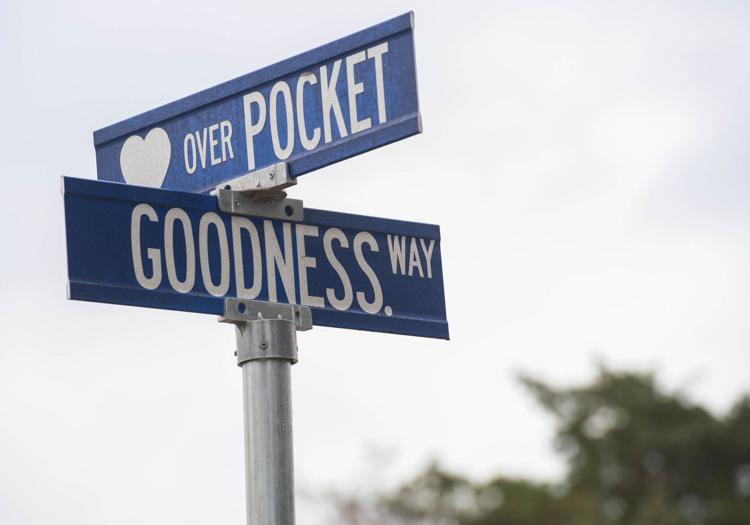 Nine months sober
Tiny house villages being considered elsewhere would be well-served following the Community First! model, said Austin advocates, calling it a blessing for the city and surrounding Travis County.
"We think the tent is big and welcome all strategies that are willing to work with clients who are chronically homeless," said Ann Howard, executive director of the Continuum of Care for Travis County, which coordinates the area's homelessness response. "And Community First! definitely does that.
"We sort of look at them as a housing provider, but they're much more than that. From our focus, we try to find places where people can live and maintain that housing. I usually describe it as heaven on Earth for some."
Since the village's inception in 2015, it has boasted 85 percent retention, Fogarty said. Slightly fewer than a dozen people were kicked out for not paying rent. And others were told to leave for bad behavior.
A major key is the health care and substance abuse treatment services on the premises.
Many people here continue using drugs or alcohol after they move in. Such behavior is allowed as long as it remains indoors and doesn't affect any neighbors. 
It's all part of the Housing First ethos — a research-proven, federally endorsed strategy for helping chronically homeless people get off the streets. It entails prioritizing housing above all — even job assistance or substance abuse treatment — because people otherwise are far less likely to overcome the core issues that led to being homeless.
For people such as Vanessa Yancey, 52, who has struggled with a crack addiction, that approach was a lifesaver. 
"If this place hadn't rescued me, to be honest, I think I'd probably be dead," Yancey said. "The way I was doing it was ridiculous. I'd sometimes stay up for days and days, and then I'd sleep for days and days."
She sobered up nine months ago after using the drug here for years. She now lives in one of the RVs.
"You have your own place — you have a key that you can go and come as you please," Yancey said. "You ain't got to go sit up under a bridge or sleep under a bridge. It's home — finally home.
Springs officials to visit Austin
Clad in a black leather Harley Davidson jacket and sporting a dark, almost burgundy beard, Basel steps in his black cowboy boots across a flat plot of land on Colorado Springs' far east side. Not much is here but still leafless trees, prairie grass and a few dirt roads. With nothing to stop it, the wind blows a little harder, a little colder.
On the western edge is Sand Creek and a couple of abandoned homeless camps strewn with trash.
Basel said the property's owner is a partner, along with about four other people, including him. Here at 5501 E. Pikes Peak Ave., they want to create the nation's next major tiny house village.
"You will never see a piece of trash on this property ever again," Basel said.
Already, he  counts City Council President Richard Skorman among his early supporters. Skorman plans to visit the Texas village with Councilwoman Jill Gaebler, El Paso County commissioner Stan VanderWerf and Phelps later this month.
As at the Austin community, Basel said, sobriety won't be required at his village. The only mandate will be to pay rent, probably $350 a month.
Whether it will serve as many chronically homeless people, however, remains unclear.
Basel plans to erect about 200 tiny houses — all without plumbing — that circle community bathhouses, showers and kitchens. Another 50 RVs would dot the property too.
Basel said his community likely would employ fewer people and provide fewer resources for residents. He also isn't set on whether it will cater as heavily to chronically homeless people or will hew slightly closer to workforce or senior housing.
"We just don't know yet," he said. "Our heart is for the individuals who are falling through the gaps currently, and we're prepared to do whatever it takes to love them."
To prove he's serious, he plans to move with his wife and children, ages 4 and 2, into a tiny home on this dusty property in the airport's flight path while the village is developed.
The tentative name is Sand Creek Village, for the trickling stream on its western flank. The creek, he says, "is definitely the feature that makes this site a high-end resort, as compared to a slum.
"And that's our intention — is to build a beautiful high-end resort that anyone in Colorado Springs would love to live in someday."
Still, whether Austin's feat can be replicated in Colorado Springs remains to be seen.
That village took years of work and decades of relationships forged with well-heeled donors. Its leaders credit a massive network of volunteers who visit the campus daily to keep it running.
Most important, many say, is the village's leader and founder, Alan Graham.
"It works because you've got committed people involved," said Patrick Howard, executive director and CEO of the Housing Authority of Travis County. "And to me, that makes all the difference in the world.
"If you can find an Alan in your community, you can make it happen. But it's got to be an Alan type person to do that. And he didn't do it alone — he had a collective group of people that he convinced: 'Hey this is something that needs to be done.'"