Interstate 70 reopened Friday evening after a morning rockslide closed both directions of the highway, the Colorado Department of Transportation reported.
The slide happened at mile marker 248, near Beaver Brook, the agency said in a news release. Eastbound I-70 was reopened about 4 p.m. after being closed for hours while crews did mitigation work to remove unstable rock. I-70 closures were at Exit 203 Frisco and Exit 205 Silverthorne. Eastbound U.S. 6 Loveland Pass was closed from to Arapahoe Basin to I-70. Westbound lanes were reopened about 6 p.m.
The closure came on one of the busiest times for I-70, with Thanksgiving trips and ski trips clogging the interstate with traffic. Cars were backed up for miles during the closure, with holiday weekend drivers left idling.
Despite the road opening, travelers were still warned to remain careful of winter weather advisories, as wind speeds up to 75 mph whipped through the state.
"Travelers should take care as winter weather and strong winds move into the area," the agency said. "Mitigation teams were successful in removing unsafe rocks to restore traffic. As cleanup continues in westbound lanes, CDOT anticipates reopening in that direction later today, after the strongest snow bands push through the area."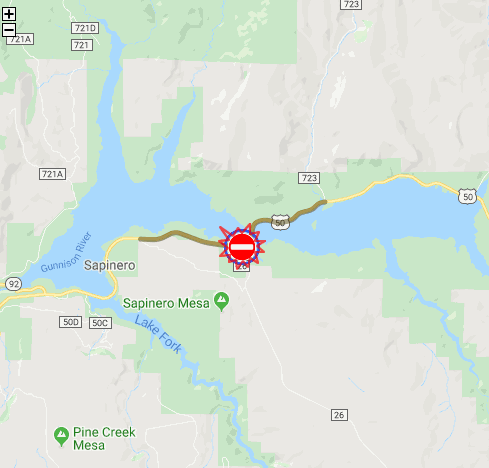 The agency warned motorists earlier to find alternate routes. From eastbound I-70 in the mountain corridor, CDOT recommended drivers use U.S. 24, Colorado 91 or Colorado 9 to connect to U.S. 285 toward Denver. Denver metro-area travelers headed toward Summit County were advised to use U.S. 285 to Colorado 9 or U.S. 24 but were warned that the detour may have delays as well due to higher volumes of traffic.
"We appreciate that the ongoing closure is disruptive to the traveling public and makes it difficult to travel to the mountains from the Front Range on the holiday weekend," an afternoon news release read. "Unfortunately, detour routes add significant delays to travel time, so those traveling may want to adjust their plans to avoid the closure."
CDOT said westbound vehicles that were halted between Beaver Brook and Dumont (mile marker 236), were being turned around to head back east.
US 50 EB/WB: Road closed between County Road 26B and Red Creek Rd. Closed at MM 136 near Blue Mesa Reservoir due to a crash. No est. reopen time. https://t.co/tPRccRCGTG

— CDOT (@ColoradoDOT) November 29, 2019
A rockslide near Idaho Springs this week shut down traffic on the interstate for about 10 hours.
Contact Liz Henderson: 719-476-1623 Twitter: @GazetteLiz