Residents who have been smiling about skyrocketing property values in El Paso County will get confirmation of that soon, but it comes with a price — larger tax bills.
The El Paso County Assessor's Office will mail updated tax value notices to the county's more than 300,000 property owners Friday, and most will see increased tax valuations. Across the county, 98% of single-family residences and most commercial and industrial properties, vacant and agricultural land, multi-family housing and new construction increased in value since the last reappraisal was completed in 2019, according to a county news release detailing the changes.
The value of single-family homes in El Paso County increased on average by 15% to 20% between July 1, 2018, and June 30, 2020, Assessor Steve Schleiker previously said. In that same period, the county saw a record 49,757 sales — most of which were single-family homes, he said.
The largest increases in single-family home values — 25% or more — were largely in the southeast portions of Colorado Springs, south of Platte Avenue and east of Colorado 115, according to a map released by the El Paso County Assessor's Office.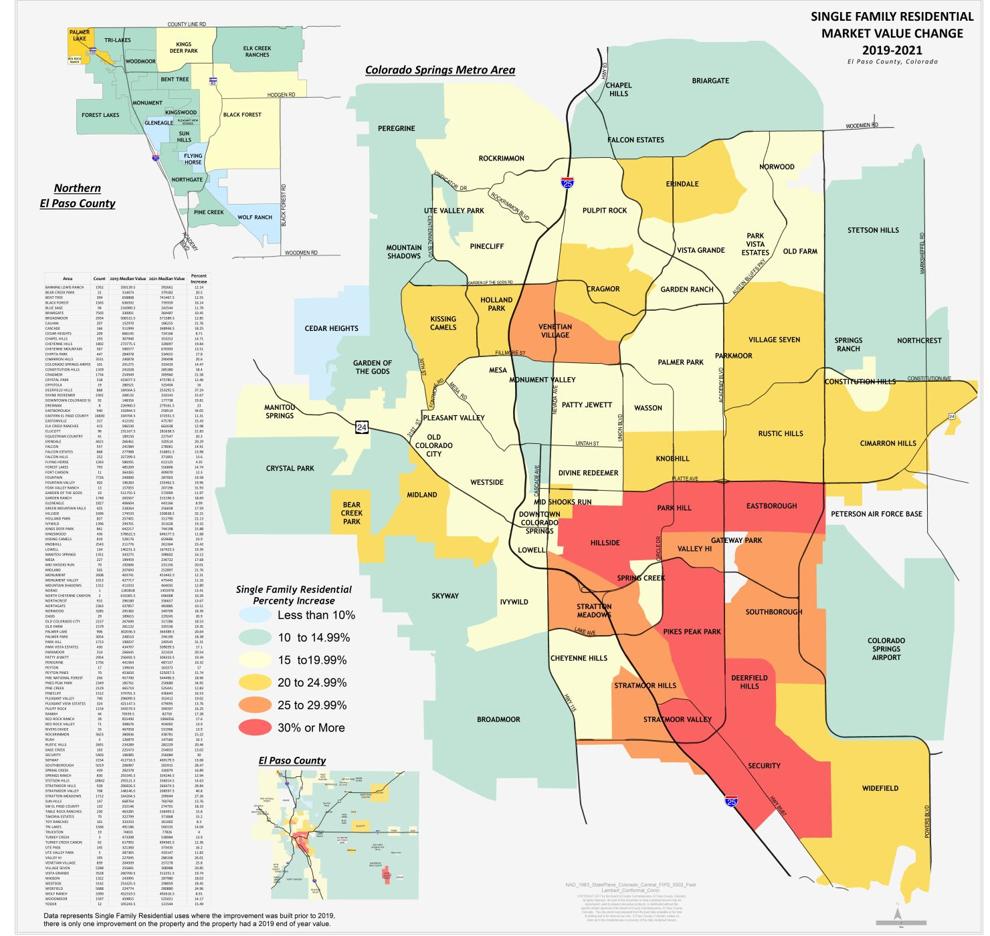 To complete this year's appraisal, Schleiker's office analyzed more than 40,000 sales, as well as costs and income for vacant land and commercial properties, according to the news release. Real estate sales during that 24-month period from 2018 to 2020 were used to determine property values for 2021 and are reflected in 2022 property taxes, the release states.
The notices to property owners will include the previous assessment value, the current value and the net change. They will also show the assessment rate — this year 7.15% for residential property and 29% for commercial and vacant land — in compliance with voters' partial repeal of the Gallagher Amendment in November. The amendment froze property tax assessment rates.
Property owners who do not agree with the valuations can file an appeal between Friday and June 1, Schleiker has said.
Those with questions about their assessment or who believe there is an error in an appraisal should contact the Assessor's Office by phone at (719) 520-6600, by email at asrweb@elpaso.com, or on its website at assessor.elpasoco.com. Property owners may also complete property appeals online at appeal.spatialest.com/co/elpaso.