Editor's note: A previous version of this article stated that the Rocky Mountain Type 1 Incident Management Team was in command of the Storm King fire. A Type 1 team from California was in command.
FAIRPLAY - When Craig Hotshot Logan Ballesteros heard a rumble in the distance July 5, he thought another afternoon thunderstorm was rolling over the 13,023-acre Weston Pass fire.
It started to hail. Unpleasant, but not out of the ordinary, Ballesteros said. But then the wind arrived, spiraling in a dark vortex to the south.
"I thought they were thunderclouds, but then I realized that it was a funnel cloud," he said. "A tornado was literally the last possibility on my mind."
He hunkered down by a nearby truck, gripping his hard hat as whipping winds threatened to rip down the charred aspens and conifers around him.
Back at the fire's command center at South Park High School, the Rocky Mountain Type 1 Incident Management Team was in utter disbelief. Staff members from every section ran up and down the halls, scrambling to make sense of what many called an unprecedented clashing of natural disasters.
Yet in this moment of ultimate mayhem — and in many of those that have plagued Colorado forests this summer — those in command of fighting large wildfires did what they do best: bring order to chaos.
Key emergency responders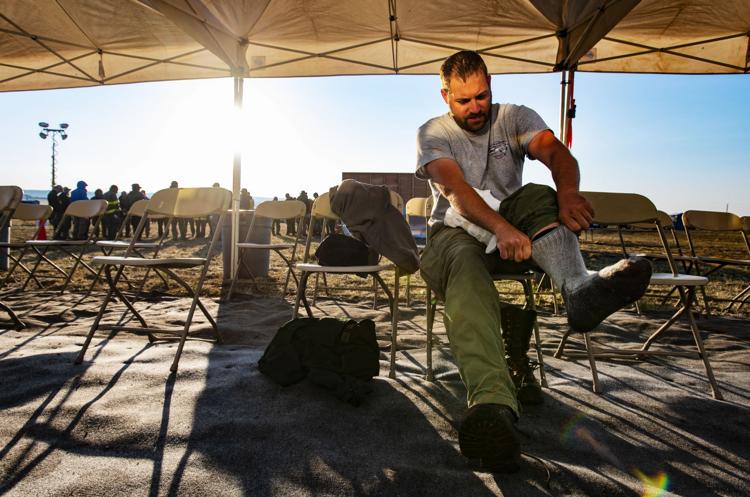 The Rocky Mountain Type 1 Incident Management Team is one of 16 federal Type 1 teams trained to respond to national emergencies, most of which are wildfires that local or state agencies are ill-equipped to handle by themselves. These are fire managers who transform objectives into strategies, strategies into tactics and tactics into on-the-ground action.
The 54-person Rocky Mountain team led the fight against some of the most notable fires in Colorado history, including the deadly the High Park fire west of Fort Collins in 2012 and the West Fork Complex fire near Wolf Creek Pass in 2013.
But the Type 1 system adapts to any emergency, including hurricanes Katrina, Ivan and Irma, to 9/11 and to the Space Shuttle Columbia disaster in 2003.
"What we do can be applied to any disaster, so we're on call year-round," said Flint Cheney, planning section chief for the Rocky Mountain team.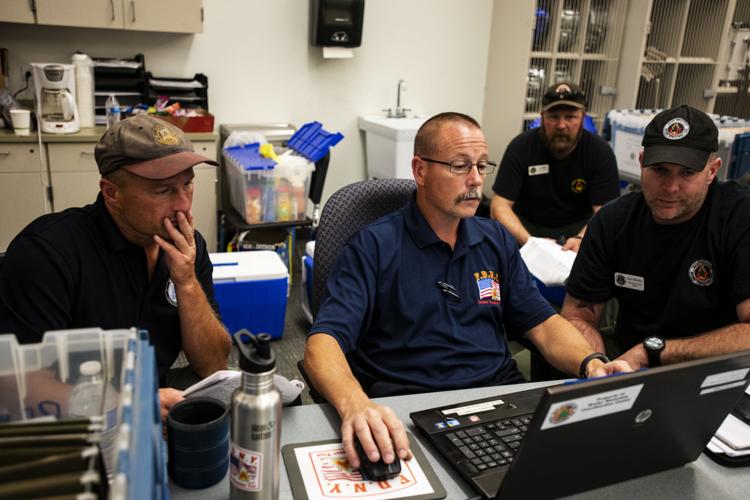 'The Bible' of the f ire f ight
When the call came June 30 to take command of the Weston Pass and High Chateau fires, the team had two hours to mobilize. Team members came from as far as New York and Florida. Many local resources already were deployed to other fires burning in Colorado and throughout the West.
From July 1 through July 14, Cheney and co-chief Steve Petersburg's days started about 5 a.m. and revolved around a hefty Incident Action Plan — "The Bible," as team spokesman Bob Summerfield calls it.
The document begins broadly, with the incident objectives and staff roster. From there, Cheney and Petersburg tap into the Geographic Information System specialist, fire behavior analyst, meteorologist, air resource adviser and others in the Planning Section who build the bird's-eye view of the fire.
The Operation Section then outlines tactics: where crews need to dig lines, what communities need structure protection, where fire retardant and water need to be dropped, what safety precautions should be taken.
"We convey the leader's intent to the people on the ground, then act as a voice for those out in the field," said Ken Gregor of Planning Operations.
Package in the Logistics Section — facilities, food, ground support, supplies — and Finance, and the document usually tops 30 pages.
With Deputy Incident Commander Dan Dallas' signature at the bottom, the document is ready to print and distribute. On average, the section makes 250 to 300 copies of a 35-page document. During the height of the 416 fire north of Durango, which the Rocky Mountain team also led, the action plan was pushing 50 pages and more than 500 copies.
"We have to have it, even if people are up until 2 a.m. making copies," Cheney said. "It's like in the military — if you have a platoon out there that doesn't know what they're doing at the start of each day, they're a wasted resource."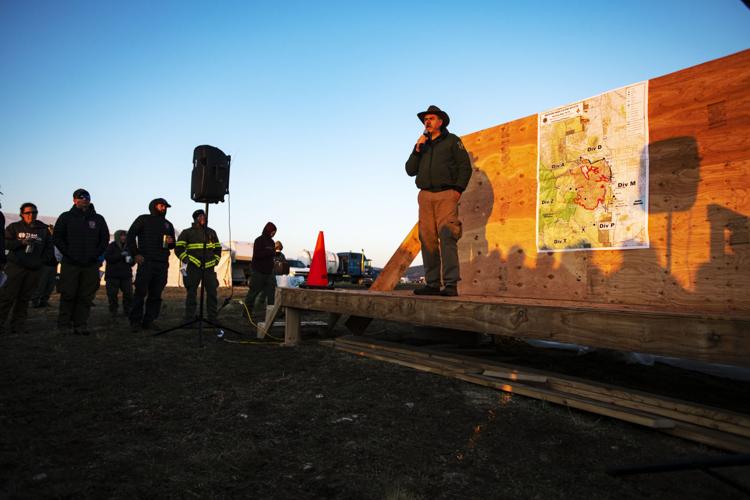 The price to pay
Waste is unacceptable in the battle against wildfires. In a summer like this one, it means unnecessarily diverting resources from other fires across the state.
It also means squandering taxpayer money. When a local or state agency requests a Type 1 team, the upfront cost is about $250,000, which includes the 54-person team and a package of equipment.
Depending on the incident, the commander might increase or cut manpower and equipment, costs meticulously tracked by the Finance Section from start to finish.
To date, the lightning-caused Weston Pass fire is estimated at $8.3 million. When the Type 1 team handed command to local agencies July 7, the 1,423-acre High Chateau fire was at $2.4 million.
"A driver for us is comparing the needs of the fire behavior and the factors at risk with the burden on the taxpayers' dollars," Dallas said. "People want the team and expect the team when they need it, but they might not understand our costs as well as they should when they hit that button."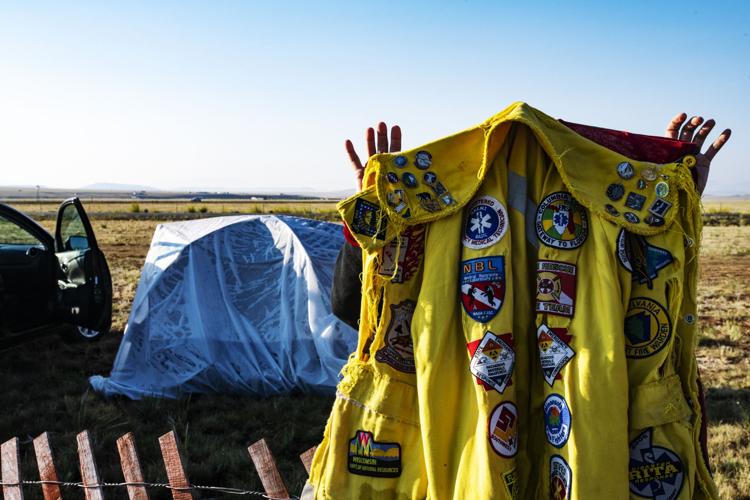 Tapping into the locals
The team's agenda of "bringing order to chaos" is not limited to the forests. Much of the work is in affected communities, Liaison Officer Dana Schmidt said.
"I do everything from finding a place for day firefighters to sleep to taking care of evacuated residents' animals," the retired police chief said, pointing to a Post-It note with "CATS" underlined. "I don't have answers to everyone's questions, since I'm not a fire guy, but I'm tasked with getting those answers."
The relationship is reciprocal, he said.
"This team knows how to manage big disasters, but there is a local culture and local knowledge everywhere you go that you have to tap into," Schmidt said. "You can't just go in and say, 'Hey, we're taking over. We'll take care of your problem.' That just doesn't work."
Tim Armstrong, Park County's facilities and fleet director, has those local bonafides. When Schmidt arrived in Fairplay on July 1, Armstrong's first question to him was, "What do you need, and how can I help?"
"Tim has been invaluable to us," said Schmidt. "He's lived here most of his life and knows everybody and everything about this part of the county, so he comes in handy for finding equipment, local resources, anything we might need."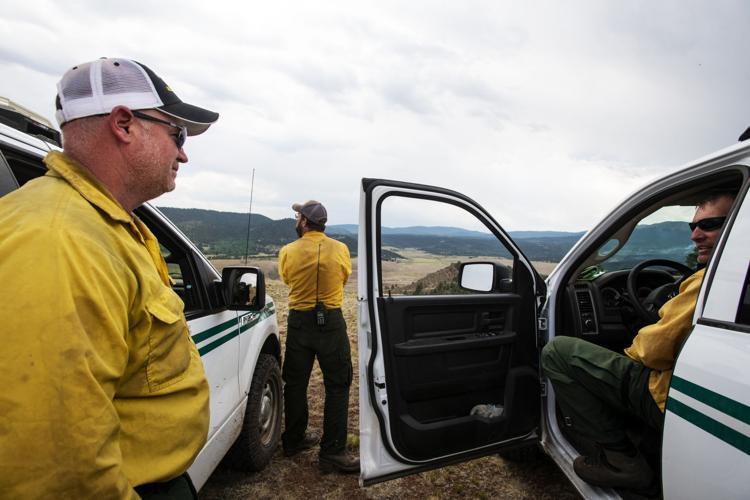 A family of f ire
Many on the team started as wildland firefighters, digging line, sawing down hazardous trees and suppressing the fire in the field.
The past experience provides them with an intimate understanding of the experience in the heat of the flames, and many jump at the chance to get out of the office and onto the fire perimeter.
What doesn't change from the office to the field is the sense of cohesion, that multitude of cogs turning in this complex operation.
"When I worked on the line, the guy or gal behind you is essential to your well-being and existence," said Dallas, the deputy incident commander. "That basic human relationship is no less important as you go from the end of the shovel up to the incident commander position."
For many, that means delaying retirement and flipping the switch to fire. For Cheney and about half of the command team, it means temporarily handing off the responsibilities of their full-time jobs elsewhere in exchange for 14-plus-hour workdays at a fire.
"It's a lot to manage, but I keep coming back because of the excitement of it, the change of pace," Cheney said. "I get out from behind my desk, come out here and do something meaningful on the ground."
Extra income is a factor. But across the board, the command staff gets hooked simply on working with each other.
"If I couldn't be with my natural family, this is the family I'd choose to be with," Petersburg said.
Dallas struggled to articulate the bond he feels with those he leads. Instead, he referenced the signed football made of plastic wrap given to him by a camp crew on the 416 fire and a 3-by-3-foot box of cards sent to him by colleagues across the country when he had two craniotomies in 2015.
Dallas said, "I can try to package together neatly why I do this, but there's just something different about this world."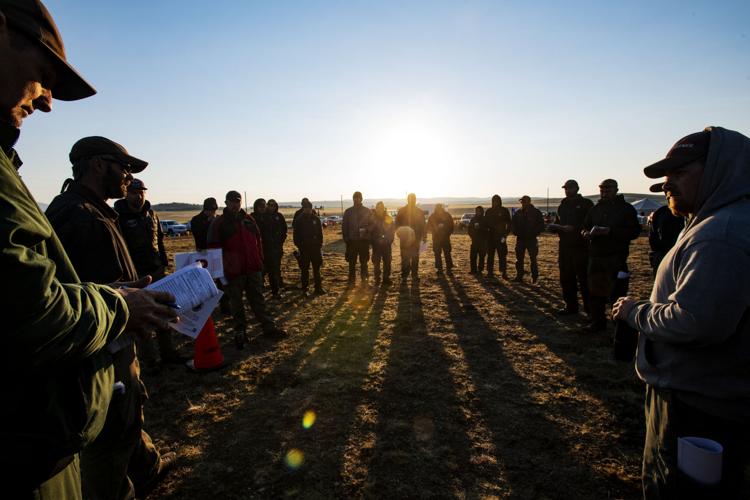 Pausing to remember
On July 6, during the team's morning briefing, silence fell over the pasture dotted with tents. Hats in hands, heads bowed, firefighters paid tribute to the 14 men and women killed 24 years earlier in Colorado's Storm King Mountain fire.
Cheney was the dispatcher July 6. And though he said little about Storm King, one of the darkest days in wildland firefighting history, he reminded those listening that vigilance in the field could save a life.
"If you hear something out of the ordinary, don't be afraid to say, 'That doesn't make sense,'" said Cheney.
Dallas said he's been to "too many funerals," and learning from those cases is a top priority in the development of his team.
"Those events clearly inform how we operate," Dallas said. "Because even if they're just near-misses, someone out on the line who knows about them will have a mental slide that says, 'Whoa, this is like what happened when those people died or got hurt.'"
The night of July 4, the winds unexpectedly shifted east, thrusting the Weston Pass fire into the remote Buffalo Peaks Wilderness. If Hotshot crews could widen the main trail into the wilderness, that section could serve as a small fire break, fire officials said during a Thursday night meeting.
Friday, about lunchtime, the crew supervisor called over the radio, "Hey guys, we're gonna bag this one. Not feeling too good about the number of snags" — dead standing trees that pose hazards.
"I'm not on the ground, and they're the experts on the ground, so I let them decide," Dallas said, content with the decision to err on the side of safety.
Display of the extraordinary
Moments that lead firefighters to victory in the throes of battle, often based on intuitive decisions and courageous actions, are another reason Dallas has stayed in his position.
"This is a place where I commonly see ordinary people do extraordinary things," he said.
During the first week of the 416 fire, it seemed as if the blaze would destroy everything in its path, Dallas said.
"The fire was marching down the canyon right out in front of everyone. (Incident Commander) Todd Pechota and I were looking at each other like, 'We're going to lose houses,'" he said.
Pechota had briefed the public the night before, telling homeowners that things were likely to get worse before they got better. But that didn't make accepting possible losses any easier for the man at the top.
The scene was mayhem, Dallas said. Helicopter blades slapped in the wind; planes poured retardant and water on the fire; firefighters urgently yelled back and forth over the team's radio channels.
Evening set in, and the fire began to settle. While in the midst of the flames, Jay Miller of Planning Operations called Pechota.
" 'Hey boss,' Jay said. He was coughing like crazy; you could tell he had just been sucking in smoke," Dallas said. "In between coughs, he said, 'Everything is fine, and we haven't lost a house.'"
The team's extraordinary record continued to their last day in command of the 54,129-acre 416 fire on June 22. Not one home was lost; not one person was hurt.
"That's extraordinary hand-to-hand combat right there," Dallas said.
A new era in f ire f ighting
In these days of heat and drought, when fires demand a Type 1 team, homes likely will be lost, spokesman Summerfield said. "When I first started with my team, we went several years without losing a structure. It was a point of pride for us. Hayman was the big change for the team, and it's now rare to be on a fire where you don't lose structures."
Not every fire is like Hayman, which burned through 137,760 acres, destroyed 600 structures north of Lake George and was the largest fire in Colorado history. Still, fires are different than they used to be, many on the team said.
The fuels are changing, said Branch Director Matt Spring, adding more kindling to forests infested by bark beetle, emaciated by drought and congested by 100 years of forest fire suppression.
"Aspens used to be a go-to line of defense for us, since they retained moisture better than conifers. Now they're so dried up that they're burning at the base of their trunk," Spring said, describing a condition known as sudden aspen decline.
Tactically, the Type 1 team has had to adjust. Because of all the fires burning across the state, Dallas' team ordered air tankers in the morning when demand was low, instead of in the afternoon, when fires typically hit stride and every air resource is occupied.
If anything, the difference is in the numbers. A "huge season" on the Type 1 team used to be 30 days over two, maybe three fires, Dallas said. During the past 10 summers, Dallas consistently has clocked 45 days. Summerfield hit 81 days in 2015.
This year, both have topped 30 and expect to be out more.
"It's unusual for us to get out in June, because the more complex fires, which Type 1 teams handle, tend to happen later in the summer," Dallas said. "We've already been out twice."
The Type 1 team handed command of the Weston Pass fire to local agencies Saturday after reaching 93 percent containment. They're next up on their regional rotation, though, meaning they could be sent to a fire in the Rocky Mountain or Great Basin regions as early as this week.
"It wears on you after a while. Not on the scene, because if we show up, we perform," Dallas said. "But your wife gets tired of you being gone. You missed a kid's birthday. The garden died. Unfortunately, it just comes with the territory."
Twitter: @lizmforster Phone: 636-0193