The Cheyenne Mountain Zoo has welcomed home two popular sisters who had been "vacationing" for the past four years.
Zambezi and Kasai, Nile hippos, were temporarily housed at Dickerson Park Zoo in Missouri for the past four years while the Water's Edge: Africa exhibit was under construction, the zoo said in a statement Saturday.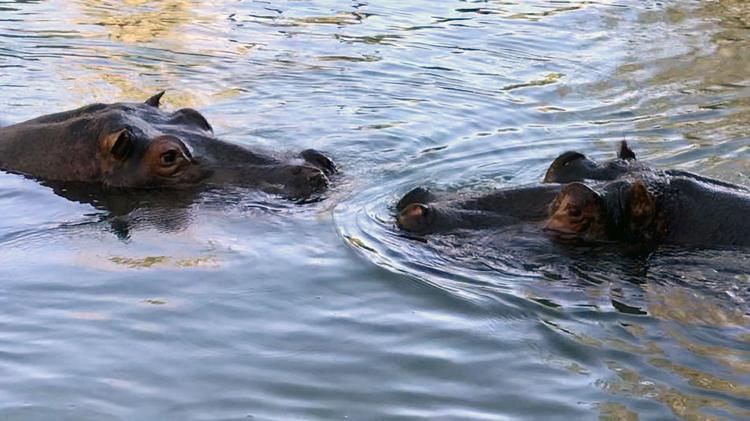 Zambezi, 27, came to the Cheyenne Mountain Zoo in 1993, and Kasai, 20, in 2001, the zoo said. 
"The question of the year has definitely been, 'When are the hippos coming back?' We're just so happy the girls are finally home," Patty Wallace, senior lead keeper for the new exhibit, said in the statement. "There were a lot of happy human tears and a lot of wiggling hippo ears on Friday morning, as we watched them explore their new home.
"It's so fulfilling to see them enjoying this beautiful space and settling back in. We missed them!"
Weighing in at more than 3,000 pound each, transporting the hippos was no easy task, the zoo said.
"(The trip) required months of preparation, skilled staff and transport professionals, and specialized machinery and equipment," the statement said. 
The pair arrived Friday after their 750-mile-long trip, the zoo said. 
"The transport really couldn't have gone any better," said Jeremy Dillon, exhibit Animal Care Manager, in the statement. "Watching them come out of their crates, healthy and curious to explore their new home was awesome. I just wish we could share this experience with the public right away."
The hippos join 11 African penguins at the zoo's new exhibit. 
"In addition to African penguins and Nile hippos, ring-tailed lemurs and common warthogs will make homes at the brand-new exhibit, as well as a few other species," the zoo said. 
The zoo remains temporarily closed because of the coronavirus.