The severe drought that swept through Colorado in 2020 could be a harbinger of what the future will hold. However, in the arid Southwest, it's not the first time that such challenges have wrecked lives and livelihoods.
On Sunday, The Gazette will share a multi-part series of stories on drought in Colorado.
In this series we'll explore the history of The Dry, a Black community in southeast Colorado undone by drought, the trials of one cattle rancher in El Paso County facing down a near impossible plight in 2020, and how scientists, municipalities and agriculture are preparing for the expected increase in chaotic weather.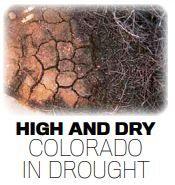 "The whole year (of 2020), you'll see that the soil moisture supplies were terrible compared to even a year ago," said Bill Meyer, the director of the National Agricultural Statistics Service, part of the USDA.