DENVER • Former Colorado Gov. John Hickenlooper kicked off his 2020 presidential campaign Thursday at a rally and concert in downtown Denver, tearing into President Donald Trump's "dysfunctional politics" and promising to unite a fractured country.
"I'm running for president because the only way to end the Trump crisis of division is with a leader who knows how to bring people together and get things done," Hickenlooper told a cheering crowd gathered in Denver's Civic Center Park for what his campaign billed as a "hometown" send-off.
"This isn't about unity for unity's sake," he said later in his speech. "America stops working when we work against each other. Our country stops making progress when we hunker down on opposite sides of continental divides — blue and red, rich and poor, urban and rural."
Portraying himself as a pragmatic leader with a record of translating big dreams into reality, Hickenlooper vowed to bring universal health care coverage to all Americans, foster a green economy built to combat climate change, invest in job training and reform the criminal justice system to address "our long history of slavery, segregation and racial bias."
He also promised he'll make universal broadband coverage a priority as soon as he's elected president.
Said Hickenlooper: "At the end of my presidency, I want Americans to say, 'It feels like the cloud has lifted, we feel closer to our neighbors and we've gotten big things done. And we feel hope.'"
The 67-year-old former two-term mayor of Denver announced his long-anticipated White House run Monday in a campaign video that emphasized his experience starting a brewpub in Denver's Lower Downtown neighborhood after losing his job as a petroleum geologist during an economic downturn in the mid-1980s.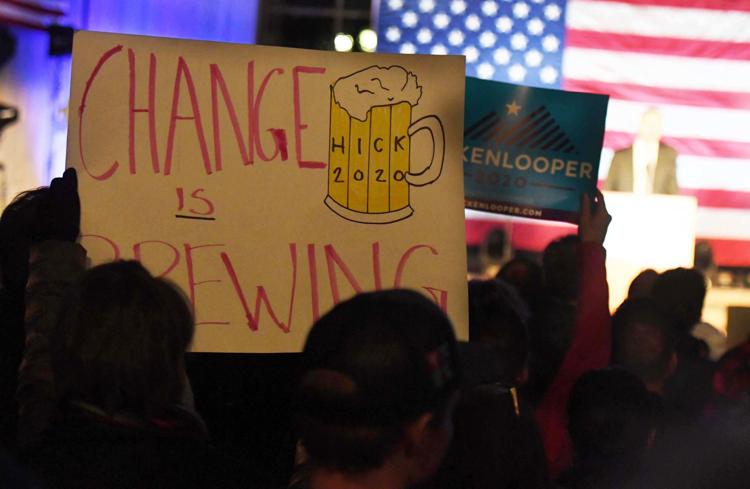 Hickenlooper joked about his spot in a crowded primary field, which includes six senators and others with established national profiles and broad fundraising bases.
"Now, I understand I'm not the first person in this race or the most well-known person in this race. But let me tell you, at four syllables and 12 letters, 'Hickenlooper' is now the biggest name in the race," he said.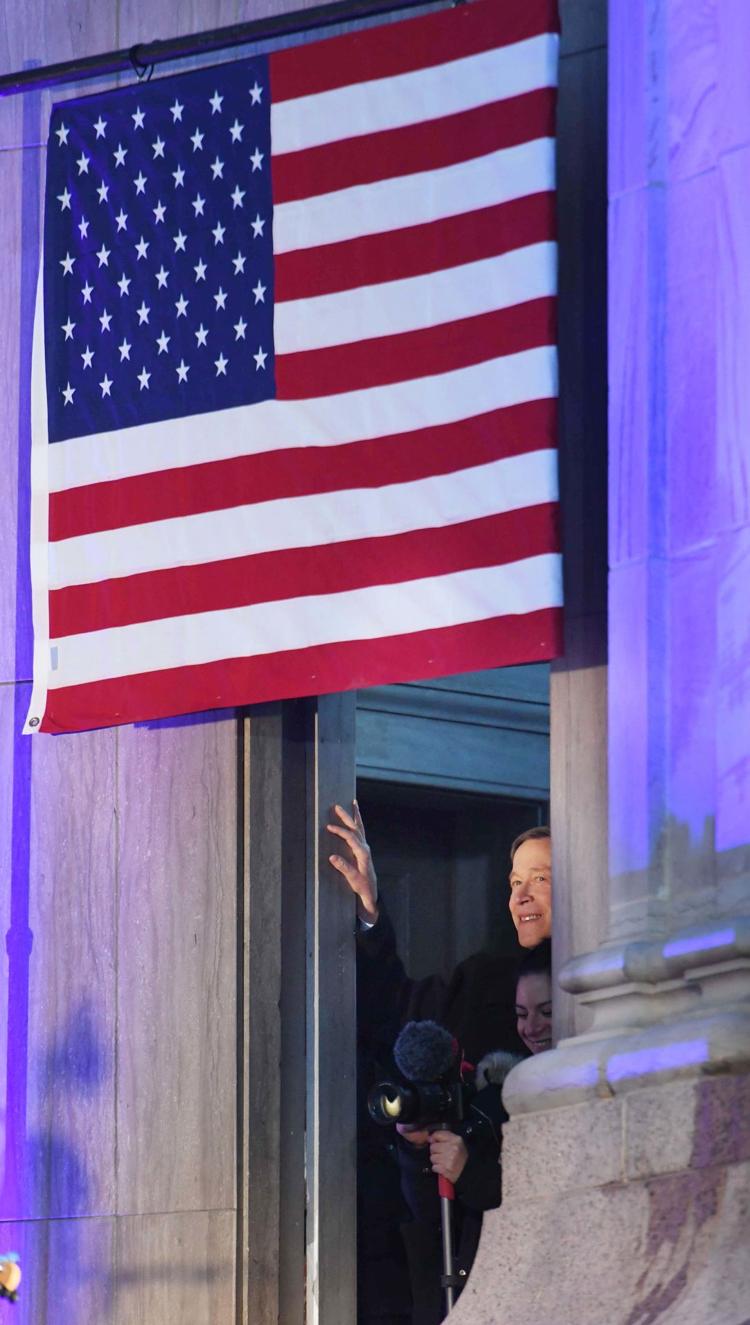 Echoing former President Barack Obama — who called himself a "skinny kid with a funny name" in the 2004 keynote speech at the Democratic National Convention that propelled him toward the White House — Hickenlooper described his awkward youth as preparation to take on Trump.
"Let me tell you, growing up as a skinny kid with Coke-bottle glasses and a funny last name, I've dealt with my fair share of bullies," Hickenlooper said.
Hickenlooper took repeated swipes at Trump and the Republican administration's policies:
"Donald Trump is alienating our allies, ripping away our health care, endangering our planet, and destroying our democracy. The daily insults he hurls range from shocking to unconscionable. But it's more than his tweet storms. Real people are being hurt. He's closed down the government. Hate crimes are up. He's forcibly taking kids from their parents."
He added that Coloradans would call the Trump administration's family separation policy "kidnapping."
"Defeating Trump is absolutely essential. But it's not sufficient. We need to walk out of this canyon of division to a higher plane of progress. America is ready," he said.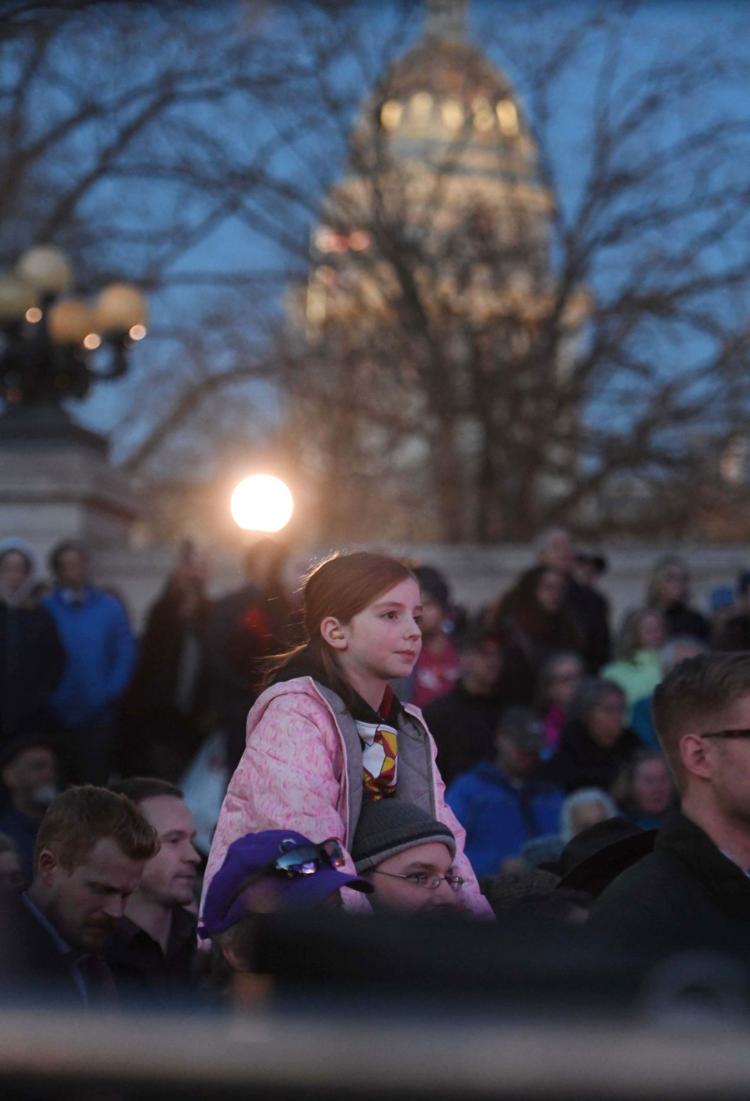 Hickenlooper told the crowd the first thing he'll do as president is to rejoin the Paris Climate Agreement "and exceed its goals."
But not everyone was buying his bona fides on climate change.
"Hickenlooper FRACKED Colorado," read a large sign held high behind the crowd as protesters — including two who took turns shouting into a bullhorn — chanted in an effort to drown out Hickenlooper's speech.
Jessee Parris, a "fracktivist" and candidate for Denver City Council, said he won't be voting for Hickenlooper because of the Democrat's relationship with fossil fuel companies.
"He has allowed our whole state to be bought by oil companies, fracking, big corporations," Parris said. "Look how he's left our state."
Republicans took aim at Hickenlooper's stated support for the aims of the Green New Deal, a far-reaching congressional plan to combat climate change, by releasing a custom Snapchat filter available at the rally.
"Voters deserve to know: Why do you support 99 percent of the Green New Deal?" said the filter, which was sponsored by the Republican National Committee.
Former Denver Mayor Wellington Webb, Hickenlooper's predecessor at city hall, introduced his successor and called him the antidote to Trump.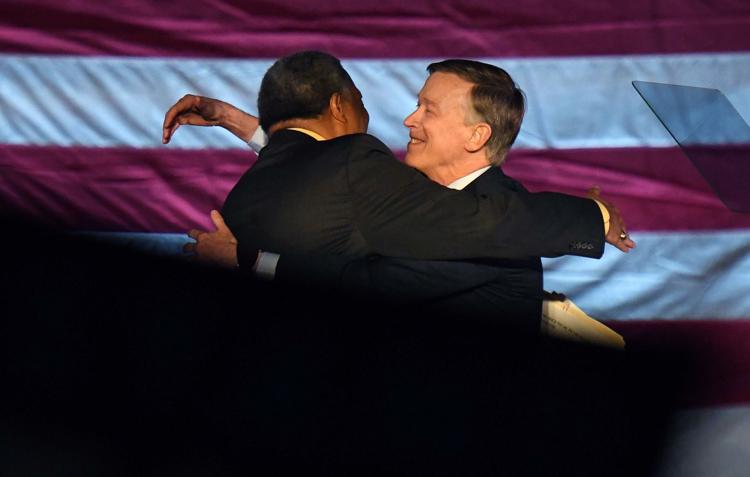 "Washington today is a toxic place, where anger and vitriol replace hope, and it's hard to turn on the news without turning your stomach," Webb aid. "But we can make change. We can make change."
Webb pointed out that when Hickenlooper launched his darkhorse campaign for mayor in late 2002, he barely registered in the polls and "everybody said there was no way the brewery owner with the funny last name could win," but he won in a landslide.
Hickenlooper spoke to a crowd of several thousand who were entertained by soul vocalist SuCh and homegrown rockers Nathaniel Rateliff & the Night Sweats. Some snacked on pizza and grilled cheese sandwiches from food trucks that lined the approach to the amphitheater.
Toni DiGennaro said the former governor's honesty and straightforwardness sets him apart from the other Democratic presidential candidates.
"He's true to himself and he's true to his people. I think that'll come across. He's got this Opie-type quality," she said, referring to the redheaded son of Andy Griffith on the popular 1960s television show with the same name.
Not everyone was so impressed.
"To have any chance at winning a national race, Hickenlooper will have to swing far to the left of anything Colorado voters would recognize," said Michael Fields, executive director of the conservative group Colorado Rising Action.
"And the more national Democrats learn about his record, the less they'll be inclined to vote for him. He's trying to thread a very small needle."
Hickenlooper plans to depart Friday for a campaign swing through Iowa, followed by a fundraising stop in Houston and an appearance at the South By Southwest festival in Austin, Texas.