Cheerfully, if loudly, several dust-covered men plundered an ornate Broadmoor Bluffs home for anything of value Friday.
Copper pipes, electronics, marble counters, garage doors, furniture, cabinets, doors, windows, mirrors, lighting fixtures and more all went into the truck.
But this particular plunder is sanctioned by the city. The home is to be bulldozed and the land restored to open space so the landslides of 2015 can do no more harm.
"These people are pillaging because we want them to," said Gordon Brenner, the city's disaster recovery coordinator.
They're working for Jeff White, chief operations officer for Pikes Peak Habitat for Humanity. A subsidiary of the nonprofit, which builds affordable homes for those in need, collects used building goods and sells them at the ReStore, 411 S. Wahsatch Ave.
All the money goes back to Habitat's home-building mission, White said.
Last year, ReStore sales raised about $600,000, which contributed to the construction of about 10 homes, he said.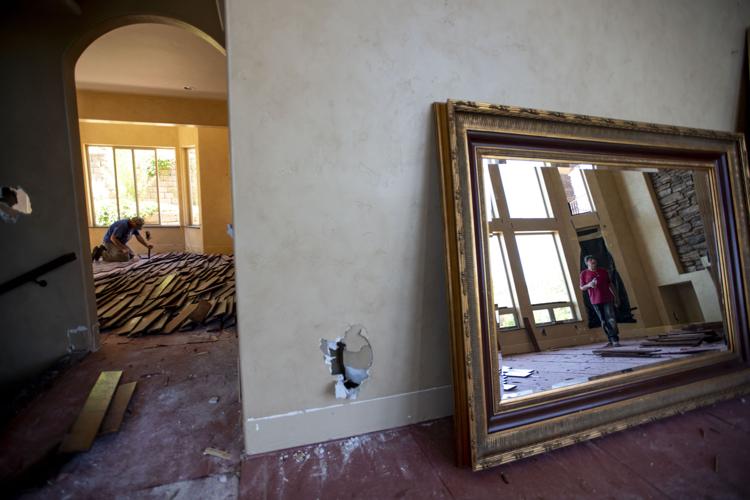 This year, the group hit pay dirt with Brenner and now expects to raise an additional $100,000, White said.
"That's potentially another home this year," he said.
Slowly, deliberately, the city — through grants from the Federal Emergency Management Agency — is buying the landslide-battered houses at very discounted prices. Of fewer than 20 homes left on the buyout list, six have been purchased and are in varying stages of demolition, said Jennifer Vance, city grants manager. Three more purchases are in the closing phase, and nine houses still need appraisals, tests, bids or all three.
Brenner said he contacted White this year when he saw the opportunity to salvage many home fixtures.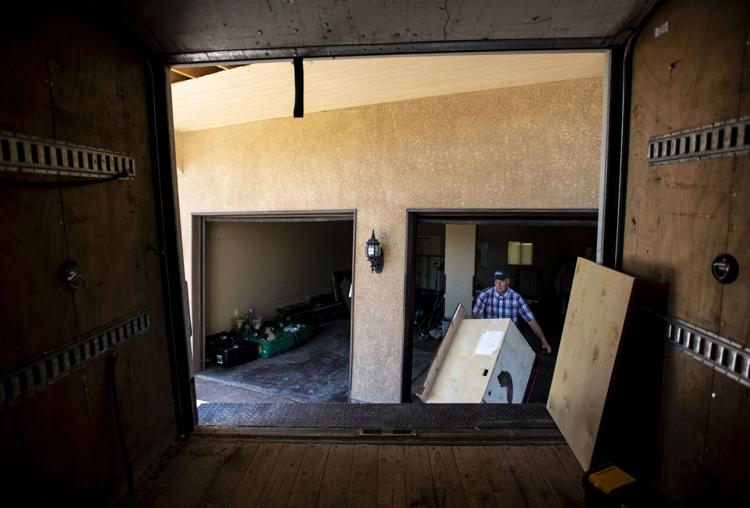 Buyouts are based on a May 2015 appraisal of each home. Homeowners can expect a maximum buyout of 75% of the total project cost, which includes expenses for appraisal, demolition, title searches and more. They're expected to match 25%, but many are coughing up more.
Items donated to ReStore can be deducted from the homeowner's match, though, so everyone benefits, Brenner said.
Already negotiated into each buyout is about 200 hours of volunteer time for ReStore crews, valued at $26 an hour, White and Brenner acknowledged. Those hours can save homeowners more than $5,000 off their grant match costs.
And then the items collected are pumped back into the community at reasonable prices, White said. A pair of elaborate glass front doors that normally would cost about $5,000, for example, will be sold at the ReStore for a fifth of that.
Not every salvaged item is high brow. Volunteers hammered away at wood flooring Friday, carefully prying up planks that could be reused. Often wood trim can be salvaged too.
"We're looking for anything and everything we can take, about anything you can put in a house," White said. "Anytime we can keep this stuff out of the landfill, we try to do so."
Brenner said he tries to give ReStore volunteers about 30 days of access to a home after the city has closed on the property. During that time, he said, he also can work with demolition crews on their game plan, permits and more, so no time is lost.
And those items fly off the shelves, White said. Appliances from this house were sold in about a half hour.
As volunteers scour the home, they learn about the building process too. Tearing out a piece of drywall, White said many volunteers don't know that walls in Colorado tend to hang from ceilings to allow for shifts caused by ground movement. Deconstructing the homes gives them insights they can use when building Habitat homes.
"Everything we do at Habitat is a training opportunity," he said.
The landslides have been a painful experience for homeowners, Brenner said.
"It's heartbreaking. This is where they planned to retire and live out the rest of their days, but nature had different plans."
The ReStore program can help with the healing process, Brenner said, as some homeowners find closure and others take solace in knowing some materials will go to those in need.
conrad.swanson@gazette.com @conrad_swanson