One of two gunmen in the March 2017 fatal shootings of two Coronado High School students was sentenced Wednesday to 65 years in prison, averting a potential death penalty.
Diego Chacon, 20, previously agreed to the sentence under a deal in December in which he pleaded guilty to two counts of second-degree murder in the abductions and shooting deaths of Natalie Cano-Partida, 16, and Derek Greer, 15.
"In your murder of Natalie and your complicity in the murder of Derek, you chose to execute children," 4th Judicial District Judge David Shakes told Chacon on Wednesday, as relatives of the victims wept in a courtroom filled to capacity.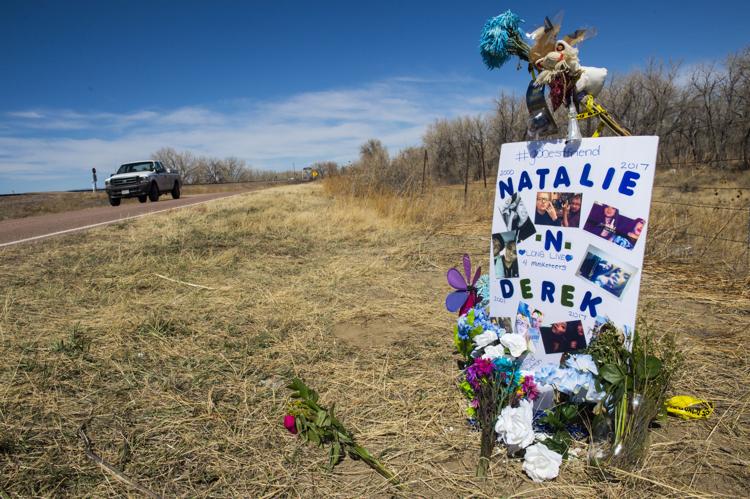 Chacon will not be required to testify against Marco Garcia-Bravo, 22, the other alleged shooter in what authorities have characterized as a gang-related kidnapping and killings. Both teens were students at Coronado High School.
Defending the plea bargain before the court, prosecutors said Chacon fulfilled his end of the bargain — following through on his agreement to sit with El Paso County sheriff's investigators for an exit interview and walking them step-by-step through the teens' abduction in Colorado Springs and deaths on a remote roadside in Fountain.
Victims' loved ones expressed gratitude for Chacon's guilty plea even as they lashed out at the senselessness of his crimes.
"I hate the fact that he is given hope when Derek and Natalie didn't have that chance," said Derek's mother, Heather Ferguson.
Shaking with sobs at points in her address, Ferguson described the crippling fallout of her son's death, including financial pressures that led the family to lose their home.
Natalie's mother, Tamara Partida, sat silent as prosecutors described how Chacon shot her twice in the head before passing the gun to a second man, allegedly Garcia-Bravo, who killed Derek.
As a girl, Natalie loved to sing and dance. She was drawn to beautiful things and spent hours organizing her closet. She hated driving on dark roads, her mother recalled, agonizing over the thought of her daughter wedged into the back of Chacon's car, his gun pressed against her.
"I always wonder about that," Partida told the judge. "What did she go through?"
Her only comfort, Partida said, was knowing that Derek was at her daughter's side. "She always wanted a best friend, and she found that in Derek."
Partida's father, Thomas Cano, recounted seeing his daughter's body at a funeral home.
"I talked to her a little bit," he said. "I put a bracelet on her wrist and I told her I loved her and I kissed her goodbye."
Chacon's supporters described his rough upbringing under a mother who struggled with alcoholism. Unable to cope with living at home, he left for the streets and got involved in drugs and gang life, his relatives told the court.
In admitting his guilt, Chacon said he had no one but himself to blame.
"I would trade my life for both of theirs," he said. "I take responsibility. It is not who I am. It is what I've done."
He said he would pray for forgiveness from both families but will understand if none is offered.
After the hearing, Tamara Partida said Chacon's words brought comfort. Heather Ferguson said she had no choice but to accept his apology, if only to keep Derek's siblings from being raised amid bitterness and hatred.
"Diego Chacon manned up and took responsibility for his actions, and we're grateful for that," said Jeff Ferguson, Derek's stepfather.
Garcia-Bravo will face a possible death sentence when he goes to trial beginning July 8, said Lee Richards, spokeswoman for the 4th Judicial District Attorney's Office.
Chacon and Garcia-Bravo are reputed members of a Sureños-linked street gang. Cano-Partida was allegedly targeted over the belief she had provided information to a rival gang that later led to drive-by shootings.
Ten people were charged in the killings, accused of playing a role in the killings or the cover-up. Of the five charged with first-degree murder, only Garcia-Bravo faces pending charges. The others have pleaded guilty to lesser offenses and await sentencing.