The long-anticipated "silver tsunami" of aging baby boomers is underway in Colorado Springs, where a housing shortage for low-income residents is acute. 
The community has about 1,300 homes designated as affordable for low-income seniors, an important option for those living on Social Security checks between $600 and $900 a month, as rents have risen dramatically in the community, said Melissa Marts, program development administrator for the Area Agency on Aging. 
"It's hard for our existing and yet growing housing inventory to meet the needs of vulnerable people," she said. 
Seniors can become more vulnerable as they leave the workforce and no longer see increases in their paychecks to keep up with the rapidly rising cost of living. Baby boomers, those born between 1946 and 1964, left the workforce in big numbers during the pandemic, contributing to the workforce shortage, revealing the "tip of the iceberg" of silver tsunami effects, Marts said. 
As baby boomers continue to age, the need for senior housing of all kinds is expected to grow, including dedicated affordable apartments. Solving the housing shortage probably will require other creative solutions, such as home sharing, she said.  
"The chances of us having enough apartments to rent to people at the level that people need to pay is very daunting," Marts said. 
El Paso County is expected to see the number of people over age 60 reach about 157,800 in 2025, up from 93,600 in 2010, State Demography Office data shows. 
At the same time, the housing market has seen radical increases in price, and senior housing apartments transitioning to different business models. 
Complexes that have transitioned over the past three years include Arcadia Plaza Apartments with 26 units; Prospect Park Apartments with 60 apartments; and Fountain Gardens Apartments with 55 apartments in southeast Colorado Springs, Marts said.
New senior housing complexes have recently opened to help some of those displaced, including the Atrium at Austin Bluffs, a 54-unit complex in northeast Colorado Springs, and the Villas at Mesa Ridge a 60-unit project in Fountain.
Volunteers of America National Services also is planning a new project, Paloma Garden, that will offer 75 new units and 51 remodeled units, according to a city presentation. 
The nonprofit is expecting to demolish the existing Laurel Manor Care Center on Chelton Road and give the property a rebirth with a new apartment building, said Doug Snyder, vice president of Regional Real Estate Development. The nursing home had to close because it was not financially viable in November 2020.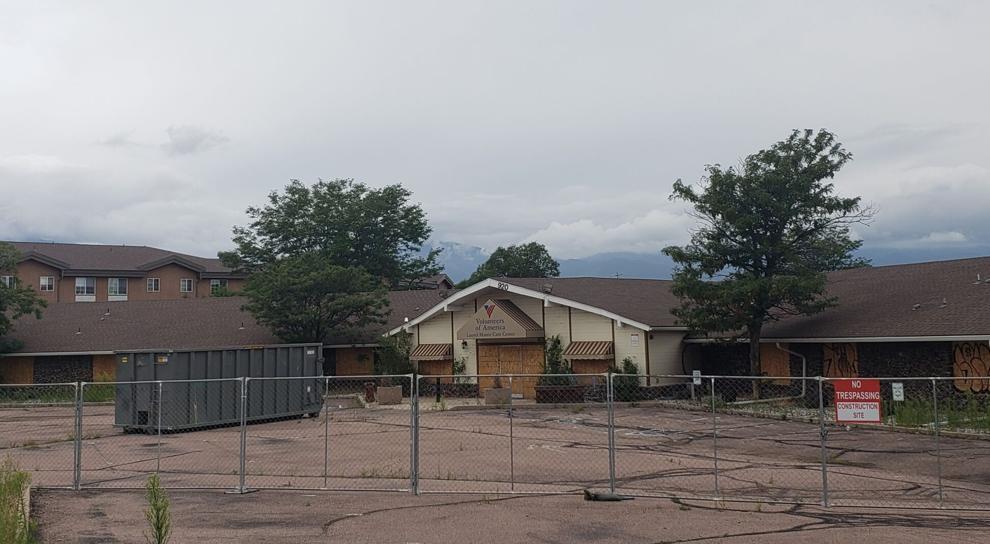 In fall of the same year, Snyder said the nonprofit began planning the $37 million project that will also update an existing 20-year-old apartment complex and courtyard space. It will house those who are 62 or older and earn 30% to 60% of the area median income. For a single person in El Paso County, that's $32,250, according to the U.S. Department of Housing and Urban Development.
The city of Colorado Springs is supporting the project with $19 million in private activity bonds, and it also received state, county and federal funding, he said. 
The project has faced some construction and inflation costs, but Snyder expects the project will get under construction in the fall despite those challenges.  
"Affordable housing was already a problem, and the pandemic has made it acute," he said. 
Other developers are facing similar pressures of high construction and labor costs and rising interest rates that have caused them to reevaluate a number of projects designated for affordable housing for all age groups, but they are going forward, said Katie Sunderlin, senior affordable housing coordinator for the city.
"While market conditions are a challenge, we have seen all of our affordable-housing projects secure additional gap financing to fill the holes created by increased costs," she said. 
Colorado received $400 million in federal money for affordable housing and that has helped ensure projects can go forward, Sunderlin said.