Residents of Flying Horse on Colorado Springs' north side have concerns and questions about millions in debt they owe to local metro districts and the limited resident oversight on boards that oversee property tax spending in the sprawling upscale neighborhood. 
Dan Mulloy, a resident and board member with Flying Horse Metro District 2, said he is concerned about the $58 million in debt the district owes, the likelihood of debt ballooning with interest and the potential need to raise taxes to pay it back. 
The district encompasses 1,599 homes and owners pay about 40% of their property taxes to the district to cover the debt that financed infrastructure, such as streets, water and sewer mains and parks. 
In addition to the overall debt, Mulloy and Bill Graziano, a resident and former certified public accountant, said they also question millions in expenses charged to the district and believe the developer of the neighborhood has too much control over the district. The agreements that allow the district to review the proposed budgets and construction schedules also have not been honored, Mulloy said.  
The district that Mulloy and Graziano live in is one of three districts set up by Classic Homes, the developer of Flying Horse and all of them have been governed solely by Classic Homes employees since 2004 until recently. 
Developer control is one of the key problems for Mulloy and Graziano, because even if residents gain more control on the District 2 board during an upcoming election, they will have limited oversight. Flying Horse District 1 governs the two other districts, has the right to spend their money, and residents are not allowed to run for its board. 
"This is a classic feudalistic system. This goes back to medieval times. … We get the cost. They own everything and run everything," Graziano said. Colorado Springs banned small governing metro districts, like the one in Flying Horse, last year in all new developments.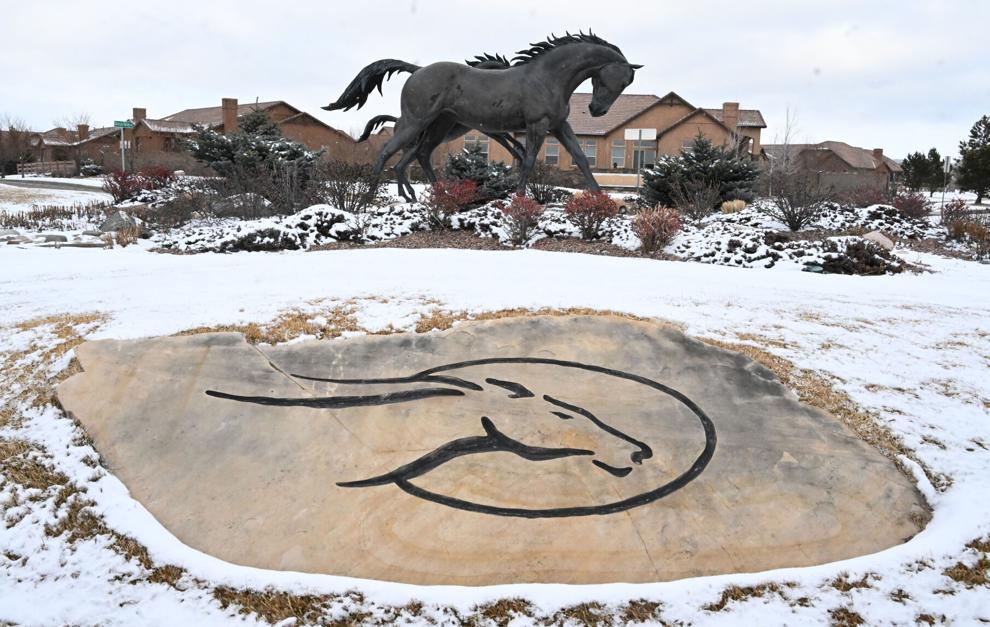 Classic Homes CEO Doug Stimple responded in a letter to The Gazette about concerns raised by the residents, saying the Flying Horse Metro Districts funds have been properly spent on eligible public infrastructure and the governance structure granting District 1 control over spending allows for cohesive management of the community.
"Everything we have done has complied with law and we have gone further than the law even required," he said in a brief phone interview.
Stimple said he does not expect to see a need to ask voters to raise taxes to cover debt. 
Millions owed across city 
The Flying Horse Metro Districts are three of more than 100 metro districts across Colorado Springs that collectively owe about $700 million for public infrastructure, such as roads, that will be paid back through property taxes over time, said Carl Schueler, comprehensive planning manager for the city. The districts are a form of local government, such as a library district.
However, the metro districts are set up by developers who often continue to control the districts as board members after residents move in. A city auditor's report found in 2021 fewer than 10 metro districts have transitioned to resident owner representation. Schueler did not have an updated number of boards with resident representation. 
Metro districts have become highly controversial in the state legislature, in part, because developers sometimes buy and profit from the bonds used to finance their projects. State lawmakers are debating a measure this year that could ban the practice. 
In recent years, the state has passed some reforms to help residents better understand and get involved in metro districts, such as requiring the districts to maintain websites and inform residents of board elections. 
Mulloy joined the Flying Horse Metro District 2 board because of the rule requiring metro districts to inform residents about elections.  
Educating people about the metro district is a process for Mulloy because residents tend to confuse it with the homeowners' association. He often points out to his neighbors they are paying 40% of their tax bill to the district and that tends to prompt questions.
Once they understand the metro district is run by the developer that built the neighborhood and oversaw the construction of the improvements and is getting reimbursed by the board they run, they are concerned that's allowed, he said. 
"People get upset about it, when they know about it," he said. 
Flying Horse spending
Since joining the board, Mulloy has requested detailed records of the projects the district is paying off and found expenses he has questioned because they don't appear valid. 
For example, the district was charged $2 million for a buried electric line, $1.8 million in a 5% management fee and $1.145 million for the Flying Horse edifices, including elaborate features such as a clock tower. None of those expenses are specified in the service plan approved by the Colorado Springs City Council that governs District 2, Mulloy said. 
In addition, a contract does not exist for the 5% management fee that was charged on each line item from 2005 to 2015, he said. 
In response, Stimple said, the electric line needed to be relocated and the district contributed to that cost to allow for the construction of roads and other infrastructure.
Electric lines are not listed as eligible improvements in a copy of the service plan provided the city gave to The Gazette.
Stimple also stated the entryway monuments are listed in the service plan; however, the document simply lists entryways. 
As to the 5% management fee, Classic Homes charged it for overseeing proper installation and completion of the infrastructure and a third-party engineer deemed it reasonable, and it is less than the going rate, Stimple said.
In his review of district documents, Mulloy found a third-party engineer hired to make sure the infrastructure is eligible for taxpayer reimbursement wrote reports that were inconsistent and incomplete. In November, he proposed the board pay for a review of all the projects. 
"I wanted to get a third-party forensic accountant to take a look at all of these transactions and figure out if everything was fine. … The vote was one non-Classic Homes employee for the third party and four Classic Homes employees against," he said. Mulloy is the only non-Classic employee on the board. 
John Henderson, with the activist group Coloradans for Metro District Reform, said in other metro districts in Colorado the third-party reviews have been problematic, because the engineers are hired by the developers and they don't provide objective reports. 
Stimple said such a review would cost tens of thousands and is unnecessary because the spending has received multiple legal reviews. 
'Extraordinary' ratio
District 2 brings in about $3.4 million in revenue to pay off its $58 million in debt, the 2023 budget showed.  
"That's an extraordinary ratio and an unacceptable ratio," Graziano said. He expects property taxes will need to go up to pay for the debt. 
Metro District 1 is also carrying $17 million in debt, according to its 2023 budget. But it doesn't generate any revenue on its own, so those debts probably will have to be paid back by either Flying Horse Metro District 2 or District 3.
Additional business and home development would generate additional property tax revenue that could help pay off the debt, Mulloy said. For example, a King Soopers is planned in District 3. At the same time, the real estate market is slowing.   
Stimple said he did not expect a property tax increase would be needed to cover the debt and that revenues would rise as construction in Flying Horse nears completion. 
Resident oversight
Mulloy said he should be educated on revenue projections and construction plans because under an intergovernmental agreement District 1 is supposed to consult with other districts on critical documents, such as estimates of operations and maintenance costs, a proposed construction schedule for the budget year, estimates of capital costs for the year, and actual construction contracts, among others. 
Mulloy said reviews of those documents did not happen last year. Stimple disagreed. 
City governments can intervene when metro districts fail to follow a service plan or an intergovernmental agreement, Henderson, with the metro district reform group, said. For example, they could take away the district's right to issue bonds, he said. 
Colorado Springs city councilmembers have emphasized residents should get involved in their metro districts to provide needed oversight. 
More residents could be elected to the Flying Horse Metro District 2 board in May with six residents and three Classic Homes employees, including Stimple, running for three seats. 
Stimple said it was important for employees to stay on the board, because their expertise and historical knowledge is important to the operation of the districts. 
Mulloy countered that residents provide important insight. 
"We think we can run the districts better, because we are residents and taxpayers of the districts," he said.