Many residents of Gold Hill Mesa reacted with disbelief and anger earlier this year when the Colorado Geological Survey recommended that the soil under their neighborhood be tested further for its settlement potential.
They say they've seen no signs of ground movement, cracking foundations or damage to their homes.
But several residents interviewed by The Gazette outlined cracks, flooding and other problems they've had with their homes or saw in others. At least three residents have commissioned inspections of their homes or now seek experts to examine their property. Several residents there have kept track of homes throughout the development where they've seen flooding, heard of cracking or other problems.
All those who reached out to The Gazette or who were contacted by The Gazette about problems or concerns wanted anonymity because they are worried that voicing such concerns could bring them legal troubles and scorn in the neighborhood.
The developer and fellow residents "would absolutely crucify anybody who goes against the community," said one woman who lives there. "They literally will destroy the sale of your home."
"I want out of the neighborhood, but I don't think that it'll be very easy," she added.
The woman said she walks the neighborhood and can see water draining from one house into a nearby alley, even when the weather is dry.
"I would call it a creek that flows out of their yard," she said. "(Other residents) are having true issues and it's costing them money. The flooding. Nobody can tell them where any of this water is coming from" and why some of the doors in their homes can't shut."
You "can't tell me the ground isn't moving," she said.
Another woman, who formerly lived on Eclipse Drive in Gold Hill Mesa, said, "The whole thing was a nightmare and we were only there a year. I just got out of there before my house went down the hill. I could not wait to get out of there."
The Gazette is not listing addresses of homes to protect the identities of residents who shared their stories anonymously.
The former resident spoke of cracks in her porch, sinking and cracking concrete and water damage to her home's foundation, all corroborated by Walter Clemens, lead inspector for Encompass Home Warranty Inspections.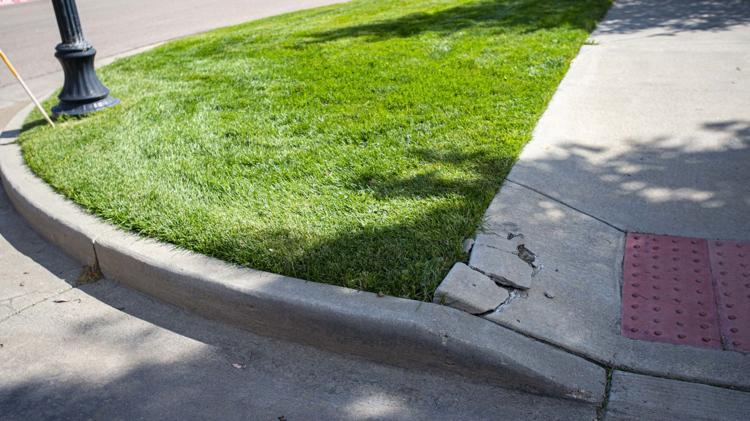 Clemens' inspection of the home found sinking concrete pads, cracked pillars, door and window problems and water damage. He later told The Gazette that damage was substantial and showed evidence of previous repairs that is symptomatic of sinking and heaving soils.
The former owner of the Eclipse Drive home also said she saw and spoke with neighbors about similar cracks and flooding in other parts of the development.
Concrete in the garage of another home and the alley behind the property were also cracked, she said. And the basement there was left discolored after water flooded in, she said.
"You would not believe the basement floor," she said. "You can see it's corroded."
The current owner of that home declined to comment, also citing a fear of retribution.
The two women and other homeowners track varied lists of homes throughout the development where they've seen flooding, heard of cracking or other problems. Confirming the nature of those issues or their causes has proven difficult, in part, because of residents' unwillingness to discuss problems or concerns that might diminish the value of their homes. Several residents have provided pictures showing water damage, cracks in homes and gaps beneath walls, but don't want those photos published because they could be used to identify specific homes. 
'Signs of groundwater'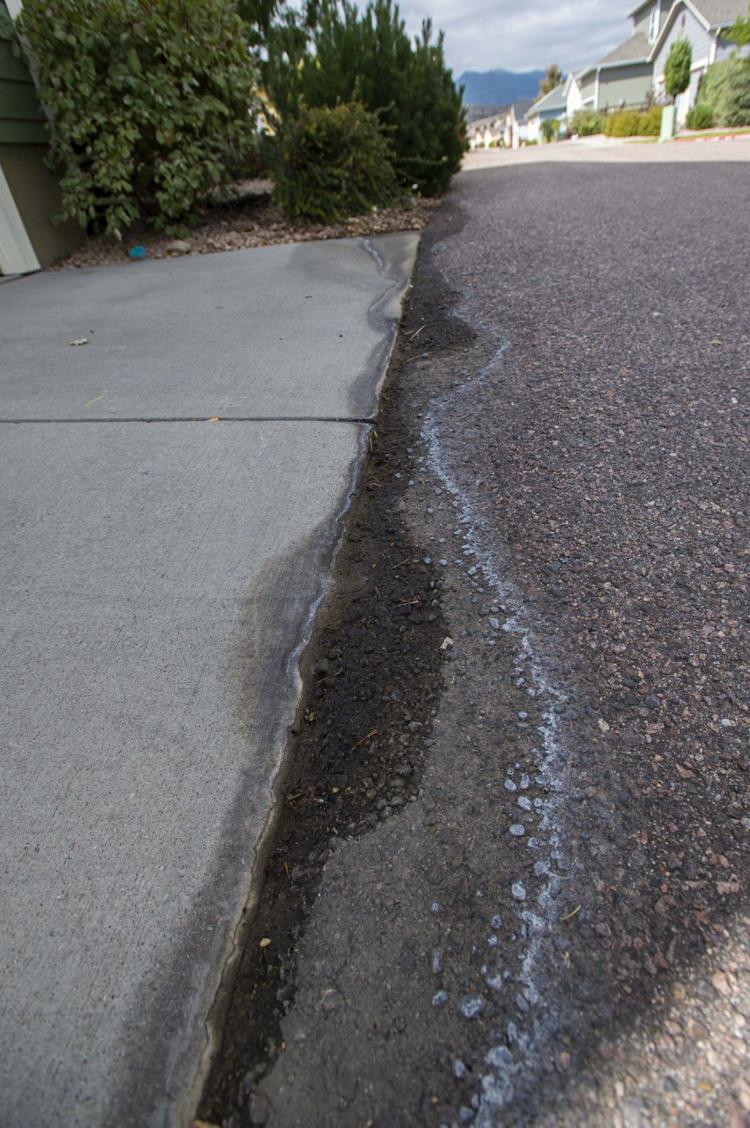 Reports of corrosion and flooding throughout the development gave rise to concerns that toxic chemicals in the century-old mine tailings pile beneath the neighborhood might bubble to the surface, the former Eclipse Drive resident said.
"We started seeing stuff happening in the streets," she said. "You could see water bubbling and then they'd get it fixed and another place would start bubbling. It's constant fixing or not fixing streets and watching plants die."
City and Colorado Springs Utilities staff confirmed reports of water surfacing on Millstream Terrace, in Gold Hill Mesa, last year. Work orders for Utilities crews also confirm the reports.
"When I arrived, I found standing water in the curbline in front of address," one work order for February 2018 states. "The entire area has signs of groundwater, alkalinity staining is present in the street. … This has been determined to be a groundwater issue."
Public Works Director Travis Easton said in an email that he spoke with the city employee who investigated the reports and "from his memory, it sounds like there were no water line breaks, but that it was determined to be groundwater."
Crews responded to Millstream Terrace again in June 2018, and work orders from the utility indicate they discovered "water surfacing from multiple areas in the street and grass." The crews determined that leak could stem from groundwater and a small leak in the water line there, which was repaired.
Asked about the two reports, Stephanie Edwards, executive vice president of Gold Hill Mesa LLC, wrote in an email that it took Utilities crews a while to diagnose the issue, having visited on multiple occasions.
"Initially, they speculated that it was groundwater, but after testing it, they ultimately determined it was a service line leak," Edwards wrote. "They resolved the problem and we haven't heard of any issues subsequently."
"To reiterate, we know of no utility main breaks or problems that occurred due to subsidence," Edwards added.
Her explanation for the source of the water surfacing on Millstream Terrace didn't wholly match that of Utilities, however.
"In a nutshell, our crews believe there were two possible sources for the water complaints on Millstream Terrace — a presence of groundwater in the area and a leak that was repaired in June 2018," Steve Berry, a Utilities spokesman, wrote in an email.
Berry later added that Utilities crews "do not think both incidents were attributable to the pinhole leak that was discovered in June, but it's difficult to prove without a doubt due to elevated groundwater levels in the area."
As of today, Berry said, all of Utilities' services are in good working order in the development.
Edwards said a water line leak was also discovered in September 2017, near Gold Hill Mesa's community center at 142 S. Raven Mine Drive. Water was puddling in a corner of the parking lot near the building, she said.
"CSU determined that it was a water service line leak," she wrote.
The developer paid for the repairs, Edwards wrote.
Asked about the alkalinity noted from the water, Edwards wrote "it was explained to me by the community landscape company that this is common when irrigation water drains through clay soils. This can create some discoloration, particularly when irrigation water runs over sidewalks."
"My understanding is that concrete discoloration can also result when irrigation water flows through fertilized areas," she added.
State agency finds ground movement
Portions of Gold Hill Mesa sank a cumulative 3 inches over a six-year period, experts at the Colorado Geological Survey reported to city planners this April.
That movement — tracked by stacking 162 images captured by satellite cameras — is greater than in surrounding areas and is concerning enough to warrant additional investigations of the mine tailings pile atop which the development sits, said Jonathan Lovekin, a senior engineering geologist at the agency. 
The apparent sinking that has occurred in the development is likely caused by water shifting in the soil at Gold Hill Mesa, hypothesized Virginia McLemore, principal senior economic geologist at the New Mexico Bureau of Geology and Mineral Resources, who studied the satellite images and the CGS report.
The tailings pile under the development is estimated to be 130 feet deep in places.
If additional testing indicates an underlying problem with the soils, McLemore said controlling the flow of water in and out of the development will likely play a part in the solution.
Gold Hill Mesa representatives say the land is stable and safe, but state geologists have twice reiterated their call for additional testing of a planned expansion of the development.
New reports of structural issues come in addition to the complaints of three residents, who filed lawsuits against their homebuilders and, in one case, the developer, claiming drainage problems, water damage, cracked foundation walls and foundation settlement, among other things. The companies all denied those allegations in court filings and the lawsuits were settled confidentially.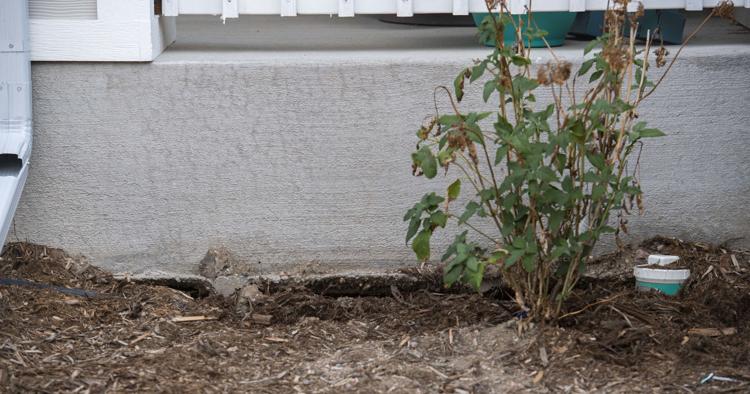 Residents: Other causes for water issues
Several residents acknowledged flooding in their homes but say those issues are linked to heavy rains and possible homebuilder defects rather than any problems with the stability of the soils.
One homeowner recently contacted the developer with concerns of water intrusion into her home, Edwards wrote.
This home is quite possibly the same house that has raised such concern from the anonymous neighbor.
Edwards also shared email correspondence with that homeowner, who did not return a call seeking comment.
The homeowner contacted Edwards in May 2019 to give notice of her intention to investigate further, the emails show.
"My basement bedroom flooded again today. This is the fourth time in two years," she wrote. "I thought last year it was related to the sediment being found in the pipes in the street. I plan on digging on June 14 to see if it's our foundation. This only happens when we have runoff and our streets are flooded. I personally think it's the neighborhood drainage system but you never know, maybe there is a crack in our foundation."
In July, the homeowner emailed Edwards again to say that the plumber they hired found that the homebuilder "did not properly grade the foundation and a drain pipe that goes around the home was crushed."
A sump pump was installed as well, she wrote.
"The sump pump (has) been working, pumping gallons of water daily, sometimes multiple times a day, out into the alleyway behind our garage," she wrote. "So far, we haven't had further flooding in our basement. Hoping it stays that way."
Edwards told The Gazette that installing a sump pump is standard practice to mitigate perimeter drain failures.
"As a result, we understand that the water pumped out has created some discoloration on the concrete, but this is not corrosion," she wrote. "As anyone with a sump pump has experienced, they will often run even in dry periods depending on conditions, including irrigation in the area."
Asked about reports of doors unable to open or close, Edwards wrote, "I have heard in passing of some minor door sticking, but as you know, this isn't abnormal in any new home but should nevertheless be brought to the homebuilder's attention within the warranty period."
Edwards reiterated that the developer is unaware of any structural settlement of homes "outside industry norms." Edwards has previously rebutted reports of ground subsidence or heaving in the Gold Hill Mesa development by stating that such geological forces would produce numerous structural injuries to homes in the vicinity, and there is no evidence of that having occurred.
Problems from epic 2013 flooding 
Jennifer Elliott said her home on Eclipse Drive, like many others in town, flooded during heavy rains in 2013. Then sewage backed up into the home several times, but both problems were unrelated to the developer or soils, she said.
"There are no enormous cracks, there's nothing huge, there's no shifting where you see walls dropping or floors dropping," Elliott said. "I would say there's shoddy craftsman work here, whether it's a painter or a plumber to a carpenter. There are shoddy things, and I think that's probably true in every build."
Other reports of flooding throughout the development are likely linked to debris stuck in piping, she said. And in those cases, the developer and homebuilders have been responsive to the neighborhood's needs.
"They were very diligent about coming out and dealing with it. They wanted everything checked, wanting lines blown out for any debris that's getting built up," she said. "It seems to happen in all the building areas (in town), all the waterways get clogged up with nasty debris."
The foundation of Elliott's home cracked before she bought it in May 2013, according to records filed with the Pikes Peak Regional Building Department. That vertical foundation crack was filled with epoxy, and anchors were installed to brace the home further, the repair schematic shows.
Elliott said she couldn't remember whether that crack was disclosed to her, but she has no structural concerns with the home. What minor cracks she's seen don't match settlement problems she's seen in homes elsewhere in the state by any stretch of the imagination, she said.
Elliott speaks highly of the sense of community at Gold Hill Mesa and says if state geologists are calling for additional testing to ensure the ground is stable and safe, then the developer should comply.
"The neighborhood would love to make sure that everything that's built on is safe, but especially the next section that needs to be filled," she said.
The nearby development, Villa de Mesa, should also be tested, Elliott said.
"They should do the ground samples over there," she said. "Then people would know … if that soil is the same as ours."
Tony and Diane Heinz told The Gazette that their home on Millstream Terrace flooded in 2013 as well, as heavy rains flooded much of the Front Range. Their homebuilder arrived quickly to lend a hand, and insurance covered all the damage, they said.
"The city storm drain line had a backup in it, and that led to a downstream backup to our house," Diane Heinz said. "That wasn't a failure of our (perimeter) drain. There was a backup of debris with a historic flood."
The couple vehemently argue against the notion of settling soils at Gold Hill Mesa and say they love living in the neighborhood. They, too, spoke of the sense of community it offers them.
"No home in this neighborhood has sunk, shifted, anything of that nature," Diane Heinz said. "Have there been some issues with individual homebuilders that they've had issues with their perimeter drains? Yes."
In agreement is John Olson, who lives on Portland Gold Drive and sits on one of the boards created to allocate tax money collected at Gold Hill Mesa to build streets and infrastructure.
Olson said his home's perimeter drain failed, and he took the homebuilder to small claims court over the matter. Although he won the case, Olson said, he has yet to receive restitution.
But that trouble shouldn't spill over to the developer, Olson wrote in an email to City Council members, responding to The Gazette's coverage. He underscored his faith in the neighborhood and the corporation behind it.
"Our home is not sinking, it is not shifting and it is not flooding," Olson wrote.
Karen Newton, who lives on Eclipse Drive, also said her home had a drain backup in the basement, but the problem has been fixed.
"We have no settlement issues," Newton wrote in an email. "We have a few doors that need to be adjusted, but nothing out of the ordinary for a new home settling in."
For a time, Shannon Harward said she was concerned about chemicals in the soil at Gold Hill Mesa. But then Harward — who lives on South Favorite Street — said she spoke with a representative of the Colorado Department of Public Health and Environment, which regulates the site, determining whether dangerous chemicals exist in Gold Hill Mesa's topsoils. He alleviated those concerns by explaining the testing process and its results, she said.
"I'm out there digging in the yard all the time. I love to garden. And I'm not growing any extra limbs or anything like that," Harward said. "This really is a great place to live. It's the only place I've ever lived where someone will sell one house to buy another house in the neighborhood."
It's a tight-knit community, said Ken Hanes, who lives on Gold Hill Mesa Drive. And that's the way many of the residents like it. He spoke fondly of a summer concert series in the neighborhood and the potlucks that coincide.
"We all sit out on the grass and listen to the music and enjoy it," Hanes said. "The neighbors are very tight. It's actually an incredible place to live. Very outside of what you would expect anywhere else in the city."
Hanes, a Colorado Springs native, said the development also benefits the rest of the city by capping off the toxic mine tailings and preventing dust and dirt from blowing around the area.
"I've watched this place be nothing but a dust bowl, something that you couldn't grow anything on," he said. "The biggest injustice to this neighborhood is the fact that people don't realize that we are actually helping Colorado Springs."
Neighboring communities concerned
Some who live nearby don't feel they've benefited from development at Gold Hill Mesa. A band of neighbors to the east watch with concern, scrutinizing the development rippling out from the last great infill project on the city's west side.
"Our properties that lie to the east/southeast of GHM's iconic smokestack are perpetually subject to the runoff of 'contaminated' soils, grease, oils, and any other environmental hazard to Earth's fragile ecosystem because of the nearly two decades of ongoing construction," Joan Phillips wrote in an email.
The next week, Phillips, who lives on West Costilla Street, sat at a picnic table in her yard, joined by others who, like her, live just a few blocks to the east and downhill from Gold Hill Mesa.
The street used to dead end. But since construction began, it's served as a thoroughfare for heavy machinery and speeding cars, they said.
Aside from traffic concerns, the group worries more about runoff from Gold Hill Mesa. The runoff is already substantial when it rains, said Jay Byram, another West Costilla Street resident.
"It looks like a trout stream, like you could fly cast," Byram said.
"It's just coming from their property onto ours," said Debbie Stickel, who also lives on West Costilla Street.
Phillips said they worry the runoff will worsen.
"They're gonna build it up so high, what's going to happen when it rains a lot, the water's going to take the path of least resistance," Phillips said. "My plot is going to get flooded."
Possible impact on the real estate market
Because of engineering reports, some realtors decline to bring their business into Gold Hill Mesa, where nearly 500 homes stand.
Realtor Nathan Fisk said his team strongly recommended against a client buying in Gold Hill Mesa nearly three years ago and walked away from a "$500K+" deal due to their safety concerns.
"We now have an internal policy to not represent buyers or sellers in that neighborhood," Fisk wrote in an email.
That policy stems from a local environmental engineer who, Fisk said, raised concerns of shifting soils and environmental issues.
That engineer acknowledged to The Gazette that he had worked in the development, but declined to comment on the nature of his work or his experiences there, citing a nondisclosure agreement with the developer.
However, another local Realtor, Susanna Haynie, said she hasn't seen evidence to give her pause about selling homes in Gold Hill Mesa.
"I do not direct my buyers in any way shape or form," Haynie said. "I present whatever information is available ... give them resources where buyers can do their own research and then the buyers make up their own mind."
Haynie couldn't immediately say how many homes she's sold in Gold Hill Mesa but said her clients love the development. They're typically attracted to the area for its location and sense of community, she said.
"People want to be close to the mountains, but they also want to be close to downtown," she said. "You actually know your neighbor (in Gold Hill Mesa) and you're close. You actually know each other compared to other neighborhoods."
"Of course, every buyer has their own objectives, has their own requirements and they make their own decisions," Haynie said. "We are here to serve our clients. And that's what we do. We provide, they decide."
In recent months, Gold Hill Mesa representatives have hosted seminars on the development's stability, the community and environment. Edwards, vice president of the Gold Hill Mesa corporation, would not allow a Gazette reporter inside one of the seminars, saying they are only for residents, and a media presence would disrupt the event.
The seminars have been taped, Edwards said.
Asked later whether she'd share the videos, Edwards replied: "At this point, I am not sure we can or will release a video. I will check into that and see what is possible."