The Colorado Springs City Council spoke behind closed doors Monday about development at Gold Hill Mesa, where city planners recently halted work on one section after state geologists requested additional testing of the land.
While information surrounding that closed, executive session wasn't released, Councilman Bill Murray confirmed the nature of the conversation. Council members otherwise cannot discuss the substance of such closed meetings.
Emails obtained by The Gazette, however, show that engineers hired by the developer, Gold Hill Mesa LLC, recently drilled deeper into the soils there, following a recommendation from experts at the Colorado Geological Survey. In April, those experts said they can't condone new construction at the site without additional testing to see whether the land is stable and safe.
Those emails also show that a representative of the developer expressed concern to city planners about the slow pace they're taking with this new phase of development.
"We think everyone's goal should be a successful redevelopment of Gold Hill Mesa," Stephanie Edwards, executive vice president of Gold Hill Mesa LLC, wrote to the city planners charged with reviewing plans for the next phase of developments. "At this point, almost four months have elapsed since the (state agency's) April 19 letter, and the very pace of this conversation is threatening that goal."
The Gazette reported Sunday that city planners and Regional Building Department staff learned in 2016 possibly dozens of homes atop the century-old mines tailings pile were slowly sinking, heaving and flooding, but allowed development to continue uninterrupted. The number of homes is disputed by Pikes Peak Regional Building Department representatives, though others stand behind the number.
For now, city planners have halted the next phase of development at the site because state geologists said they can't condone additional building on the land without more tests to determine whether it's stable and safe. They want the site examined further to determine risk of future sinking and settlement as well as the possibility of further destabilization set off by seismic activity.
Details behind the council's closed meeting were unavailable, but already council members have called for additional testing at the site.
In her email, Edwards told city planners that CTL Thompson, a regional engineering firm hired by the developer, drilled into bedrock at one plot in question. Laboratory results were to be passed to the planners promptly after they were ready, she said.
By some estimations, tailings at the site — still contaminated with arsenic and lead — reach 130 feet deep. The developer is responsible for most of the work required by the state to cap the contaminated soils before selling plots to homebuilders.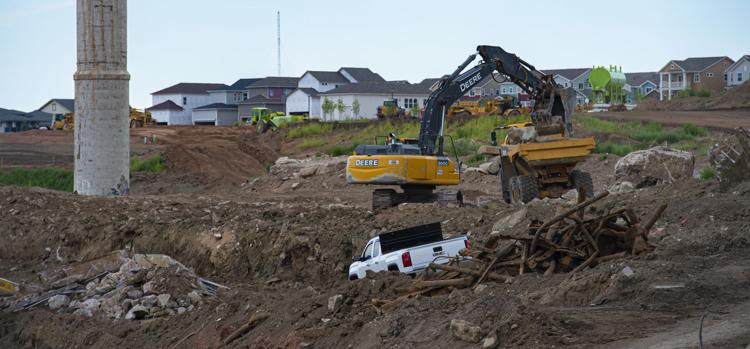 Early geotechnical tests on the first plots developed at Gold Hill Mesa were insufficient and shallow, one engineer said in a 2015 report, commissioned as part of a then-ongoing lawsuit over a home on the land. That report has since been embraced by the state geologists calling for more testing, though the developer and its engineering firm take issue with the report's conclusions.
This month, Edwards told The Gazette that Gold Hill Mesa's development team is unaware of any unusual sinking or settlement. She and other Gold Hill Mesa representatives say they stand by their work and say their own, separate testing, done by a firm they hired, shows the ground to be stable and safe.
Edwards asked for Gold Hill Mesa representatives to meet with city planners and state geologists to discuss their recommendations and "reach a successful conclusion to this process."
Whether that meeting has taken place remains unclear, as are the next steps for city planners reviewing the next phase of development. Previously those planners told The Gazette that phase remains under consideration and stressed a desire to treat the developer fairly.
conrad.swanson@gazette.com @conrad_swanson