Transgender Army Capt. Alivia Stehlik recently had to explain to her 7-year-old son why she spends so much time advocating for LGBTQ people in the military.
"I got down on a knee and looked him in the eye and told him this: 'Some people don't think that people like me should exist. Some people don't think that people like me should be allowed in the Army.' Before I could continue, he interrupted with 'What? Why? That's so mean.'"
Stehlik, 32, recounted the story before at least 100 people at a National Pride Month event Monday at the Elkhorn Conference Center on Fort Carson. It was the second year the post has held an event recognizing Pride Month.
"Pride is not just a celebration. It's a battle cry," she told the soldiers and their supporters. "It's a reminder of the struggle in which we are still involved — the struggle for all people to be treated equally by the law, with consequences based on our actions, not our personhood."
Stehlik said she told her son: "I'm not doing this work for me. I'm doing this work for you, and for your friends, and for our country. Because one day, when you're older, some of your friends are going to want to join the military. And some of them will be gay. Some of them will be lesbian. Some of them will be bisexual. Some of them will be words we don't even have yet. Some of them will be transgender. I'm doing this so that when that time comes, they will be allowed to join."
Since returning in January from a deployment to Afghanistan, Stehlik has visited Washington, D.C., twice to testify before the House and Senate "to tell them my story, and to tell them the stories of thousands of people just like me who are simply going to work and doing their jobs with distinction," she said.
"As a transgender person in the U.S. military, this hasn't been a great year. If you're an American citizen who has gone through gender transition, you can no longer enter the United States military. If you're currently serving and decide to come out, you can't transition. Except for counseling, you can't receive medical care for transition. So for me, this is not the most pleasant of pride months. In many ways, though, that's apropos, right? Pride Month exists because, until very recently, there was massive stigma and shame associated with being part of the LGBT community — not to mention overt and widespread discrimination."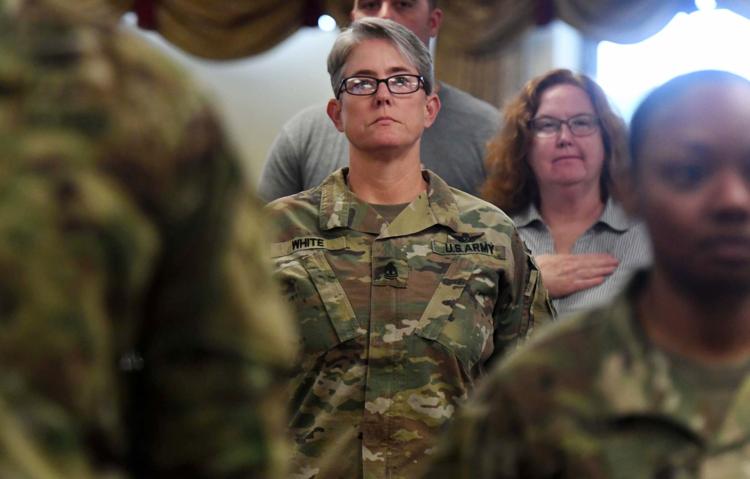 The captain, who graduated from West Point in 2008, works on Fort Carson as a physical therapist. She came out to her chain of command in the fall of 2016, not long after the ban on transgender service was lifted June 30, 2016. She began to transition in the summer of 2017.
She said she was nervous about how her fellow soldiers would react, but said her chain of command "could not have been more encouraging, helpful or loyal. ... That summer, when I transitioned, my patients were equally supportive. They said, 'We don't care what anyone says. We want you as our therapist.'
"Every day since then, I've gotten up and done what everyone other transgender person in the United States military has done: I went to work."
So has 1st Sgt. Melissa White, a lesbian who hid that fact from her fellow military members for about 18 years.
White, 44, met her wife in 1999, years into the military's "don't ask, don't tell" policy, which barred openly LGBTQ people from service.
"I kept my secret so I could keep my job," she said at the Pride Month event. "It became second nature to be in the closet. I remember the Army of 20 years ago: While we knew there were gays and lesbians in the units, we didn't acknowledge it."
For years, the women were terrified that they would be found out. But when legislation repealing "don't ask, don't tell" took effect in September 2011, "we were finally free to be ourselves," White said.
"We married a few months after the repeal and made our grand debut during a brigade ball in 2012," said White, who said she recognized her sexual orientation when she was 19, about the time she joined the Navy. In 1998, she joined the Army. "Even after the repeal, I didn't tell anyone for fear of judgement or rejection, so at the ball, I introduced my wife to the unit for the very first time, and I'm happy to say it was very well-received.
"Just imagine fulfilling all the responsibilities and enduring all the heartache of a military spouse but in total silence. Having to watch everything you say on the phone when your loved one finally calls from Afghanistan, for fear that someone on the switchboard might be listening in."
The senior aviation sergeant said she always knew she would join the military. Her grandfather served, as did both of her parents, all five of her siblings and many of her aunts and uncles.
She said she is grateful to finally serve as herself.
"Unfortunately, too many LGBT members served in silence, as did their faithful partners, for years on end. I'll be honest: I didn't think I would ever see the LGBT ban lifted as long as I was in the Army, let alone that I would be able to legally marry the love of my life. So I'm so happy that changed. Now we are free to be who we are."