Val Snider wants to reclaim his old seat on the Colorado Springs City Council.
Snider, a retired Air Force officer, served a single, four-year term in one of the council's three at-large seats from 2011 to 2015 and now he's vying for his old seat in the city's April election.
All three at-large seats are up for grabs in the election, though the field of candidates is crowded and includes two incumbents seeking to hold their seats. But Snider said he's confident voters will hear his ideas and gravitate toward him.
In short, Snider said he wants to maintain the good relationship between the council and the mayor's administration, boost funding for parks maintenance, and increase the amount of available affordable housing, among other things.
Snider's first term coincided with former Mayor Steve Bach's, which was the first time the city employed a strong-mayor form of government rather than a council-manager form. At the time, there was a lot of trial and error with the new form of government, he said.
"For those first four years we were building an airplane while we were flying," he said. "Except we were trying to run a government."
Toward the end of that term, Snider had difficulty containing his frustrations with then-council president Keith King, who he said had a habit of presenting long proposals to the body with little or no notice before meetings. He was difficult to predict and often the swing vote on key issues, including a 5-4 vote in 2014 banning retail marijuana sales for recreational use within the city.
He also led the council, which serves as Colorado Springs Utilities' board of directors, in discussions about decommissioning the coal-fired Martin Drake Power Plant downtown. Shortly after his term ended, the council voted that the plant be shuttered no later than 2035.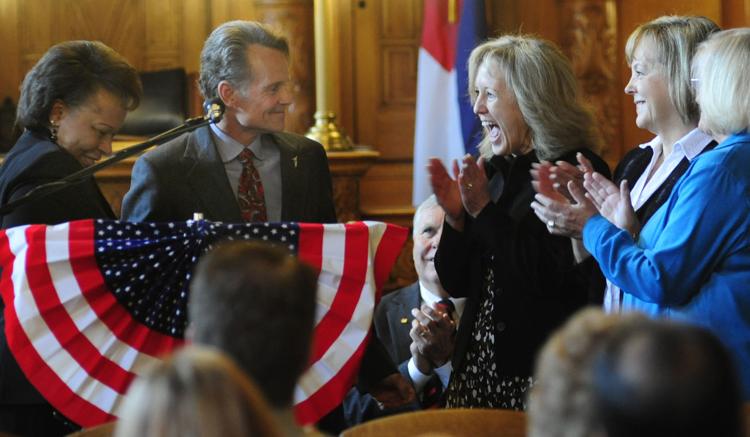 Before his departure, Snider predicted other council members would face difficulties with the strong mayor form of government. But watching over the years he said it appears the relationship among council members and with the mayor's office has improved.
"From what I can tell, they're on the right track," he said. "The mayor looks to collaborate with the council, tell the council his priorities. And the council collaborates with the mayor. So there's not a lot of real surprises there."
"With Mayor Bach, there were no rules, if you will. There wasn't a lot of thought as to how we were going to do it," he added. "I was challenged in trying to determine what the heck we were supposed to be doing as council members. But I think that's by the wayside now."
Certainly, Snider would have an advantage in maintaining or improving that relationship among council members because he knows several of them.
Snider is a slight and soft-spoken man and as he sat in a downtown coffee shop discussing his priorities, Council President Richard Skorman and President Pro-Tem Jill Gaebler walked in. The three spoke for several minutes, laughing and recalling old times. Skorman and Gaebler said they were pleased Snider is running for the council.
"I can't wait to be back," Snider said with a smile as the pair walked away.
And if he's elected, Snider said his goal would be to maintain and improve relationships like those with Skorman and Gaebler.
In addition, he said he'd like to see what can be done to close Martin Drake sooner than 2035.
"That was as much of a do-nothing option as possible," he said of the past council's decision to set that date. "It needs to be (closed) earlier than 2035. Four to six years ought to be enough time."
Snider also said he wants to work closely with veterans to get to the root of the city's homelessness problem, ensure stormwater management is properly handled and finish the city's Legacy Loop trail project.
Council candidates have until Jan. 22 to submit 100 valid signatures of Colorado Springs voters to the city clerk for nomination. position. Once those signatures are validated, they'll have earned a spot on the ballot.
Pending that validation, Snider will be joined on the ballot by at-large incumbents Bill Murray and Tom Strand. The third at-large councilman, Merv Bennet, is term-limited and cannot run again. Army veteran and former county planning commissioner Tony Gioia, former Will Rogers Elementary School principal Terry Martinez, former state Rep. Gordon Klingenschmitt and former Colorado Secretary of State Wayne Williams are also vying for the at-large seats.