A tornado warning was issued for northeastern Otero County, southwestern Kiowa County and northwestern Bent County by the National Weather Service. The warning is in effect until 6:45 p.m.
Just after 6 p.m., the weather service reported that a tornado was located over Arlington, 27  miles North of La Junta, moving southeast. The weather service warned of golf ball sized hail and flying debris.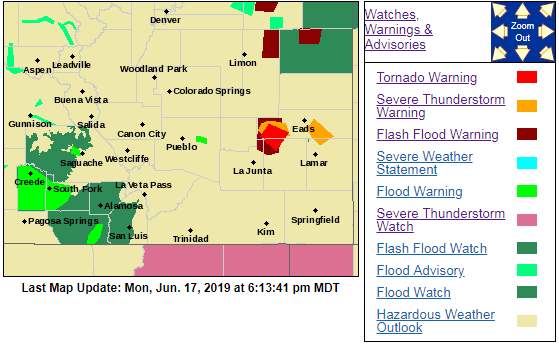 The National Weather Service issued a severe thunderstorm warning for areas near Haswell and Arlington until 6:30 p.m.
Reports of flooded roads were seen on social media. The Pueblo Fire Department's spokesman, Erik Duran, said so far only one rescue has been carried out within city limits. Most drivers, he said, are staying clear of the roads.
BE CAREFUL: Heavy rain is causing flooding around Pueblo and Pueblo West, and plenty of hail has already fallen.This is Paul Harvey Blvd. at Hwy 50. pic.twitter.com/E9EoND5hl9

— KRDO NewsChannel 13 (@KRDONC13) June 17, 2019
The severe thunderstorm warning for Pueblo, Pueblo West, Blende and Avondale was extended again until 5:30 p.m.
The hail storm was getting so bad on Highway 50 near the Pueblo Airport, people, including myself, had to pull off to the side of the road because of the strong winds, low visibility, and hail, as you can hear in the clip. @KOAA pic.twitter.com/nhzSPTB3Hy

— Carl Winder KOAA (@CWinderKOAA) June 17, 2019
A flash flood warning was issued by the National Weather Service for Huerfano County until 5:45 p.m. The weather service urged residents to avoid walking or driving through flood waters and move to higher ground.
A severe thunderstorm warning was issued for areas near Sheridan Lake, Brandon and Chivington until 4:45 p.m. The severe thunderstorm warning for Pueblo, Pueblo West and Blende was extended until 4:30 p.m.
The National Weather Service tweeted that a severe thunderstorm warning was in effect for Pueblo County until 3:45 p.m. Monday. The weather service also reported that a tornado warning was issued near Brandon and Chivington until 4:00 p.m. The same area is also being warned of flash flooding.
On the heels of a stormy weekend comes more chances of rain and thunderstorms across the Pikes Peak region and continued flash flood warnings in parts of Colorado on Monday, according to the National Weather Service in Pueblo.
A flood advisory has been issued by the service Monday for southern El Paso and eastern Teller counties. As of 12:45 p.m., heavy rain and thunderstorms were detected near Fort Carson and up to 1.5 inches of rain is expected over the areas included in the advisory, meteorologists say. The advisory will expire at 2:45 p.m.
Monday has a 70% chance of showers and thunderstorms after 4 p.m. with a high near 76 degrees in Colorado Springs. Rain is likely throughout the night with a low of 50.
A flash flood watch issued by the service remains in effect until Monday evening for southern areas of the state. As the heavy snowpack begins to melt along with rainfall, at-risk areas for flash floods include the San Luis and upper Rio Grande valleys. The watch expires at 6 p.m.
A hazardous weather outlook warns Colorado Springs residents of frequent thunderstorms along the Interstate 25 corridor beginning about lunchtime Monday, meteorologists say.
The storms are expected to spread over the eastern plains this evening where golfball-sized hail and wind gusts up to 60 mph are likely.
On Sunday, the southwest part of Colorado Springs had more than 2 inches of rain, and parts of the city were hit with hail.
Tuesday will start out with a 70% chance of storms before 1 p.m. in Colorado Springs. Cloudy skies and additional chances of rain are expected throughout the day and the high will be near 73 degrees, the service's forecast shows.
Wednesday will bring slightly warmer weather with a high near 80 degrees and a 30% chance for rain in the afternoon.
Chances for rain will be slimmer Thursday and Friday with highs of 86 degrees and 83 degrees, respectively. Friday brings a 30% chance of rain overnight.
Temperatures will stay in the mid-70s over the weekend with slight chances of rain, meteorologists say.