Jenny Bender was working at Newborn Hope, a Colorado agency that supports premature infants and their families, when the group embarked on a tour of neonatal intensive care units that were eligible for grants.
They were visiting the NICU at Children's Hospital in Aurora, where the "sickest of the sick babies" were treated, when Bender's eyes were drawn to the name card posted by a door.
At first glance, she thought the baby in the room just had an unusual compound surname. When a nurse told her what it meant and pointed to a wall chart with a list of staff who rotated in to provide round-the-clock care and human contact, Bender said it almost broke her.
It wasn't the child's name, but her designation.
"It was hyphen 'Alone.' The nurse said, 'This baby has been alone for three months. She won't have a home or a family until she gets discharged and has a foster family,'" she said.
On the drive back from Aurora to Colorado Springs that day, Bender called her husband, Zack.
The Benders had two preschoolers at home, had been discussing fostering and even toured a local agency, Hope & Home.
"I think we need to be foster parents," Jenny told Zack. "We have the capacity. Let's do it."
Work or live in an arena that opens your eyes to the desperate need around you, and it can alter the course of your future. Of many futures.
It did for Bender, whose professional path helped inspire a personal one. And vice versa.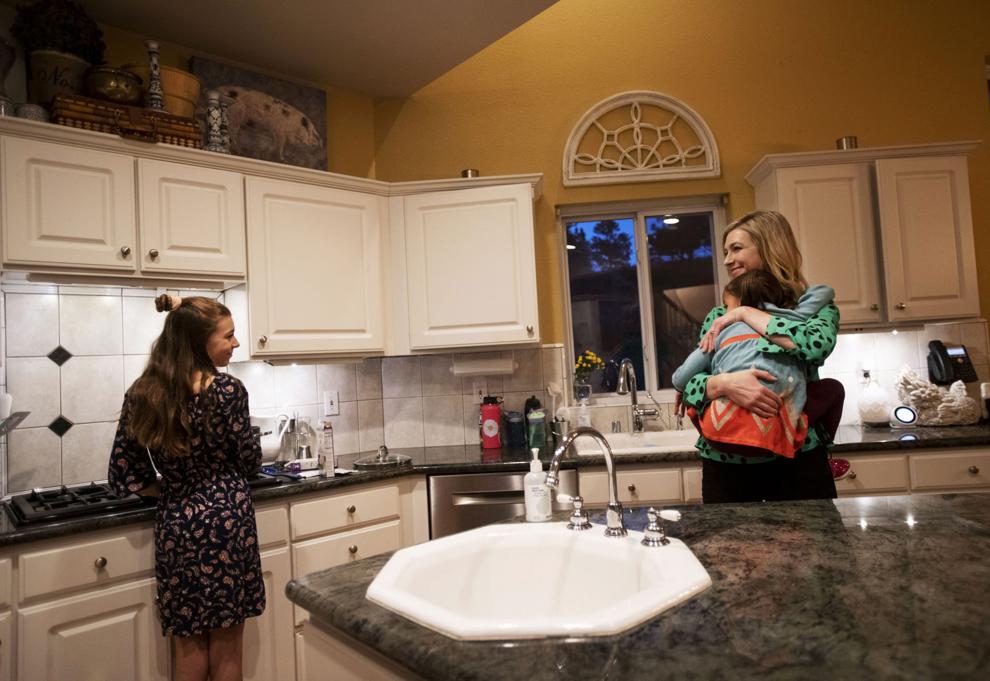 Bender grew up in Northern California and had just graduated from Cal State when she met her future husband, an Oklahoma native in town for a job prospect, at church. Five months later, she and Zack were engaged; five months after that, married. The couple lived briefly in Tulsa, then, 16 years ago, followed Zack's parents to Colorado Springs.
"We were, like, let's go live where our folks are before we start a family," Bender said.
Now, she's proud to say all five of their kids were born here.
Millie was just two days old, and the Benders recently licensed foster parents, when they got the call. Her birth parents were homeless and unable to properly care for an infant.
"We were open to being foster/adoptive parents, but also very open to the process that the whole point of foster care and child welfare is to see a family be able to work their treatment plan and become whole again, get their kids back," Bender said. "We knew we could have a newborn with us for two weeks, or two months, or two years, or forever. Whatever it ended up being, we were going to teach this baby attachment."
What she learned over the next two-and-a-half years, as Millie's case moved through the system, is it takes more than a devoted family, and openhearted kids, to create a thriving foster — or forever — home.
The orchestra at work behind the scenes includes judges, lawyers, case workers, guardians ad litum, and, for 37% of kids in the child welfare system or foster care due to abuse or neglect, a critical group of volunteer Court Appointed Special Advocates, who provide a connecting line among the legal, medical, education and domestic realms, and voice for those who otherwise might have none.
"They do that through getting to know the child. They visit the child most frequently out of all the professionals on the case and they're the only professionals appointed to the case that aren't paid. So that credibility goes really far," Bender said. "I had never heard of the organization before that."
When the attorney representing Millie's mom announced she had given birth again, the Benders agreed to serve as a foster family for Millie's little sister, Poppy, who spent the first three weeks of her life in the NICU. Bender was still working for Newborn Hope at the time, so knew many of the doctors treating Poppy.
"That's when it all really came full circle," she said. "We had no idea what this foster journey would look like. We grew a relationship with biological mom and dad, through multiple weekly parent visits that were supervised. Every time, I would say we're taking really good care of your babies."
Millie's CASA volunteer was a woman named Teresa Schmitt, who was there for every court appearance and followed up with regular home visits.
"She'd always want to visit during the dinner hour, and we would joke with her that between 5 and 7 is the witching hour at our house," Bender said. "She would just sit at our dinner table and listen to all the conversation, with the macaroni flinging."
Such moments, though, can provide telling insights into the family dynamics, and whether the placement is a good one, Schmitt said.
"When you see a case like the Benders, that is what makes it so worthwhile," she said. "You see an outcome for the children that is the best possible outcome that could occur, a life opening up for those children that will be stable, loving, supporting and allow them to reach their full potential."
Millie's and Poppy's adoptions closed on Dec. 1, 2015. Two months later, the Benders found out they were expecting. By the time Rutledge was born, Jenny had taken a job as executive director of CASA of the Pikes Peak Region, the organization she hadn't known existed before fostering and adopting.
When the statewide organization's top job opened up two years ago, Bender applied and was named executive director. She now balances her work time between Denver and a home-based office in the Springs.
After two decades working for nonprofits, and 13 years as a mom, she's also sharing her story. The professional one, and the personal one.
"My 30s were lots of years of growth, professionally and with having children and our child journey with adoption from foster care. And I didn't share my story a lot," said Bender, who recently turned 40.
"For a while when we were openly fostering, I needed to not talk about the girls' cases for confidentiality reasons. But once the cases were closed, I still didn't talk about it a lot. It was always just a personal side."
Now, though, it's "the first thing that comes out of my mouth."
"It's my why. Why I care about kids in Colorado, why I work at CASA, why I work, with five kids at home," she said. "It's because of our kids and our story. It's because of the mission."
Have your eyes opened to the need all around, you might be surprised at the capacity for grace.
On a snow day last year, the kids were off school so Bender took everyone to see the movie, "Abominable." On the way home, they were at a red light when they saw a homeless woman huddled by the curb, holding a sign pleading for alms.
Eleven-year-old son Rockwell asked if the stadium blankets from the Broncos game were still in the car. They were.
"He rolled down the window and said, 'Here's a blanket,'" Bender said. "We all got teary. I'm just so proud of who my kids are becoming. I like the blended family that adoption is and the gift that it has given our kids, that it's given us all."