Before being allowed into the otherwise empty waiting room at Star Dental Institute in Colorado Springs last week, a bemasked Eric Lang first had to answer a series of questions confirming he was in good health and had had no known exposure to COVID-19. He then got his temperature checked via forehead thermometer.
His numbers were good, so an employee in a PPE gown and mask escorted him down a hallway and through a set of hospital grade plastic curtains that snapped shut, magnetically, behind him.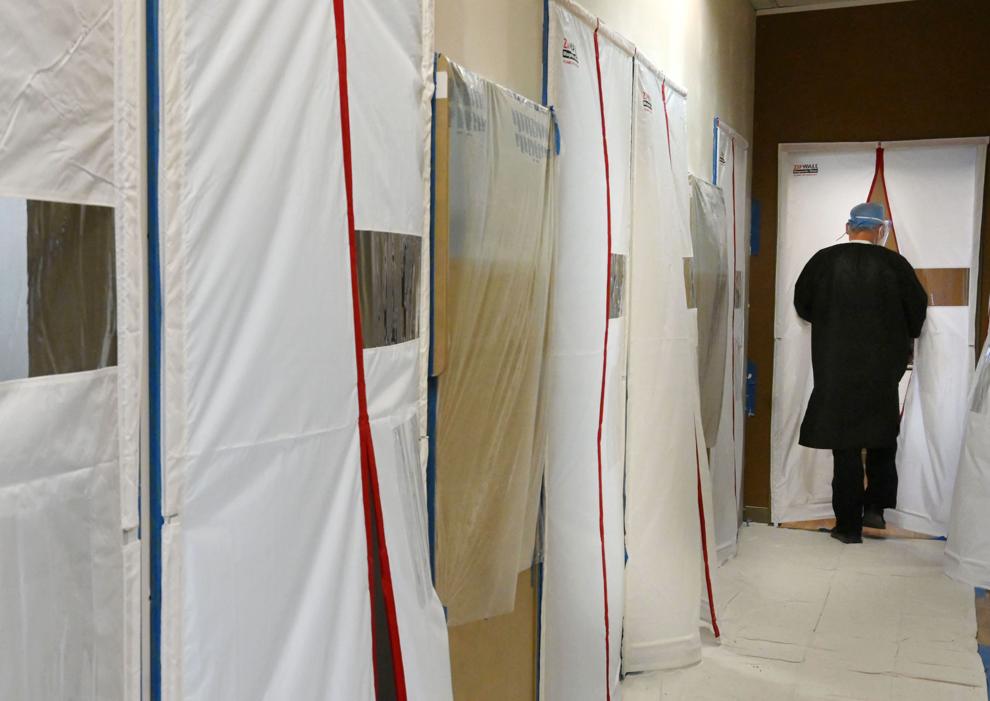 Lang was now in one of Star Dental's "isolation suites," where the air was crisp and on the move, thanks to a suitcase-sized device mounted high on the wall.
In the sealed room, the powerful air purifier, which has a telescoping vacuum arm that can be directed toward a patient's mouth, creates a negative pressure environment similar to those used in hospitals treating patients with the coronavirus, said Lang's dentist, Dr. Gary Moore.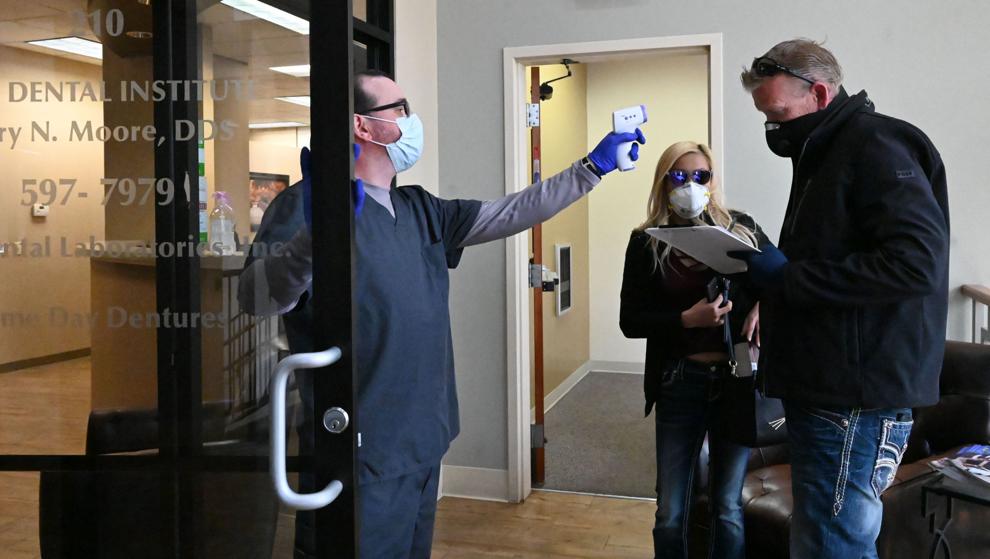 "We're trying to do everything we can to suck out any aerosol in the air, replace the air with good air, and keep it moving one way — outside, after it gets scrubbed," Moore said. "You have patients that have no symptoms, but who might be completely active and infectious. How do you know? We don't. So that's what all this is about: lowering the risk, and treating everybody the same — as though they have the virus."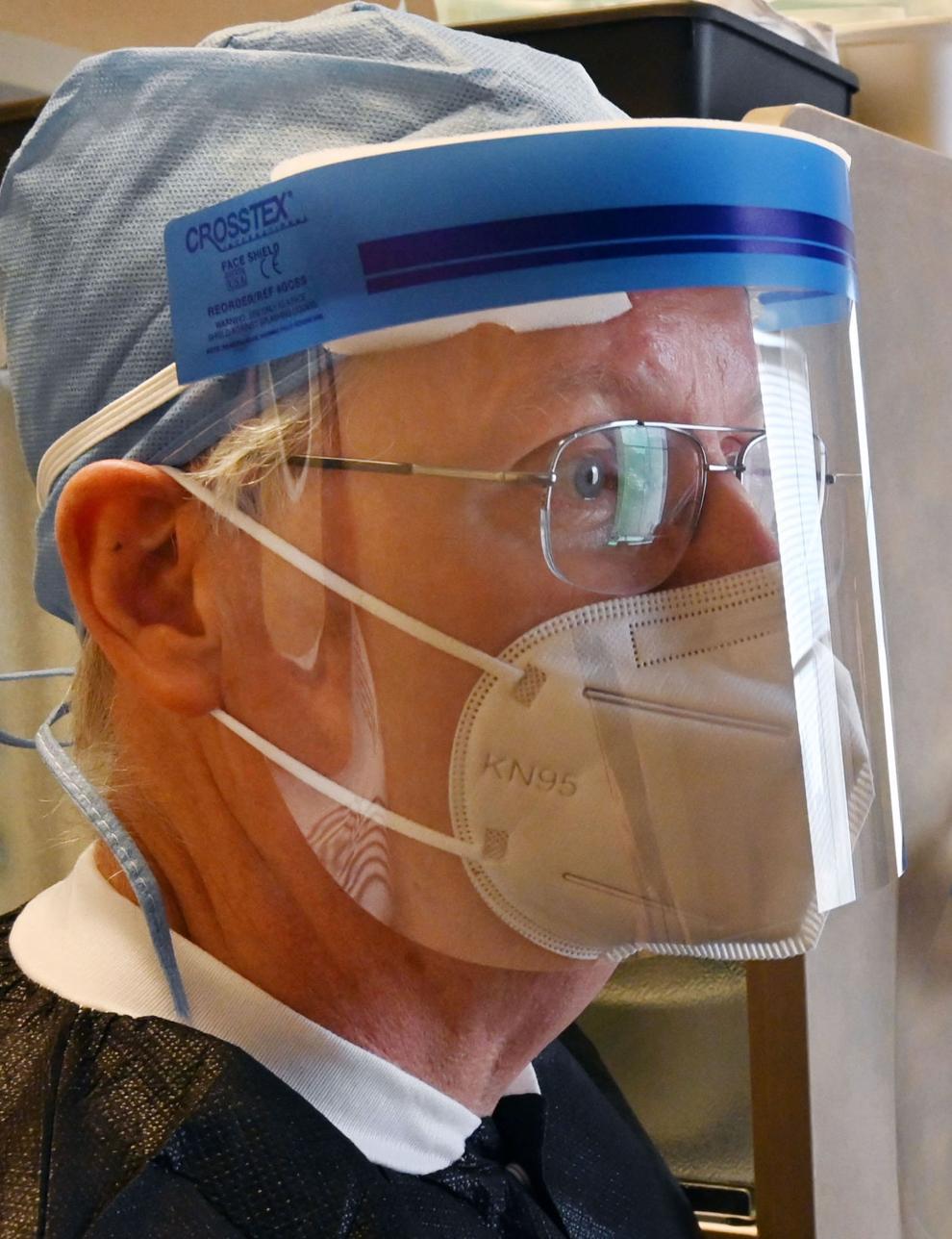 As dental offices around the state reopen for nonemergency appointments, providers are welcoming patients in redesigned spaces and with multilevel safety protocols, in the name of a message more important, and potentially harder to sell, than the benefits of flossing.
"I understand that this is all new for everybody. But cavities are like cancer. They don't get better without intervention," Moore said. "I think the message is really basic: It's safe to come back to the dentist."
More robust protocol
Safer, even, than it's ever been, say dentists.
At the dawn of the pandemic panic in early March, Business Insider compiled a list of professionals most at risk due to their jobs. Four of the top five were in the dental field, with hygienists at No. 1 and general dentists No. 2., due to the high risk of exposure to disease and infections.
Dental settings have "unique characteristics that warrant additional infection control considerations," according to the Centers for Disease Control and Prevention. Commonly used rotary tools and surgical instruments, ultrasonic scalers and air-water syringes can send up sprays of bodily fluids, as well as aerosolized particles that can linger in the air and be inhaled.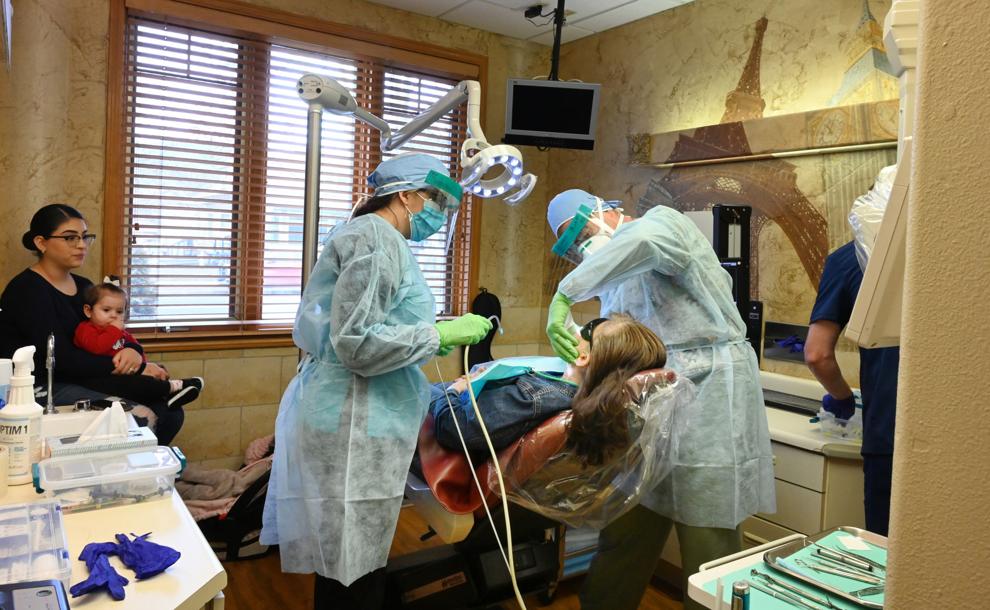 Despite that, the CDC has, to date, received no reports of positive "clusters" in dental settings.
Because of the inherent risks, dental offices have always been at the leading edge of safety, said Dr. Robert Corr, of the Springs' Apex Endodontics.
"Dentistry has a very favorable track record for infection control in general," said Corr. "A lot of the protocol has become more robust, but dentistry has always been a very safe thing for patients. What's happening now is a lot of offices are implementing additional measures."
Basic screening tactics can't catch everyone who has, and could pass on, the coronavirus. Lang said it's reassuring to know he's being seen in an office that's also treating the space itself.
"It's a huge concern right now, going into any doctor. As we all know, you can have it for weeks and not show a single symptom. It's extremely scary," said Lang, 47. "I thought it was really neat that Dr. Moore went ahead and took a step forward like that, when he didn't have regulations telling him that he needed to."
Safety standards in medicine are constantly evolving, propelled by advances in epidemiology, research and hard-won practical knowledge. Before the latter decades of the 19th century, surgeons didn't routinely scrub in, and it wasn't until the 1980s that hand-washing became an accepted pillar of personal hygiene, with formal guidelines from the CDC on how, and how often, to do it.
Moore graduated from dental school in 1986, at the height of the HIV/AIDS epidemic. His class was among the first to enter a professional world in which oral health care providers were required to wear masks and gloves when treating patients.
"We thought, wow, what a change. Now gloves and masks, that's routine," said Moore. "And now it's taken another big step up. At this rate, I'm hoping one day we're not all in space suits."
'What you owe your patients'
Star Dental closed the first week of March, early in the pandemic's onset and before the CDC issued recommendations that providers dial back to emergency care only. Moore said he took the down time to figure out how best to prepare for the aftermath.
His 12-year-old son is undergoing chemotherapy and is immunocompromised, and he said the "big idea in his head" for his patients, in pandemic times and beyond, came down to a simple question: What would it take to create a space where he'd feel comfortable treating Sam?
"That's what you owe your patients," Moore said. "That's where it began. What can we do to create a safer space, for patients and staff also?"
His center was open-bay style, like a number of modern dental offices, with chairs separated only by temporary partitions and banks of cabinetry.
"I knew, if I wanted to go back to work, I definitely had to do something different," said Moore, who decided to have the space remodeled into five separate and sealable treatment rooms, to which he could add air purification systems. "For the longest time, open bay was the way to go. Now we're reverting back 35 years ago, to closed operatories. The idea is to keep people separate, and safe."
Apex Endodontics recently moved from an open-bay style office into a new space with separate exam rooms, which turned out to be a boon Corr said he couldn't have anticipated.
"I didn't have coronavirus on my mind at the time, it just seemed cleaner and more private to have the rooms be separated, and one of the rooms we have the ability to close it off and seal it completely," said Corr, who has converted that room into a negative pressure treatment environment, with a high-powered fan like those used in construction sites to improve air quality and create a de facto clean room.
The office is also adding an "extraoral evacuation unit" similar to the one at Star Dental, that vacuums and filters air. Between appointments, rooms are fumigated with a potent, nontoxic disinfectant, hypochlorous acid, believed to be "very effective" against the virus that causes COVID-19, Corr said.
"It creates a more comprehensive sanitation of the treatment space. At the end of day, we also fog the entire office space," Corr said. "Essentially, we're fighting fire with fire. We have this infectious agent that is aerosolized, which is the problem, and we're combating it with an aerosolized disinfectant."
'Everybody has been on edge'
While Corr said he imagines some of the extreme safety and sanitization steps being used by dentists now could turn out to be "crisis-era" measures, he believes others are here to stay.
"There's definitely going to be a change in the way people experience dentistry," Corr said. "But I hope people understand that … it's a change in face to face, but the quality and warmth of care that's always been there, that will still be there."
With prices for PPE gear spiking and most dentists seeing only a fraction of their former patient loads, prices for such services could increase.
But for some good news: Dental office waiting rooms — and waits — as we knew them, could be a thing of the past.
Many offices have turned to telemedicine, to triage patients and work up preliminary treatment plans, and are having patients check in by phone and wait (briefly) in their cars for an escort into the office, where they go through additional screenings and a forehead temperature check.
At West One Family Dental, that job is handled by a dedicated screener, in full PPE gear.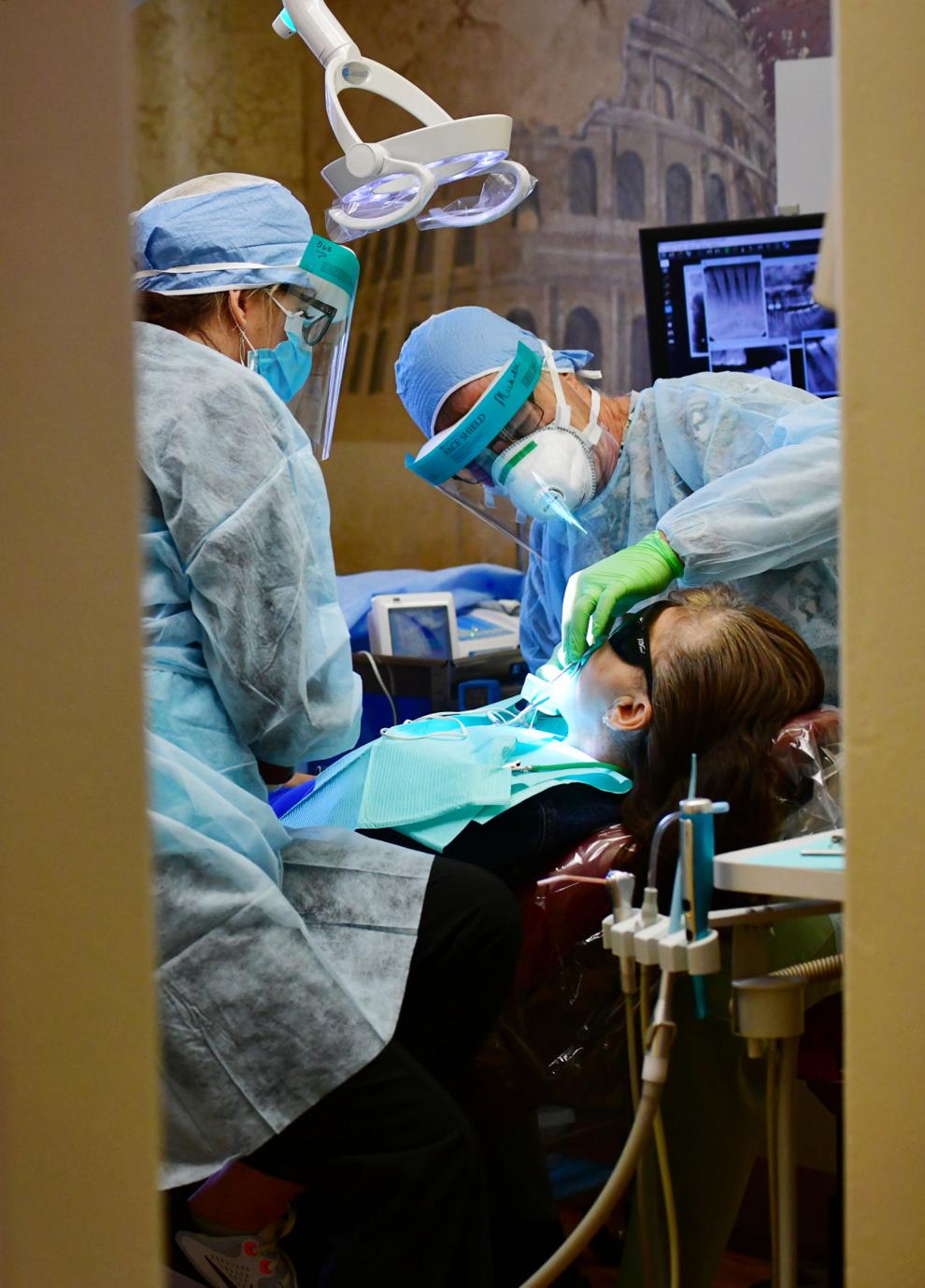 "They came out and got me, they were all masked, they checked my vitals when I walked in the door," said Gary Morgan, 67, of Cañon City, a longtime patient. "Everybody has been on edge, and to a degree, paranoid about the whole COVID-19 situation, but when I showed up at West One they were very meticulous. I felt like they were doing everything they could, to make the visit safe for me, and them."
Those steps, and a general faith in his dentist, provided the assurance he needed, Morgan said. He said he's worried, though, about the lack of such stringent measures in other potentially risky environments, especially as the community begins to reopen after the shut-down.
"My mother was born in 1918, during the Spanish flu pandemic, and if you do the research, when things started to loosen up is when the second wave hit, and we lost 30 million people worldwide," Morgan said. "The first wave, they had it under control kind of like now, but then they started freeing up the restrictions. And I am honestly concerned we are headed in that same direction."