The long, rocky road behind them, Leigh Ann Wolfe and her slew of more than 700 supporters rejoiced Saturday as ground was broken for the new Flying W Ranch with its 66-year heritage in Colorado Springs.
For decades, tourists and locals have returned year after year to the Flying W for chuckwagon suppers and topnotch bluegrass-gospel performances by the Flying W Wranglers. The sunset and starlit scenes were set amid the towering vermilion rock formations that extend through Red Rock Canyon Open Space, the Garden of the Gods and The Navigators campus before blazing across the historic ranch.
Then the Waldo Canyon fire struck in 2012, scorching the ranch save for the library, home of late matriarch Marian Wolfe's cookbook collection. Floods followed in 2013, wreaking more destruction to the property that patriarch Russell Wolfe had started as a cattle ranch.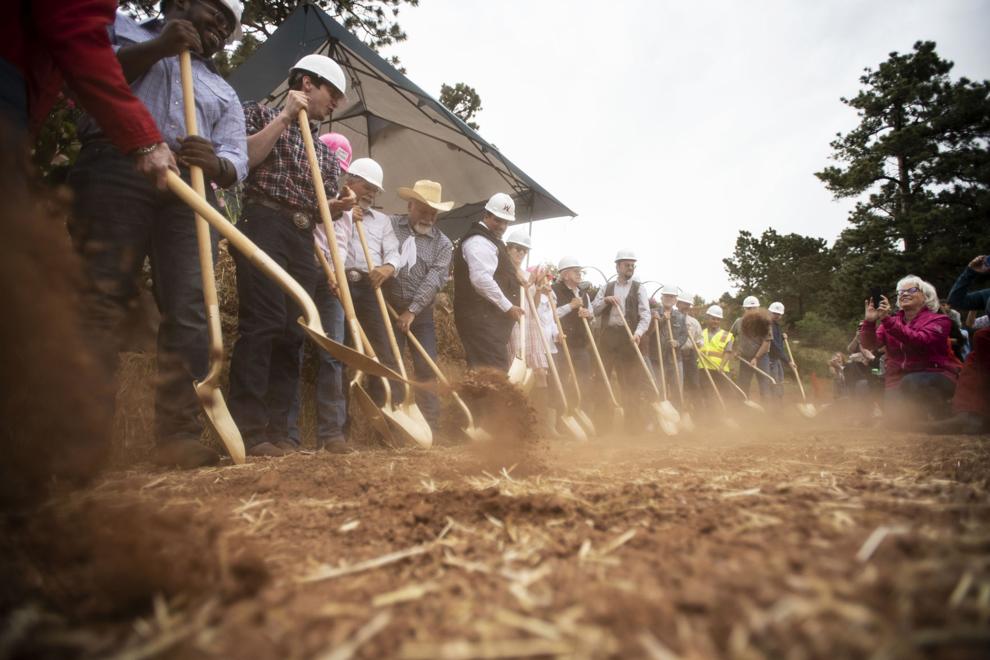 Evidence of the disasters was scant Saturday, though, as folks gathered among soaring pines, resting on hay bales covered in red-checkered cloths to dine on brisket, beans, biscuits and slaw, mesmerized by Native American dancers in boldly colored beaded garb and tapping toes to the Wranglers' catchy tunes.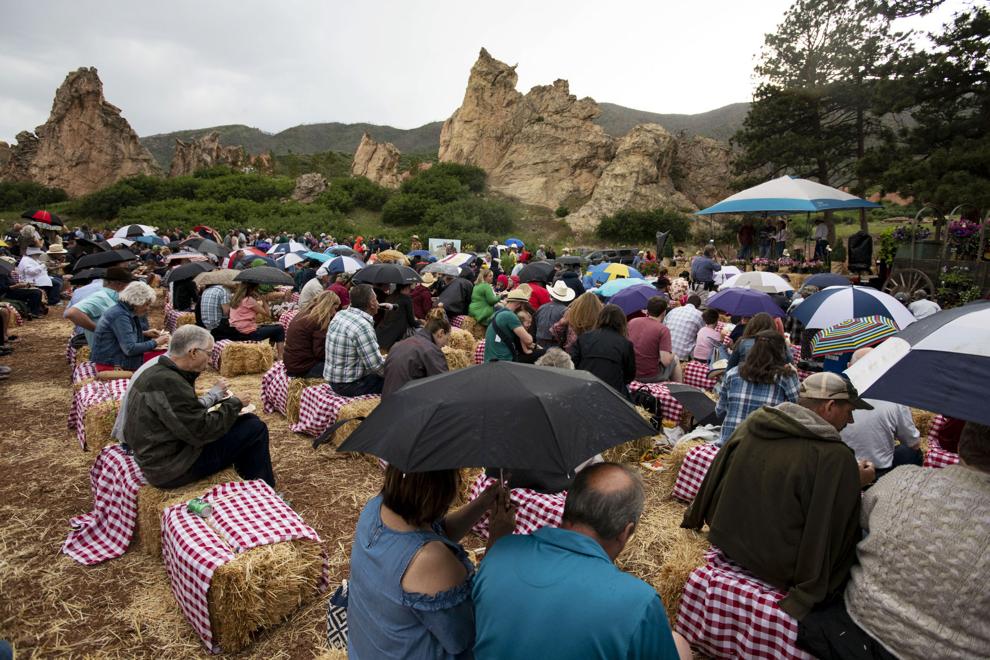 Prayers were said from the stage, echoing many invoked by the Wolfe family through their difficult years. And like a silent promise kept, a short-lived rain washed away the blazing heat.
Several people said they wished Russ was there to see the groundbreaking. The ranch founder died March 29 at age 94.
But others said, "He's watching us." And Dave Vanderham, the ranch project manager for Art C. Klein Construction, said a private groundbreaking was held for him about six months ago.
"This is about keeping my parents' legacy alive," Leigh Ann Wolfe told the audience.
"I pray that we continue to be a blessing to the community and to keep the Old West alive."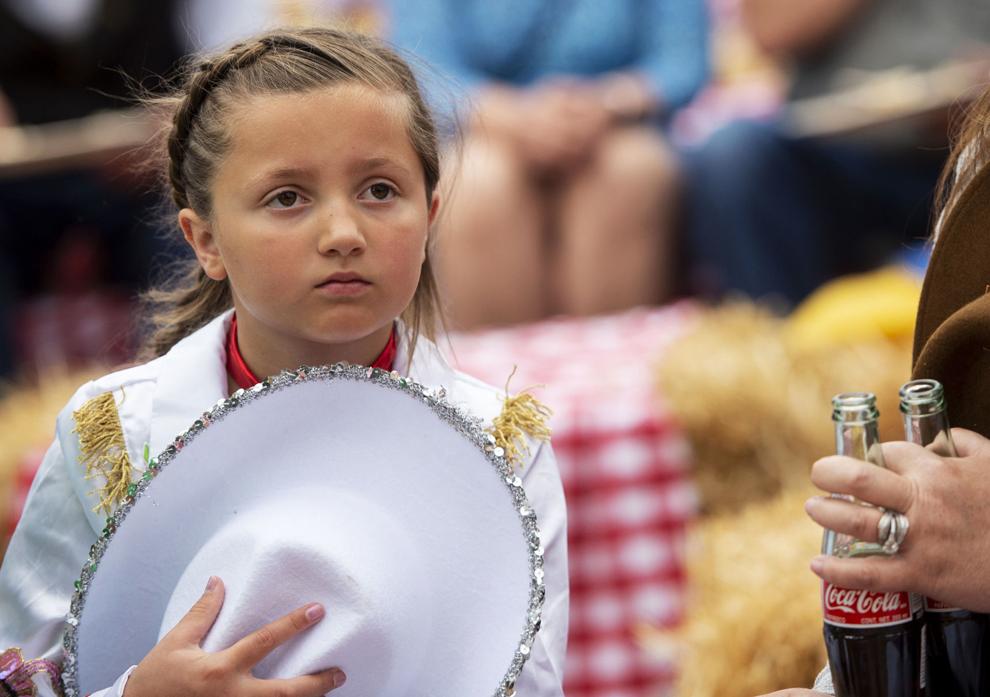 To that end, 12,000 cubic yards of dirt was trucked in to build up the base for an 8,000-square-foot event center that will seat 900, more than double the 400 accommodated in the original hall. Covered patios will surround the wooden center, and two garage doors can be opened to let in good weather, said Dave Thomas, a member of the design team.
"Leigh Ann's vision was interesting to me," Thomas said. "These trees didn't burn," so that became the new setting for the structure.
Also on tap will be a donkey barn, animal activities and garden areas, among other amenities.
Leigh Ann predicted the Flying W will become the leading wedding venue in Colorado, with its beautiful setting and water that naturally streams down a red rock wall.
She thanked the Art Klein construction leaders and crews, the architects and planners from John P. Nelson and Associates, friend and engineer Tim Mitros and many others, noting: "There's too many people for me to thank. So, so many people have helped us. Chris Wilke has stayed up the past 36 hours to roast all the brisket."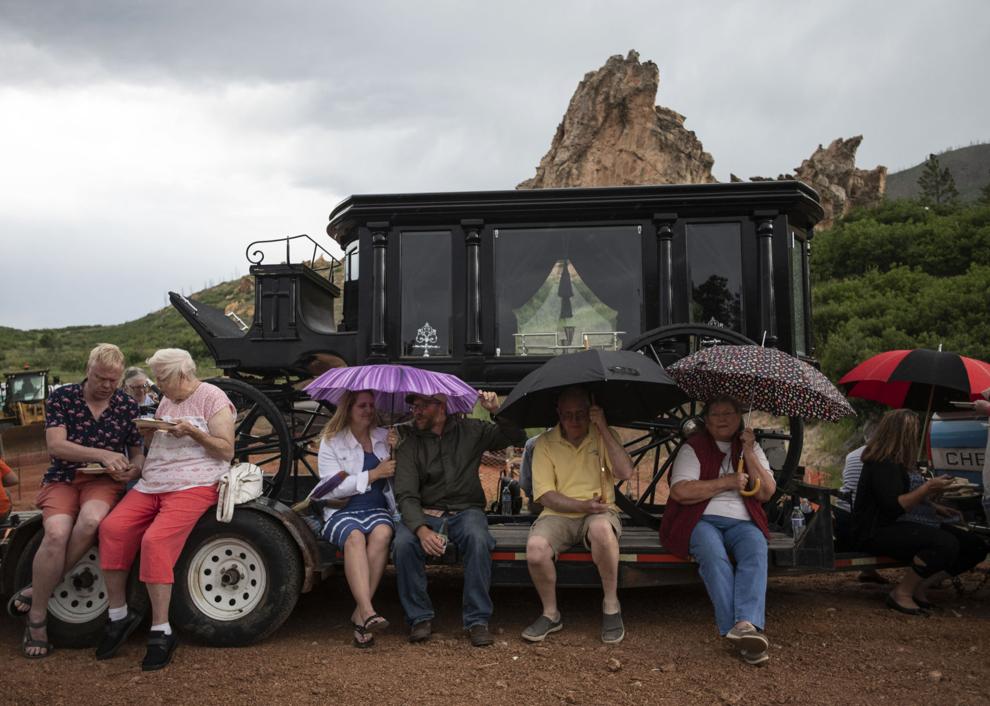 City Councilman Don Knight got a special shout-out. "There was a point when we were going to shut things down, and Don Knight stepped in. He's a real man of integrity," Leigh Ann said.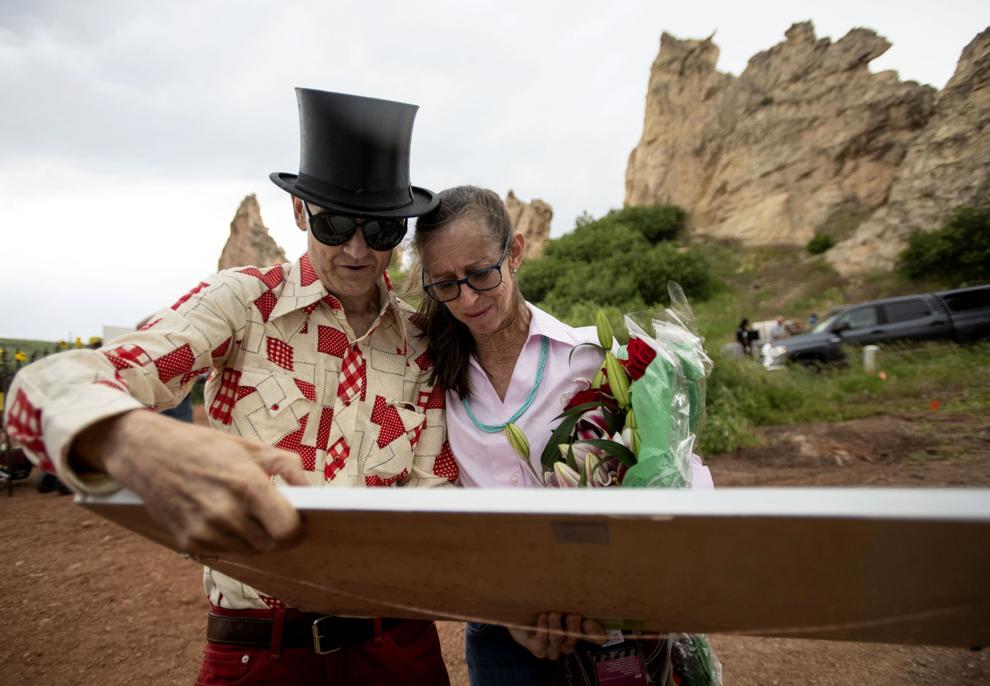 And no recovery could have happened without long-time ranch manager Aaron Winter, she noted, because Winter "is the Flying W."
The new Flying W Ranch is expected to reopen Memorial Day weekend 2020. "But if the building's complete in December, we'd like to do a soft opening in March," Winter said.
"We should wrap up around February," Vanderham predicted.
"I want this to be a new experience for everybody," Leigh Ann said.
"Please come and visit us and see our facilities. We're ready to rock 'n' roll."