Senior Airman Daniel Ray, Staff Sgt. Ansel Beck and Tech. Sgt. Michael Alvarado had 15 steps left Tuesday. They took one last pause, unfurled a red-lined U.S. flag and marched the final steps of the brutal Manitou Incline to the echo of "Together."
They were with fellow firefighters, each carrying 60 pounds of fire gear, two Air Force wildland firefighters, 18 Fort Carson soldiers and the memory of the 343 New York City firefighters who perished 17 years ago in the wake of the Sept. 11 attacks.
Even in record-breaking heat with the sun beating on their backs, the Incline was nothing compared with that day in 2001.
"In the Air Force, we made a vow not to forget," Ray said. "So we remember how those firefighters went up flights and flights of stairs of the twin towers in twice as much gear as we have on today, and we can remind others of the hit that the country took that day."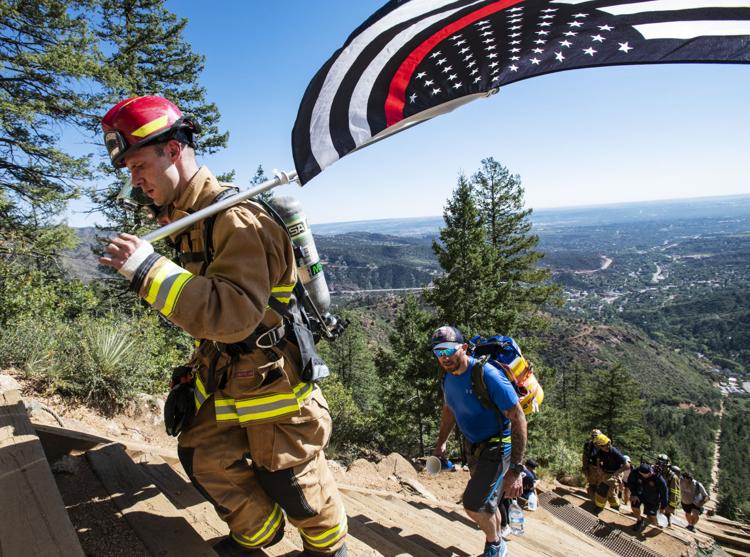 Shane Coyne was working as a wildland firefighter for the Pike & San Isabel National Forest in Woodland Park on that Sept. 11. He said his memories of that day, particularly of the valor displayed by first responders in New York City, will never leave him.
"Climbing today helps give us a perspective on what we do and why we do it," said Coyne, now a lead firefighter with the Air Force Wildland Fire Center. "It's important for us to commemorate the bravery that happened that day."
An intense camaraderie binds together the first responder community, whether in the Pikes Peak region or 2,000 miles away in the city that never sleeps.
"It's a brotherhood, a sisterhood that is unexplainable," said Staff Sgt. R.J. Gerry with the Cheyenne Mountain Fire Department. Gerry led the pack up the first section of Incline stairs and ended the climb bowing on the ground, in tears.
"To most, this is a day they may forget," he said. "For us, we remember."
Taner Masters, a company fire officer with Cheyenne Mountain, carried an extra brother up the hill.
Friend and fellow firefighter Terrance "TC" Curry died a year earlier. In memory, Masters painted Curry's name on the inside of his fire helmet.
"Thank you for taking him up as well," Masters said to his comrades, his voice shaking.
Pikes Peak region firefighters also participated in one of the country's largest stair climbs at Red Rocks Amphitheater. More than 2,300 firefighters and civilians walked nine laps around the amphitheater— the equivalent of the 110 stories of the World Trade Center— to pay their respects Tuesday.