A controversial sports and events center that 1½ years ago was deemed all but dead now is set to go, split between two downtown locations, Colorado Springs officials announced.
A 10,000-seat outdoor stadium for the Switchbacks minor league soccer team will be at CityGate, a vacant block southwest of Cimarron and Sahwatch streets, said Nick and Ed Ragain, who own the team.
The stadium will be accompanied by a seven-floor building to the south with hundreds of apartments and mixed-use businesses, they said.
And a 3,000-seat indoor arena will be built on the south side of Colorado College's campus, said Sean Pieri, vice president for advancement at CC. The college Tigers men's ice hockey team will move there from The Broadmoor World Arena.
The new stadium and arena constitute the fourth and final project in City for Champions, an endeavor first proposed in 2013.
The two projects will bookend downtown from north and south, infusing the area and its businesses with cash and visitors from out of state, Mayor John Suthers said.
In February 2017, after a study identified the need for $28 million in public money, Suthers had said: "I just don't see that happening."
Now, a "godsend" of partnerships has provided the critical private investment, he said.
That investment amounts to about $80 million, on top of nearly $28 million promised by the Colorado Economic Development Commission. In all, the commission allotted $120.5 million for the City for Champions projects.
City, Colorado College and Switchbacks officials plan to announce their plan at 10 a.m. Wednesday. Stay with gazette.com for updates.
"We could not pull this off without a great deal of private investment," Suthers said.
The mayor repeatedly has promised that no city taxpayer money will go toward the project. Aside from incentives for the urban renewal area in southwest downtown, which would be offered to any project there, and a prospective $100,000 loan from the city's Lodgers and Automobile Rental Tax revenue, that promise has been kept. No general fund money will be used for either the stadium or the arena, Suthers said.
City leaders will submit a business plan, timeline and more to the state Economic Development Commission in September, said Bob Cope, the city's economic development officer. Those documents should qualify as the "substantial work" required by Dec. 16 if Colorado Springs is to receive the promised tax-increment financing, Cope said.
The goal is for both projects to break ground before year's end.
The Switchbacks should launch their 2020 season in the new stadium, which will be named for Weidner Apartments, the Seattle company investing $40 million for the apartments and mixed-use space, the Ragains said.
The Tigers will play at the World Arena for "a few more years" before moving into the Edward J. Robson Arena, being named for a 1954 alumnus and hockey player who is the project's largest single donor, said Ken Ralph, Colorado College director of athletics.
Although thankful for the decades-long use of the World Arena, Ralph said, the college couldn't pass up this opportunity for the hockey team and a campus-wide gathering space.
"We've had hockey for over 80 years, but we've never had a true home," he said.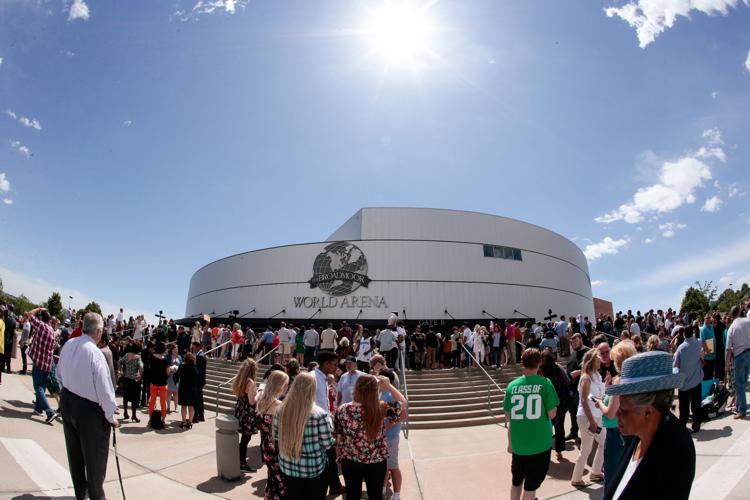 The indoor arena site is bordered by Nevada Avenue, Cache La Poudre, Tejon and Dale streets.
Both projects will depend heavily on partnerships with national governing bodies — Olympic-themed amateur sports groups, about two dozen of which are based in Colorado Springs. That should attract new visitors, Cope said. But because a business plan is still in development, none of those partnerships is solid yet, he said.
The stadium could host events from the forthcoming U.S. Olympic Museum, another City for Champions project, Ed Ragain said. As many as five concerts, seating up to 20,000 people, could be held at the site each year as well.
Nick Ragain said lacrosse and football also could be played on the synthetic field, as well as lesser-known sports such as futsal, a form of football played on a hard court.
Colorado College officials already are considering booking the stadium for its lacrosse games, Ralph said.
CC could partner with such organizations as the U.S. Olympic Training Center, USA Wrestling and U.S. Paralympics to host events and tournaments, Pieri said. The college could make 30 locker rooms available for a large-scale tournament, he said.
The two facilities will allow for concerts, tournaments and other events to be held simultaneously downtown. That wouldn't have been possible with one center's parking and space limitations, Pieri said.
The stadium and arena are expected to create 650 jobs, infuse $32 million into the local economy each year and raise $1 million in city sales tax revenue annually, Cope said. They'll also draw about 139,000 new out-of-state visitors each year, he predicted.
As with any substantial Colorado College project, Ralph said, Old North End residents will have an opportunity to offer input.
The residents are protective of the historic neighborhood's aesthetics and culture. Six of them sued to halt work planned on North Cascade Avenue, but a 4th Judicial District Court judge ruled in the city's favor last week.
As for the stadium, the coal-fired Martin Drake Power Plant nearby poses an air-quality concern, but not enough to delay construction, Ed Ragain said.
The Switchbacks will join the chorus of businesses and residents calling for Drake to be closed as soon as possible, Nick Ragain said. A soil study showed some mitigation will be needed on CityGate's southwest side, but otherwise the property is in good shape, he said.
An environmental study will be completed at CityGate before ground is broken, Cope said, a typical requirement for such construction.
In addition to potential concerns about the Old North End and air quality in the shadow of Drake, the project also needs agreement by the Colorado Economic Development Commission that the new plan constitutes the required "substantial work" begun by Dec. 16.
The sports and event center — along with the Olympic Museum, a new Air Force Academy visitors center and a sports medicine and performance center at the University of Colorado at Colorado Springs — were proposed in the summer of 2013 by city officials and civic leaders. The projects, dubbed City for Champions, were intended to boost tourism and inject life into the city's then-sagging economy.
The city applied for funds under the state's Regional Tourism Act, and the commission on Dec. 16, 2013, awarded $120.5 million in state sales tax rebates over 30 years. But "substantial work" had to begin on each project within five years, or the funding would be forfeited. The definition of substantial work included construction, excavation and grading.
"When we go in there and show all the things that have been accomplished — the land acquisition, we know where it's going to be, we know what it's going to look like, here's when we're going to break ground and all that sort of thing — I can't believe that's not substantial progress," Suthers said. "I feel good about it."
The Olympic Museum is under construction, and UCCS and Air Force Academy officials expect work on their projects to start this year. But the sports and events center was problematic from the start. It didn't have an owner/operator or definite site, and it prompted opposition from residents and elected officials who feared that city tax dollars would be spent to help build it.
City officials consistently said city tax dollars would not be used, however.
The city initially proposed a baseball stadium to replace Security Service Field, which has been home to the Colorado Springs Sky Sox. The proposal was switched to a multi-purpose sports and event center, though, after many fans objected to moving the baseball stadium.
With the December deadline looming, the Ragains and Springs attorney/hotelier Perry Sanders Jr. proposed building the center in Antlers Park, west of The Antlers hotel, which Sanders owns. But residents and Suthers said shoehorning it into the small park wouldn't work, and City Attorney Wynetta Massey said it would violate restrictions on the city park's use.
But city officials have said for months that they were working on a plan to save the project and the state funding. Now the two-site project has been brought forward for public and state scrutiny.