The federal Bureau of Reclamation took the unprecedented step Thursday of starting to release more water from already stressed reservoirs in the Colorado River Basin to support power production at Lake Powell.
The agency started releasing more water from Flaming Gorge Dam on the Utah-Wyoming border Thursday and expects additional releases to come from Blue Mesa Reservoir near Gunnison in Colorado and Navajo Reservoir on the Colorado-New Mexico border until December. The Colorado River Basin includes the Colorado River, which starts in Grand County, Colorado, and the tributaries in several states that feed it. 
Additional releases are needed after 2.5 million acre-feet of expected water did not flow into Lake Powell between January and July. The agency expects to release 181,000 acre-feet to ensure that the hydroelectric generators at Glen Canyon dam can continue to produce electricity. An acre-foot is the amount of water needed to cover an acre of land to a depth of one foot and generally considered enough to supply a family of four for a year. 
Adding to concerns, runoff into Lake Powell is only 30% of average, according to the bureau. 
The intense drought conditions across the West are taking the agency into uncharted territory, said Wayne Pullan, Upper Colorado Basin regional director for the Bureau of Reclamation. 
"The basic underlying assumptions that we have been able to rely on are beginning to erode," he said, in a news conference Friday. 
Almost a century after seven U.S. states divvied up Colorado River water, Lake Mead and Lake Powell — the two manmade reservoirs that store river water — are shrinking faster than expected, spreading panic throughout a region that relies on the river to sustain 40 million people and a $5 billion-a-year agricultural industry. Colorado Springs is among the cities that relies heavily on Colorado River Basin water.
The agency, which manages hundreds of reservoirs and 53 hydroelectric plants expects the extra water needed for Glen Canyon dam will be released from July through December and help keep water levels from dropping dangerously low. When water get too low the generators can start taking in air. 
Even with the additional water, the lake will likely drop below the target level managers have set for the lake, Pullan said. 
"This doesn't solve the whole problem, but it is a strong mitigating action," he said, of releasing more water. 
If even more additional water needs to be released to protect the power generators, that may be addressed in the coming weeks, said Chris Cutler, manager for the water and power services division for the agency.
Drought conditions have persisted for two years across states in the river basin, and so even though snowfall reached average levels in some parts of the basin it was soaked up by thirsty soils. 
"The inflows that we were receiving into Powell were record low or near record low and they have been that way consistently over the entire water year," said Heather Patno, a hydraulic engineer with the Bureau of Reclamation.
Since drought conditions are considered exceptional across much of the west, the extra flows could have some benefits at a time when high temperatures and low flows can stress out fish. More water in the rivers could help endangered fish species below the Flaming Gorge Dam and boost power production at time when air conditioning drives up demand, Pullan said.
While the releases may have some short-term benefits, the decision to draw down levels in the Flaming Gorge comes at an unusual time and it could be difficult for the reservoir to recover if the hot and dry cycle continues, said Michael Fiorelli, the Uintah Basin Project Manager for Trout Unlimited, a conservation-focused nonprofit focused on fish habitat. He added he would like to see the reservoir get back to levels that can support the native fish after these releases. 
Drought conditions have taken the Duchesne River in Utah, the largest tributary to the Green River, down to almost nothing for two miles, he said. 
"You see more rock sticking out than you see water," he said. 
Drought conditions have also hit hard in Colorado, prompting the state to temporarily close sections of the Yampa and Elk rivers to fishing in the afternoon.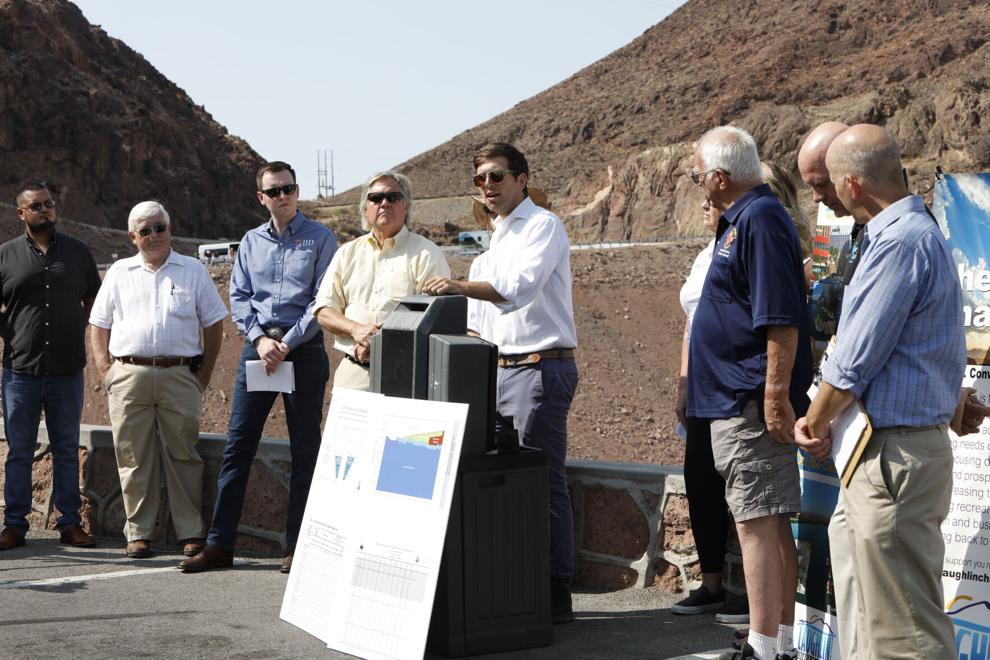 The announcement about additional releases didn't surprise Jennifer Callantine with Dinosaur River Expeditions, a rafting company relies on river flows below Flaming Gorge Dam to run trips. 
"We knew this was coming, just seeing what was going on down south and how bad everything was looking," she said, of the reservoir drawdowns.
The rafting company will benefit from higher late season water, but she is nervous about how the extra flows will affect the reservoir, she said. 
"It doesn't look bad, but I can't imagine what it's going to look like by October, November," Callantine said. 
The Flaming Gorge is expected to release by far the most water at 125,000 acre-feet of water from August through October. Blue Mesa will be responsible for 36,000 acre-feet over the same period and Navajo will have to release 10,000 acre feet, the Bureau of Reclamation said. 
Water levels in Blue Mesa Reservoir in Gunnison County could drop eight additional feet from the releases, during what has already been a below average year, Cutler said. 
"It's been exceptionally low this year," said Robby Richardson, with Sport Fish Colorado, which operates in the Blue Mesa area. The fishery has held up so far, but the critical conditions with high water temperatures and potentially low oxygen levels that can kill fish are approaching.
Richardson is worried those conditions could hurt the Kokanee Salmon because they are more fragile that other species. The fish have also been hurt by a parasite in their gills that can make them more lethargic.
"It's kind of a perfect storm coming together," he said. 
If water isn't released from Taylor Reservoir to help support the Taylor and Upper Gunnison rivers and help compensate from the loss of water in Blue Mesa, he doesn't see really any benefits to the fish, he said.  
The Associated Press contributed to this report.